by Steve St. Angelo, SRSRocco Report: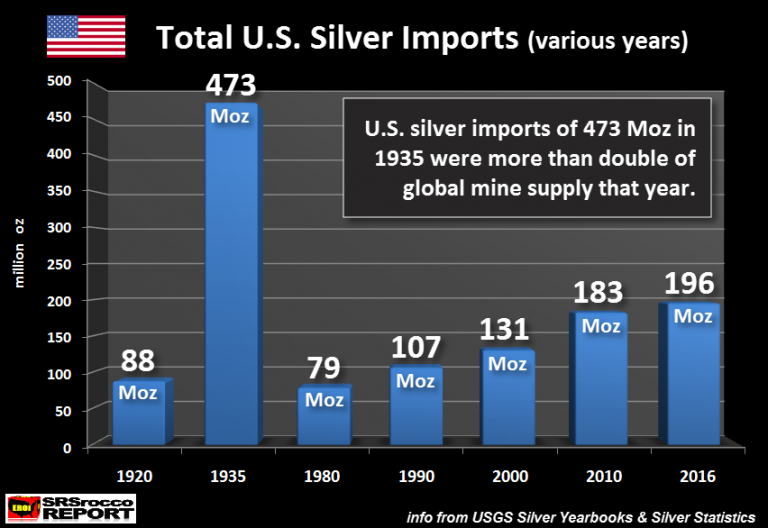 How many precious metals investors know the year the United States imported a record amount of silver? This figure is so great, there is no other single year in U.S. history that comes anywhere close to this amount. Even more impressive than that, it turns out to be more than double the global annual mine supply that year. It is such an unbelievable amount, its record has never been surpassed to this day.
Actually, I was quite surprised by the data when I was researching through some old official records. Even though the United States currently imports a lot of silver to supply its growing jewelry, industrial and investment demand, it pales in comparison to the nearly half a billion ounces imported this record year.
or example, U.S. silver imports are estimated to reach 6,100 metric tons (mt) in 2016, or 196 million oz (Moz), up from 191 Moz in 2015. Thus, 196 Moz of U.S. silver imports last year accounted for 22% of global mine supply which is estimated to be 887 Moz.
However, if we look at the following chart, we can plainly see, it doesn't remotely compare to the massive 473 Moz of silver imported by the United States in 1935: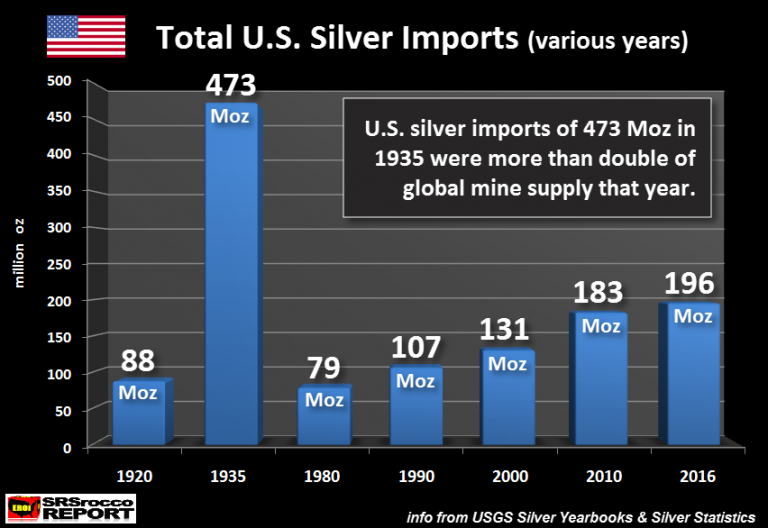 As we can see, total U.S. silver imports in 1935 stick out like a sore thumb. Even though U.S. silver imports trended higher from 1980 to 2016, there was this huge anomaly in 1935. So, what gives?
Well, due to the U.S. Silver Purchase Act of 1934, the U.S. Treasury went on a massive buying spree by jacking up the price of silver to $0.77 in 1935 from $0.44 in 1934. There is a lot that can be written about the U.S. 1934 Silver Purchase Act, but the motivation by the U.S. Government was to acquire more silver to back their outstanding currency base.
According to a paper written in 1936 titled, Effect Of The Silver Purchase Act Of 1934 On The United States, China, Mexico and India, it stated the following: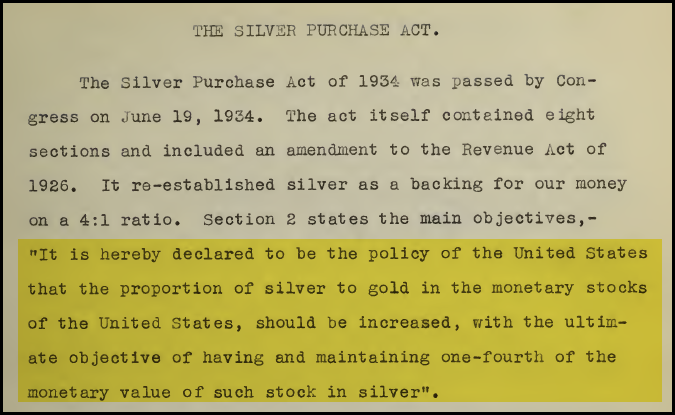 In order to increase the proportion of silver monetary stocks to gold, the U.S. had to get its hands on a lot of silver. In this paper, it stated that the U.S. Treasury would have to purchase 1,244,000,000 oz of silver to arrive at this 4:1 Gold-Silver monetary stock ratio.
So, where did the United States import this amazing 473 Moz of silver in one year?? Well, if you guessed China, you are correct. Of course, not all the silver came from China (India as well), but one hell of a lot did. This next bit of text from the same paper quoted above shows just how much silver China imported between 1918 and 1931:

Read More @ SRSRoccoReport.com
We encourage you to Share our Reports, Analyses, Breaking News and Videos. Simply Click your Favorite Social Media Button and Share.