by Martin Armstrong, Armstrong Economics: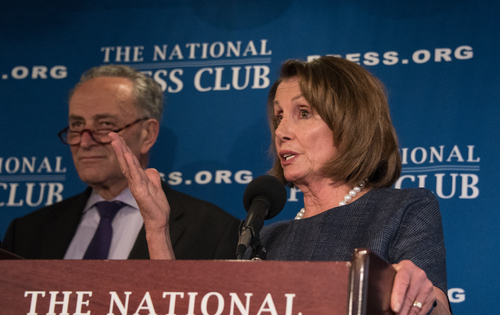 QUESTION: Marty; It seems that the left is winning in preventing Trump from really reforming anything and the Republicans themselves are divided over Obamacare. Do you see this change?
Thank you for what you do. It is striking how on point you have been.
LE
ANSWER: The Democrats led by Chuck Schumer and Nancy Pelosi are fighting tooth & nail to save socialism. They always preach that they stand for the poor, but they take money from the rich. Hillary's comment that you have to have a public and private agenda is no joke. This is standard operational procedure for ALL politicians in Washington. This was not just Hillary's scheme – they all do this. The Democrats are tearing the country apart and in their quest to stop Trump at all costs, will indeed change the United States as we have known it. They are going way too far this time.
Obamacare has hopelessly screwed the country. It is the exploitation of the youth to fund health care costs for the older generations after the Clintons screwed the youth and made their student loans non-dischargeable in bankruptcy after getting a degree that is proving valueless. This is the same as in law.
I ask you when was the last time you beat your wife. Now, you are on the defensive side to prove you did not beat your wife. You call your wife to the stand and she testifies you never beat her. I turn to the jury and say, she only said that because she feared you would beat her again. A false charge dominates everything and you spend all of your time trying to prove you never beat your wife. This is how Obamacare has screwed the country. We set the tone with Obamacare and that has now confined all solutions that are within that scope.
The Republicans are hopelessly lost. They cannot fix the system. The only way to do this is to the scrap the entire mess. Anyone who could not obtain insurance should simply be put on Medicare/Medicaid. Nancy Pelosi is just a worthless politician hell bent of maintaining a corrupt system that is doomed. She said: "The Republican bill is one of the largest transfers of wealth from working families to the richest people in our country — Robin Hood in reverse." (Pelosi lives at a far higher standard or living than I ever did! She is by no means middle class.)
It wasn't a transfer of wealth to deny the youth the right to bankruptcy to support bankers and the Democrats screwed them. Now Obamacare is abusing the youth again. This is the greatest transfer of wealth from the younger generation into the pockets of insurance companies who lobby and give Pelosi money. Insurance company PACs always donate directly to Pelosi. Here is a list of the Insurance companies donating to the Democrats to keep Obamacare rolling and Starr Insurance is at the top.
There is no money going to the "rich"; it goes to insurance companies. My personal insurance doubled as did my deductible and then I have coverage for young children I do not have but it's there by law and I have to pay for it. The joke has become that you can just walk into a bar and tell the girls to line up, no worries, you are covered for unlimited maternity leave and children and there is no marriage requirement or age limit. That may be the only way to your money's worth out of Obamacare.
If I were Trump, I would mandate all insurance policies must be reinstated pre-Obamacare. I would NATIONALIZE health insurance and make them function the same as Utilities. Yes, it would be an anti-free market, but the political system is such that the "free market" means they can bribe people like Pelosi to keep the money rolling in. Impose term limits, and then this measure would not be needed. But I do not see how this can be accomplished without a revolution.
Insurance companies must be compelled to apply for any rate increase whatsoever. They should not be allowed to cancel your insurance either. That is like going to a casino to play poker and they remove all the aces from the deck to make sure you cannot have 4 aces.
I would also impose Tort reform and provide a specific table of what you get for what type of injury. In law, it is cheaper to kill someone than it is to injure someone because you will have to pay all sorts of legal fees and an award that can be greatly exaggerated. Kill someone in an accident and it's a flat award far less than injury in most cases.
Read More @ ArmstrongEconomics.com
We encourage you to Share our Reports, Analyses, Breaking News and Videos. Simply Click your Favorite Social Media Button and Share.