By Greg Hunter's USAWatchdog.com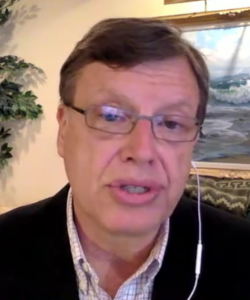 Radio host Dr. Dave Janda says Trump is bringing big changes to the world with tough talk on trade. At the end of the G-7 economic forum, Trump said America is "like the piggy bank that everyone is robbing, and that ends." Trump is basically saying America has been cheated in trade deals for decades and countries like China, Canada and Mexico are ripping us off. Janda, who has deep political and Intel sources, says, "Yes, that is correct. Go back to 1992 and Ross Perot. He was demagogued by the media as a crazy man. He was marginalized. He was ridiculed. 110% of what Ross Perot said about NAFTA is correct. It was a great 'sucking sound' of jobs leaving and manufacturing jobs leaving. Who benefited by that? Multinational corporations that are run by the globalists and political leaders. . . . All these agreements that are created by the globalists are money laundering fronts. Whether it's NAFTA or whether it's the Iran deal, they are all money laundering fronts."
The success President Trump had this week with North Korea is tied to trade and China. Janda says, "So, you are going to see a positive development on the peace front. Then you are going to see some backing down of trade war talk with China. Then you are going to see another development with the North Korea peace process and more backing down. People need to realize the peace initiative and trade agreements are working hand in hand. I believe Trump is going to use that same model of negotiation and that same linkage, and Trump is going to take that model he developed in North Korea and China and he's going to take it to Iran."
Also, this week, is the expected release of the Inspector General report on the DOJ and FBI handling of the Hillary Clinton email investigation. The report examines how a decision was made months before the investigation was completed that Clinton would be exonerated of any crimes even though she clearly committed numerous crimes. Janda predicts, "I believe the Globalists are in the crosshairs, and when this report comes out, I believe it's going to be heavily redacted. Understand something, that's not where this is going to end." Janda predicts President Trump will order the report to be unclassified and released un-redacted. Janda contends, "That Inspector General report is going to open the door and open people's eyes. . . . A very high source has told me for months that both Hillary Clinton and Barack Obama have violated the Espionage Act on many occasions."
Janda says the debt based financial system is headed for a reset. Janda says the reset will not only reset the debt but clear out corruption and "restore the rule of law." Janda also says, "I have political sources that have said a reset will occur. I do not have a time frame for the reset . . . . I believe Donald Trump will preside over the largest bankruptcy in history, and that is why he's there. I also believe that this reset will involve an escalation in the price of gold and silver, and the manipulation will be terminated."
Join Greg Hunter as he goes One-on-One with Dr. Dave Janda, host of the "Operation Freedom"radio show, for an in-depth interview.
(To Donate to USAWatchdog.com Click Here)
After the Interview:
There is free information and content on DaveJanda.com. You can also subscribe for premium content for 30 cents a day, just click here. To buy a copy of Dr. Janda's book "The Awakening of a Surgeon," click here.

Related Posts:
https://usawatchdog.com/big-globalist-deals-are-money-laundering-frauds-dave-janda/
We encourage you to Share our Reports, Analyses, Breaking News and Videos. Simply Click your Favorite Social Media Button and Share.