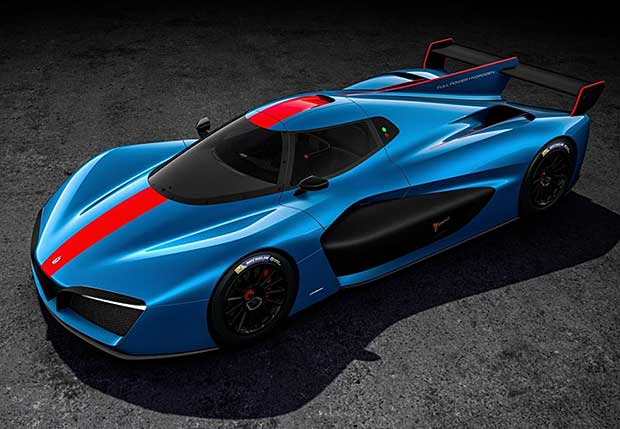 Pininfarina has decided to make it official and bring their hydrogen fuel cell H2 Speed racecar from concept status to commercial status, rolling it out in limited numbers.
I've talked about Pininfarina before, first in 2008 when they introduced their Sintesi hydrogen fuel cell vehicle prototype and second in 2016, about two years ago when they introduced their Pininfarina H2 Speed concept car (which wasn't fully functional back then).
The 2018 Pininfarina H2 Speed has undergone some important upgrades in the past two years.
According to Topspeed, "It might look the same at first glance, but you'll notice there are some changes. For instance, the wheelbase has now been extended while the width has actually been reduced. The H-point has also been raised as a solution to provide better visibility for the driver and allow for the necessary roll cage. The rear intakes have been altered to send air toward the electric motors and rear brakes. The air scoop on the roof now accommodates airflow in the cabin."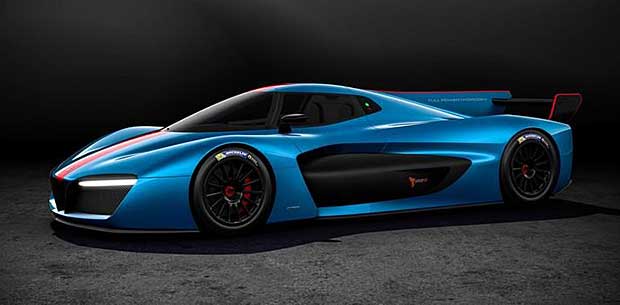 The Pininfarina H2 Speed tops out at 186 mph with a 0-62mph dash of around 3.4 seconds qualifying it as a supercar. The H2 Speed uses a 250 kW GreenGT hydrogen fuel cell plus four synchronous electric motors to generate 653 hp. The racecar also has a torque vectoring system to ensure smooth cornering ability.
The vehicle holds 8.6 kg of compressed hydrogen gas (at 10,000 psi) and takes only 3 minutes to refill. It's LMP carbon-fiber chassis and steel frame comes in at a svelte 3,130 lbs.
Pininfarina has stated they plan a very limited production of the H2 Speed to only one dozen vehicles. They haven't stated the price but expect it to be hefty (speculation is around $2.5 million USD) for this type of H2 racecar. Speed plus zero emissions – it's the wave of the future.
Citations
http://www.hydrogencarsnow.com/index.php/hydrogen-cars/pininfarina-h2-speed-concept-fcev-unveiled-in-geneva/
https://www.autoblog.com/2018/03/06/pininfarina-geneva-electric/
https://www.topspeed.com/cars/car-news/the-pininfarina-h2-speed-evolves-from-simple-concept-to-full-blown-hydrogen-powered-racecar-ar180234.html
http://www.hybridcars.com/hydrogen-supercar-real-headed-production/
https://www.autocar.co.uk/car-news/motor-shows-geneva-motor-show/pininfarina-h2-speed-concept-enter-production-track-only
http://www.hydrogencarsnow.com/index.php/hydrogen-cars/pininfarina-sintesi-fuel-cell-car-debuts/
Source:
http://www.hydrogencarsnow.com/index.php/hydrogen-cars/pininfarina-h2-speed-racecar-to-roll-out-commercially-in-limited-numbers/
We encourage you to Share our Reports, Analyses, Breaking News and Videos. Simply Click your Favorite Social Media Button and Share.