This post CAUTION: Can a Deutsche Bank Panic Crush Stocks? appeared first on Daily Reckoning.
It's been a bad week for banks.
U.S. markets caught a whiff of Deutsche Bank's rotting corpse early Thursday. Traders lost their lunch a little before 1 p.m., sending the major averages into a tailspin. The Dow led the way lower. By the closing bell, the big board had dropped nearly 200 points.
The catalyst for the move was apparently a lone Bloomberg article highlighting that 10 hedge funds doing business with the bank are reducing exposure.
"The funds, a small subset of the more than 800 clients in the bank's hedge fund business, have moved part of their listed derivatives holdings to other firms this week, according to an internal bank document seen by Bloomberg News," the article reads. "Among them are Izzy Englander's $34 billion Millennium Partners, Chris Rokos's $4 billion Rokos Capital Management, and the $14 billion Capula Investment Management, said a person familiar with the situation who declined to be identified talking about confidential client matters."
So there you have it. Luckily, Deutsche Bank stock is no stranger to stress these days. Shares dropped to new lows on the news.
But I have to ask… is anyone really surprised?
European bank stocks have been stuck near their crisis lows for years now. Deutsche Bank's chart is a complete disaster. The stock has gone nowhere but straight down for more than a year now.
Just looks at this chart: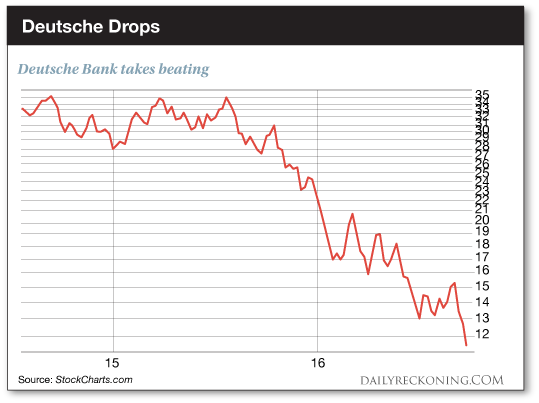 Meanwhile in the states, Wells Fargo's John Stumpf was forced to endure another brutal beating from lawmakers.
"One by one, Democrats and Republicans alike took turns ripping apart Mr. Stumpf and what took place at the bank he leads," The New York Times reports. "They denounced the actions as 'theft,' 'a criminal enterprise,' identity fraud, an outrage and a devastating blow to the entire banking industry."
Don't cry for John Stumpf. I'm sure he slept just fine last night on a pile of money (never mind the $41 million in forfeited stock and almost $3 million in docked pay).
Of course, the bad vibes surrounding banks are getting worse this morning. Deutsche continues to drop, dragging the rest of Europe's esteemed financial institutions down with it.
But are investors overeating? The major averages are no more volatile than they were to begin the month. But all of the squealing over yesterday's DB news would have someone believe the markets were in a complete tailspin. That hasn't happened—at least not yet.
For most of this year, the market has forced us to be incredibly selective with our trading dollars. Dangerous whipsaw action threatened countless potential trades. But select stocks are bubbling up under the surface of these scary headlines. That's given us even more opportunities to book gains—even as some choppy action has returned to the major averages.
Until our speculative trades start to break down, we see no reason to cut and run just yet—no matter how scary the headlines get…
Sincerely,
Greg Guenthner
for The Daily Reckoning
P.S. Make money in ANY market — sign up for my Rude Awakening e-letter, for FREE, right here. Never miss another buy signal. Click here now to sign up for FREE.
The post CAUTION: Can a Deutsche Bank Panic Crush Stocks? appeared first on Daily Reckoning.
This story originally appeared in the Daily Reckoning . The Daily Reckoning, offers a uniquely refreshing, perspective on the global economy, investing, gold, stocks and today's markets. Its been called "the most entertaining read of the day.
Source:
http://dailyreckoning.com/caution-can-a-deutsche-bank-panic-crush-stocks/
We encourage you to Share our Reports, Analyses, Breaking News and Videos. Simply Click your Favorite Social Media Button and Share.