Good morning!
I added 3 more companies to yesterday's report in the evening. Not sure why I've been splitting the reports into two sessions lately, just tiredness amp; being overloaded with information I think. Sometimes you just need to spend a few hours digesting things before writing about them.
So here is the link for yesterday's report, which now includes additional new sections on the following;
eg Solutions (LON:EGS) - lousy interims, but contract wins mean a stronger H2 is in prospect. I'm not prepared to give this company the benefit of the doubt, given its track record.
DX (Group) (LON:DX.) – rapidly declining profits amp; huge structural problem with DX Exchange. A value trap in my view. I don't see this ending well.
Dillistone (LON:DSG) – OK interims. Nice recurring revenues. Good divis, but balance sheet not great. Unexciting, unless it can crank up the growth rate.
That's enough to get you started, whilst I write up today's report!
On to today's news;
---
Begbies Traynor
(LON:BEG)
Share price: 47.5p (up 2.7% today)
No. shares: 126.8m
Market cap: £60.2m
AGM trading update – this is an insolvency practitioner, which has also acquired other related businesses in property services (e.g. valuation, auction, etc). Today it updates on the year to date (ending 30 Apr 2017).
Trading seems to be alright;
Our trading in the first quarter of the current financial year was satisfactory. Performance in both divisions was in line with our expectations, despite the continuing challenging levels of market activity.
The insolvency market has been in the doldrums ever since we entered the artificial world of near-zero interest rates in 2008/9. This allowed zombie companies to be gradually restructured over the last 8 years, rather than being put through formal insolvency procedures, as happened in the past. So a lot less work for Begbies than expected, in recent years. Therefore it has down-sized its cost base, to remain reasonably profitable.
Today it also says that Govt insolvency statistics are roughly unchanged on last year.
Outlook comments sound reasonably upbeat in the circumstances;
…Overall, we continue to be confident of the prospects for the group and will look for further opportunities to develop and enhance the business, both organically and through selective acquisitions."
My opinion – it's valued on a forward PER of about 13.5, and has a nice dividend yield of 4.7%. Therefore there is some attraction to holding this share as a hedge against the next recession, and receive decent divis while you wait.
The group seems well managed, and the founder still holds a large stake.
I quite like it, but in current markets (which are growth-focused), it's likely to undulate in a general sideways direction, as it has done for the last 3 years. Only a looming recession would be likely to change that, in my view.
---
FW Thorpe
(LON:TFW)
Share price: 246p (up 0.8% today)
No. shares: 115.7m
Market cap: £284.6m
Results y/e 30 Jun 2016 – this is a group of companies designing amp; supplying professional lighting systems. It's been a long-standing favourite of mine, as it seems well-run, has a great balance sheet, and usually performs well.
Figures today look good, helped by an acquisition. To save me re-typing it, here are the highlights as flagged by the company today;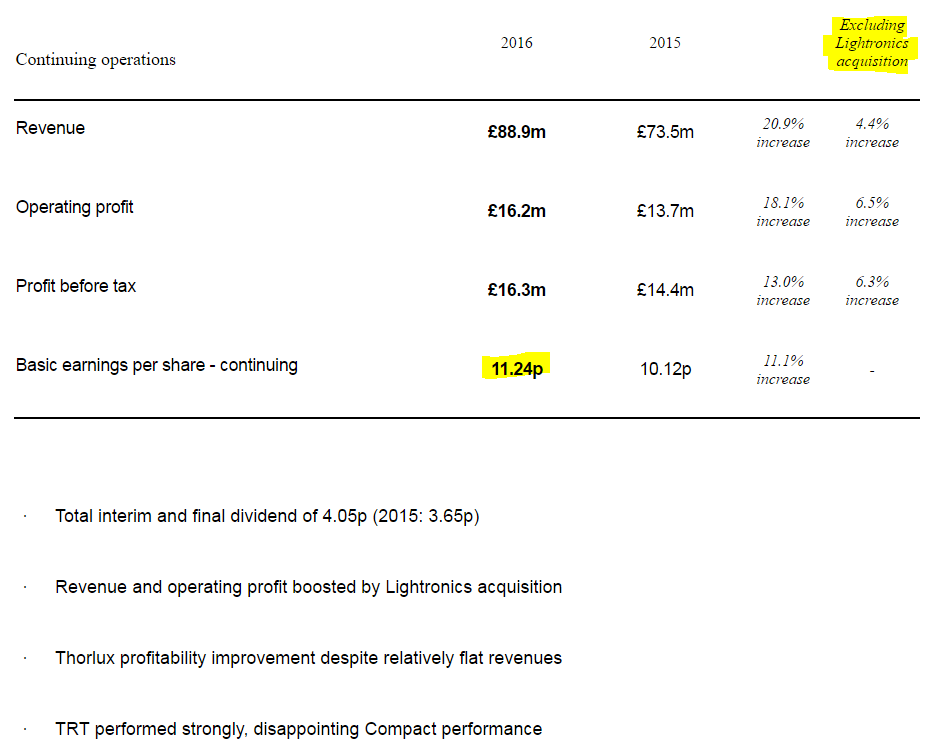 I particularly like that the company has shown the organic growth percentages, as well as the total (including the acquisition of Lightronics). This aids understanding, and all companies should do this. If figures are presented in a balanced, and clear way, good and bad, it engenders trust in management, and makes me more likely to want to buy the shares.
The opposite of course, is when some other companies cherry-pick the best points, and hide the negatives. Or, when companies are over-rampy in how they present the figures. Look back at how both Globo amp; Quindell presented their figures, with bold amp; underlining of UP x%, etc. So rampy presentation of results statements is a massive red flag. Thankfully, there's none of that nonsense going on with a traditional, sober company like FW Thorpe.
Outlook – I've enjoyed reading the narrative with today's results. It's written in a conversational style, so it almost feels like a fireside chat with the Chairman. There's nothing specific in it, but it's quite interesting nonetheless, especially his comments on BRICs countries;
I seem to say it every year but, yet again, I must say that the future is uncertain but now for another and additional reason; "Brexit".  Most world economies are still not buoyant and this just adds another economic unknown.

We will, however, continue to concentrate on areas we think best whilst still hearing but not necessarily acting upon what others tell us!  Concentrate on selling to the BRICS our government told us!  Brazil isn't doing so well, Russia is suffering with low oil prices and sanctions, India we don't hear of much, and China has a reducing growth rate.  All of these countries, by the way, have very high protectionist import duties for foreign manufactured goods such as lighting equipment.  We do, however, remain cautiously optimistic about the year ahead.

We will continue to concentrate in stable areas and where we have "advantage", be it our efficient durable products and systems for high energy cost markets, our reliable rugged industrial ranges for rugged industrial uses or whatever.

However events play-out people will always need lights.  We will continue on!
Valuation – this is where the warm fuzzy feeling deserts me.
Basic EPS was 11.24p for y/e 30 Jun 2016, so that is a PER of 21.9. That seems very stretched to me, for a business that has just announced organic profit up 6.3%.
The word "adjusted" does not appear anywhere in today's results though. So these figures are clean, and could no doubt be adjusted upwards, in the hands of more aggressive management. So that has to be taken into account in probably justifying a slightly higher PER. Not this high though.
Also, the strong balance sheet should be taken into account. There's £33.2m in cash, plus some freehold property, and no debt. Plus other surplus working capital, which could easily be geared up a little. So once could argue that the balance sheet probably has about £50m in surplus working capital, so about say 15-20% of the market cap. Adjusting that out would bring the PER down into the high teens.
I've looked to see if EPS could be massaged up, but amortisation of intangibles is mostly related to capitalised development spend. So we want to leave that charge intact, not adjust it out.
My opinion – overall then whilst I really like the company, it's just too expensive. This company used to languish on a PER in the low teens. Now it's in the 20s. So a good part of the share price performance has simply been an expansion of the PER. This is true of many companies now, and is being driven by QE amp; ultra-low interest rates, forcing investors into equities.
Sure, earnings have risen too, but I think we need to be very careful about not getting too carried away with over-paying for businesses like this which are good, but not exceptional.
So for me, it's not something I could buy at this level, even though I like a lot of things about the business.
---
A few snippets to finish off with;
Fishing Republic (LON:FISH) - the company is reporting modest profits, and growing. However, the blue whale in the koi carp pond can be found on the balance sheet – namely inventories are gargantuan for the size of business, at £3.3m. Remember that is stated at original cost price.
The cost of goods sold in the 6 month period was £1.25m. So in other words, this company holds 2.6 half year's worth of stock. That is equivalent to about 15 month's worth of stock sitting in its premises, gathering dust. That's a complete joke. Most retailers of non-perishable items hold roughly 4-8 week's worth of stock.
The figures are ridiculous in my view, and make it uninvestable.
---
Mission Marketing (LON:TMMG) (I hold a long position in this share) – looks cheap on an initial, very quick look. Balance sheet is quite weak, so would never be a conviction buy for me, however I do hold a small long position in it. There's a results video here, which is helpful.
Directorspeak sounds positive, mentioning contract wins, and upbeat about H2. Could be worth a deeper look. I'm relaxing a bit about marketing sector, as the risk of an immediate recession appear to have receded.
---
SCISYS (LON:SSY) – this company seems to have got back on track. A quick skim of its results make me feel it's worth a closer look. I've written a lot about this company before, and continue to believe there's latent value in the company.
Outlook comments today sound quite upbeat. Valuation seems undemanding, but it's always been cheap, as I think it's seen as a bit pedestrian – little growth, and serving a lot of public sector organisations.
---
MC Saatchi (LON:SAA) – another marketing company announcing good figures today. In line with expectations outlook statement. Not cheap though – forward PER of 16.8 is pretty full for this sector.
---
I have to leave it there for today – am heading into London for meetings.
See you tomorrow!
Regards, Paul.
(usual disclaimers apply)