Wheeeeee!
That's what we like to say when we get a nice dip when we're shorting. It indicates both the excitement of the trade and it's also a reminder that Futures trading is a lot like playing Chutes and Ladders – things can quickly reverse on you, so you have to know when to take those profits off the table. Yesterday, we initiated our short oil position (/CL) during our Live Trading Webinar at 1pm and, before it was over, we had reduced the position to just 2 contracts, which we decided to leave overnight. Those two contracts made another $2,300 overnight and now we're up $4,110 on a trade in just 19 hours – not bad for a free webinar!
Because we know the NYMEX trading is FAKE, we knew the movement yesterday was also FAKE so we stuck with our short positions despite the "strong" oil inventory report, where the headline 5.2Mb draw in oil was also FAKE because, in fact, we imported 6.9Mb less oil last week than the week before. So not only was the draw NOT due to an uptick in demand but, without the hurricane disrupting shipping, we would have had a 1.7Mb BUILD last week. Meanwhile, those FAKE November contract orders are almost all gone – as we predicted:
That's right, there are now 500,000 (96%) FAKE orders for December crude oil and, as of yesterday's close, when we were shorting it (2:35 pm), it was $51.82. Now it's testing $51 and 0.82 on a futures contract is $820 per contract. That means those 519,754 contracts lost $426M this morning – ouch! Fortunately, we were able to lock up $4,000 of that gift money for ourselves – congratulations to all our Members!
We're done with oil shorts for the moment. Today is rollover day to the December contracts so anything can happen though, of course, we'll short below $51 or $51.50 if we get there on a bounce, using those lines as stops and, of course, we still have our longer-term Oil ETF (USO) puts. We can only hope that, by making contract spoofing more expensive for the pumpers, we can do just a little to curb the practice at the NYMEX – God only knows the GOP Congress has done nothing to stop this madness, which robs Americans of Billions of Dollars at the pumps each year.
While we took $4,000 and ran on our oil shorts (but back in if $51 breaks, of course) we still have our S&P shorts (/ES) at 2,140 because we still think the market is toppy. We detailed the bounce lines from our fabulous 5% Rule™ last Wednesday and they are still in play at:
Bounce lines to watch for our other indexes (Futures, we don't care about the headline index) are:

Dow (

/YM

) 18,075 (weak) and 18,150 (strong)
S&P (

/ES

) 2,134 (weak) and 2,140 (strong)
Nasdaq (

/NQ

) 4,820 (weak) and 4,840 (strong)
Russell (

/TF

) 1,226 (weak) and 1,232 (strong)
Nikkei (

/NKD

) 16,900 (weak) and 16,950 (strong)
As you can see from the chart, last week we got a nice dip down to 2,120 on /ES and that was good for gains of $1,500 per contract (you're welcome) from our 10/12 entry and then another $1,000 per contract (you're welcome) when we hit our 2,140 shorting line again on the 14th and then $500 per contract (you're welcome) when we hit 2,140 again on the 18th. So yesterday we tested 2,140 and guess what – we went short! See, this stuff isn't complicated, is it?
We teach our Members to identify recurring patterns like this, patterns that can lead to very profitable trades but seeing a pattern alone isn't enough – you also have to be aware of the overall economic environment to make sure the line (2,140 in this case) is likely to hold and, hardest of all, we have to learn not to be greedy because opportunities like these come around pretty much every day – but only if you have gotten back to CASH!!! and are ready to take advantage of them.
As noted in recent posts, we're not too thrilled with the Global Macros heading into earnings. Nonetheless, in yesterday's portfolio reviews we found several good bargains we wanted to press our bets on – one of which was Imax (IMAX), who just reported nice earnings for us this morning.
My morning comment to our Members and Members of the Options Opportunity Portfolio over at Seeking Alpha was:
IMAX – Our 5 Jan $25 calls are $5.60, which is more than we paid for them. I'm worried they take off on earnings so let's sell those ($2,800) and buy 10 March $27 ($4.50)/32 ($1.75) bull call spreads at $2.75 ($2,750) as 5 Jan $25s will only make $1,000 more at $32 but these spreads will make $2,250 at the same price.
The original net of the spread was $550 and the adjustment puts us in a position to net $5,000 while taking another $50 off the table, leaving us with a 900% upside potential on cash in just a year. IMAX seems well on the way to hitting our $32 goal in March so, once again, congratulations to our Members on another great winning trade!
Meanwhile, while we were pressing our bets on bargain stocks, we were also upping our hedges because we REALLY do not trust the market and won't until we see some good earnings reports that show us that things are really turning around for the Bottom 90% – not just the Top 10%.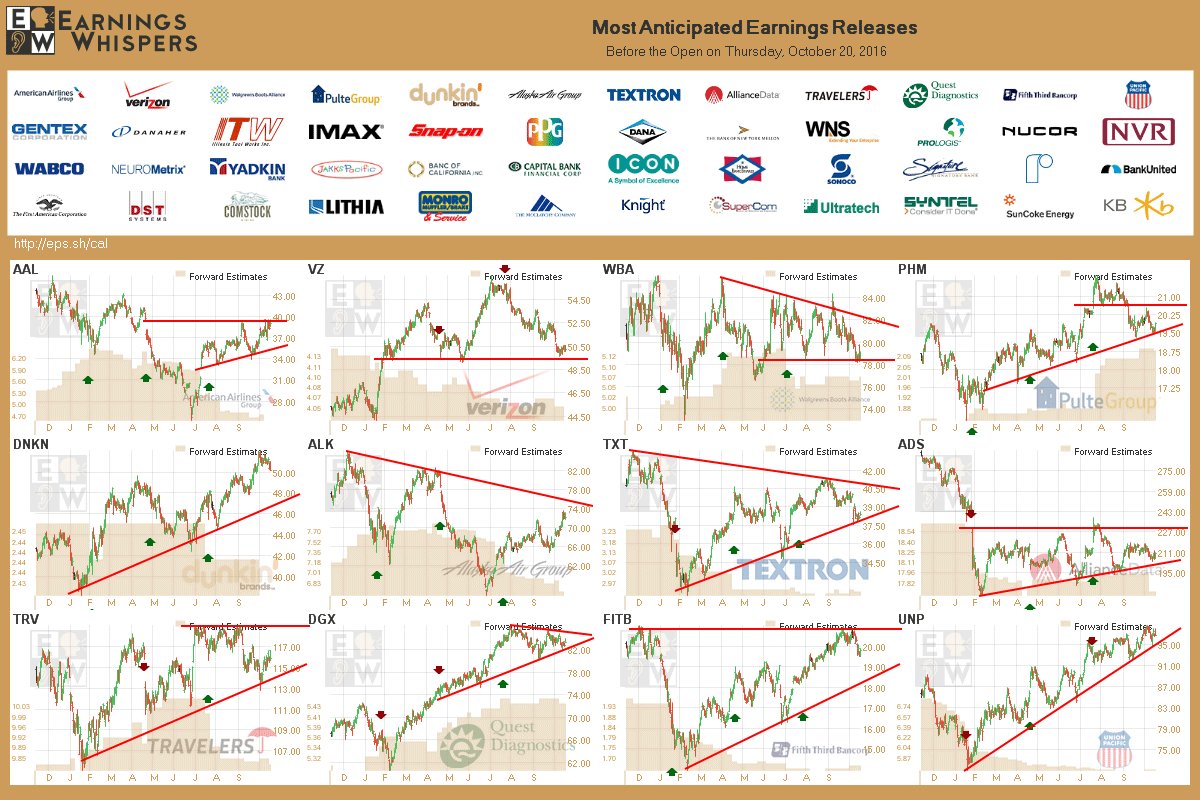 There's no point in making gains like these if you don't know how to protect them!
Provided courtesy of Phil's Stock World.
Would you like to read up-to-date articles on the day they are posted? Click here to become a part of our growing community and learn how to stop gambling with your investments. We will teach you to BE THE HOUSE – Not the Gambler!
Source:
http://www.philstockworld.com/2016/10/20/4000-thursday-our-live-trade-ideas-make-our-members-money/?utm_source=beforeitsnews&utm_medium=feed&utm_campaign=psw-feeds&utm_content=article-link
We encourage you to Share our Reports, Analyses, Breaking News and Videos. Simply Click your Favorite Social Media Button and Share.