Technical analyst Chris Ciovacco examines the Federal Reserve chairperson's latest speech, and concludes that the cartel remains firmly dovish — despite some hints to the contrary.
Hard To Ignore Dovish Tone Of Yellen's Remarks
Janet Yellen's speech last Friday cast some doubt on current expectations of a December rate hike. The first sentence of her prepared remarks questions analysis based on recent economic history:
"Extreme economic events have often challenged existing views of how the economy works and exposed shortcomings in the collective knowledge of economists."
It is possible Yellen was implying the call to raise interest rates based on the historical relationship between employment and inflation may be premature given the state of the global economy. From The Wall Street Journal:
"Her speech at a conference held by the Federal Reserve Bank of Boston offered a window into her mind-set and how policy might evolve in the months ahead. She effectively expressed sympathy for the idea of keeping short-term interest rates low to let the economy gather steam and reverse some of the long-run debilitating effects of the slow recovery, such as low labor-force participation and business investment. That implied very gradual rate increases in the months ahead."
Are Inflation Expectations Taking Off?
If we use the ratio of inflation-protected Treasuries (TIP) to standard Treasuries as a proxy for inflation expectations, it is difficult to say they have reached alarming levels. The TIP/IEF ratio is currently lower than it was in both November 2008 and June 2015.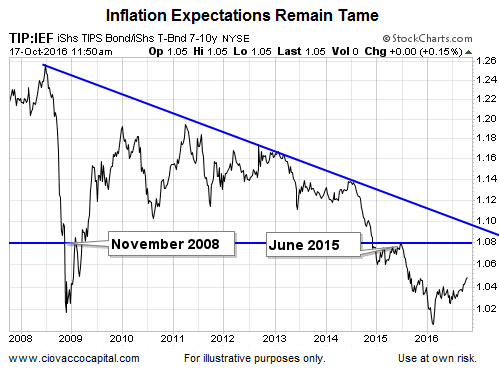 Other excerpts from Yellen's prepared remarks lean toward the dovish end of the interest rate spectrum:
"If we assume that hysteresis is in fact present to some degree after deep recessions, the natural next question is to ask whether it might be possible to reverse these adverse supply-side effects by temporarily running a 'high-pressure economy,' with robust aggregate demand and a tight labor market."

"For example, hysteresis would seem to make it even more important for policymakers to act quickly and aggressively in response to a recession, because doing so would help to reduce the depth and persistence of the downturn, thereby limiting the supply-side damage that might otherwise ensue. In addition, if strong economic conditions can partially reverse supply-side damage after it has occurred, then policymakers may want to aim at being more accommodative during recoveries than would be called for under the traditional view that supply is largely independent of demand."
Stocks: Pullback Or New Bear Market?
This week's stock market video puts numerous present day charts in historical context, allowing us to better understand the risks of a Fed-induced correction relative to the risk of a new long-term bear market.
After you click play, use the button in the lower-right corner of the video player to view in full-screen mode. Hit Esc to exit full-screen mode.


Market Expectations Did Not Change
Yellen's remarks did not significantly impact market odds for a December rate hike, meaning the market's initial reaction did not change perceptions about the probable short-term path of interest rates. Given numerous Fed governors have made the case for a December rate increase, the market remains skeptical relative to the shorter-term message in Yellen's remarks.
Fischer's Follow-Up Message
Fed Vice Chair Stanley Fischer spoke to the Economic Club of New York Monday. He said low rates had negative consequences, but raising them was not as simple as it may appear. From MarketWatch:
"I am sure that the reaction of many of you may be, 'Well, if you and your Fed colleagues dislike low interest rates, why not just go ahead and raise them? You are the Federal Reserve, after all." One of my goals today is to convince you that it is not that simple, and that changes in factors over which the Federal Reserve has little influence–such as technological innovation and demographics–are important factors contributing to both short- and long-term interest rates being so low at present," Fischer said.
So far today, the markets are taking a dovish stance on Yellen's commentary. The iShares Barclays 7-10 Year Treasury Bond Fund (NYSE:IEF) rose $0.31 (+0.28%) to $110.52 per share in Monday afternoon trading. Year-to-date, the largest ETF tracking medium term U.S. government bonds has gained 4.62%.
This article is brought to you courtesy of Ciovacco Capital.
You are viewing an abbreviated republication of ETF Daily News content. You can find full ETF Daily News articles on (www.etfdailynews.com)


Source: http://etfdailynews.com/2016/10/17/according-to-markets-reaction-yellens-latest-speech-was-dovish/
We encourage you to Share our Reports, Analyses, Breaking News and Videos. Simply Click your Favorite Social Media Button and Share.