Apple Defies Markets
Good Morning Traders,
As of this writing 4 AM EST, here's what we see:
US Dollar: Dec. USD is Up at 98.640.
Energies: December Crude is Down at 49.17.
Financials: The Dec 30 year bond is Down 10 ticks and trading at 163.20.
Indices: The December S&P 500 emini ES contract is 5 ticks higher and trading at 2135.25.
Gold: The December gold contract is trading Up at 1260.70. Gold is 31 ticks higher than its close.
Initial Conclusion
This is not a correlated market. The dollar is Up+ and crude is Down- which is normal but the 30 year bond is trading Down. The Financials should always correlate with the US dollar such that if the dollar is lower then bonds should follow and vice-versa. The indices are Up and Crude is trading Down which is correlated. Gold is trading Up which is not correlated with the US dollar trading Up. I tend to believe that Gold has an inverse relationship with the US Dollar as when the US Dollar is down, Gold tends to rise in value and vice-versa. Think of it as a seesaw, when one is up the other should be down. I point this out to you to make you aware that when we don't have a correlated market, it means something is wrong. As traders you need to be aware of this and proceed with your eyes wide open.
Asia traded lower with the exception of the Indian Sensex and Singapore exchanges which traded higher. As of this writing Europe is trading higher with the exception of the London exchange which is trading lower.
Possible Challenges To Traders Today
– Durable Goods is out at 8:30 AM EST. This is major.
– Core Durable Goods is out at 8:30 AM. This is major.
– Unemployment Claims is out at 8:30 AM EST. This is major.
– Pending Home Sales is out at 10 AM EST. This is major.
– Nat Gas Storage is out at 10:30 AM EST. This is major.
Treasuries

We've elected to switch gears a bit and show correlation between the 30 year bond (ZB) and The YM futures contract. The YM contract is the DJIA and the purpose is to show reverse correlation between the two instruments. Remember it's liken to a seesaw, when up goes up the other should go down and vice versa.
Yesterday the ZB made it's move at around 10:30 AM EST with no economic news in sight. The ZB hit a high at around that time and the YM hit a low. If you look at the charts below ZB gave a signal at around 10:30 AM EST and the YM was moving higher at the same time. Look at the charts below and you'll see a pattern for both assets. ZB hit a high at around 10:30 AM EST and the YM hit a low. These charts represent the latest version of Trend Following Trades and I've changed the timeframe to a 30 minute chart to display better. This represented a shorting opportunity on the 30 year bond, as a trader you could have netted about 20 plus ticks per contract on this trade. Each tick is worth $31.25. We added a Donchian Channel to the charts to show the signals more clearly.
Charts Courtesy of Trend Following Trades built on a NinjaTrader platform

Click on an image to enlarge it.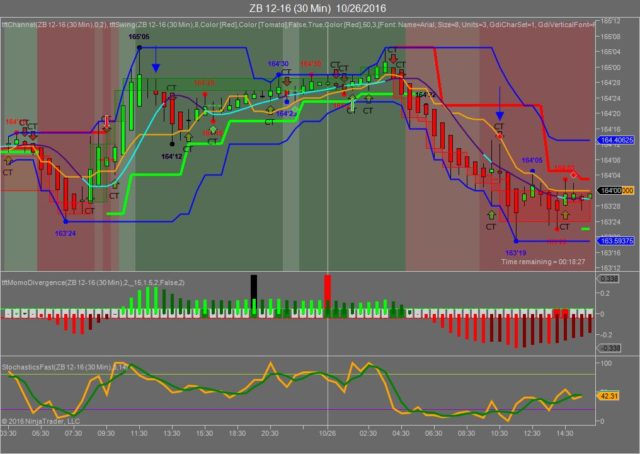 ZB – December, 2016 – 10/26/16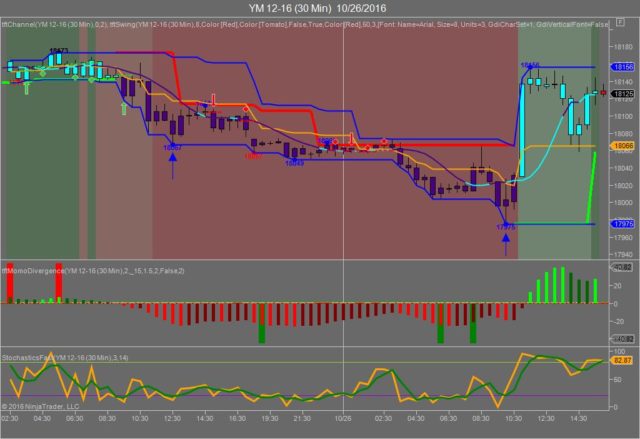 YM- December, 2016 – 10/26/16
Bias
Yesterday we gave the markets a downside bias as the Bonds and Gold were both trading higher yesterday morning and this usually represents a downside day. The Dow traded higher by 30 points however the S&P and Nasdaq both lost ground. Today we aren't dealing with a correlated market and our bias is neutral.
Could this change? Of Course. Remember anything can happen in a volatile market.
Commentary
Yesterday the markets were poised to go lower as Apple's report on their quarterly earnings didn't inspire confidence Tuesday evening when they reported. In fact Apple's revenue dropped due to decreased sales of the IPhone. If Apple wishes to change this situation and assuming they haven't reached market saturation then they'll to consider either a price reduction or release new products. Not for nothing but the the IPad has been around when Steve Jobs was alive and that was 2011. In any case everyone assumed that Apple's report would drive the market lower and that was partially correct as the Nasdaq and S&P both dropped yesterday but the Dow gained 30 points.
Just so you understand, Market Correlation is Market Direction. It attempts to determine the market direction for that day and it does so by using a unique set of tools. In fact TradersLog published an article on this subject that can be viewed at:
http://www.traderslog.com/market-cor…ket-direction/
Many of my readers have been asking me to spell out the rules of Market Correlation. Recently Futures Magazine has elected to print a story on the subject matter and I must say I'm proud of the fact that they did as I'm Author of that article. I encourage all viewers to read that piece as it spells out the rules of market correlation and provides charts that show how it works in action. The article is entitled "How to Exploit and Profit from Market Correlation" and can be viewed at:


View article on Futures Mag
As a follow up to the first article on Market Correlation, I've produced a second segment on this subject matter and Futures Magazine has elected to publish it. It can be viewed at:


View article on Futures Mag
Many subscribers have asked what is the best time of day to trade? A recent article published by Futures Magazine may shed some light on the subject:
http://www.futuresmag.com/2015/01/15…orning-trading
As readers are probably aware I don't trade equities. While we're on this discussion, let's define what is meant by a good earnings report. A company must exceed their prior quarter's earnings per share and must provide excellent forward guidance. Any falloff between earning per share or forward guidance will not bode well for the company's shares. This is one of the reasons I don't trade equities but prefer futures. There is no earnings reports with futures and we don't have to be concerned about lawsuits, scandals, malfeasance, etc.
Anytime the market isn't correlated it's giving you a clue that something isn't right and you should proceed with caution. Today our bias is neutral. Could this change? Of course. In a volatile market anything can happen. We'll have to monitor and see.
As I write this the crude markets are lower and the futures are trading higher. This is normal. Crude and the markets are now reverse correlated such that when the markets are rising, crude drops and vice-versa. Yesterday December Crude dropped to a low of $48.87 a barrel. It would appear at the present time that crude has support at $48.49 a barrel and resistance at $50.37. This could change. We'll have to monitor and see. Remember that crude is the only commodity that is reflected immediately at the gas pump. On Friday, December 4th OPEC reiterated their stance not to cut production. OPEC appears to be adamant about keeping production where it is as they believe that oil will rebound. What they haven't figured out yet is that the more countries like Canada and the US produce their own crude (by whatever means) the more crude prices will fall.
Last May OPEC reiterated it's stance not to cut production. The problem? Iran refused to cut production (as they are recently recovering from sanctions levied against them) and therefore no agreement was made. Could this change in the future? Of course, anything can happen in a volatile market.
If trading crude today consider doing so after 10 AM EST when the markets gives us better direction.
Future Challenges
Last Wednesday night we witnessed the final debate between Donald Trump and Hillary Clinton. At first it seemed as though Mr. Trump might finally act presidential but no such luck. The debate unfortunately turned into the usual mud slinging contest between the two and the only real victims here are the American people. Once again we're left with not too stellar choices when it comes to political candidates. Donald Trump gives no specifics on how he's going to do anything except to say "vote for me, I'm better than her." That kind of rhetoric will not register very well with the women in the US who by the way represent the majority of voters. Hillary for all her "experience" never addressed any of the issues brought up by Trump and unfortunately many people do not trust her. My take on that is quite simple: if someone is for me and clearly in my corner I'm not too concerned about what they do in their personal lives. Case-in-point when then president Bill Clinton was going thru all his issues with Paula Jones & Company I was traveling in Europe at the time and the Europeans thought this whole thing was ridiculous as it had nothing to do with his record or his public life.
It seems as though we'll never get any take on what the true issues are from these candidates.
Crude Oil Is Trading Lower
Crude oil is trading lower and the markets are higher. This is normal. Crude typically makes 3 major moves (long or short) during the course of any trading day: around 9 AM EST, 11 AM EST and 2 PM EST when the crude market closes. If crude makes major moves around those time frames, then this would suggest normal trending, if not it would suggest that something is not quite right. As always watch and monitor your order flow as anything can happen in this market. This is why monitoring order flow in today's market is crucial. We as traders are faced with numerous challenges that we didn't have a few short years ago. High Frequency Trading is one of them. I'm not an advocate of scalping however in a market as volatile as this scalping is an alternative to trend trading.
Nick Mastrandrea is the author of Market Tea Leaves. Market Tea Leaves is a daily newsletter that is dedicated to your trading success. We teach and discuss market correlation. Market Tea Leaves is published daily, pre-market in the United States and can be viewed at www.markettealeaves.com. Interested in Market Correlation? Want to learn more? Signup and receive Market Tea Leaves each day prior to market open. As a subscriber, you'll also receive our daily Market Bias video that is only available to subscribers.