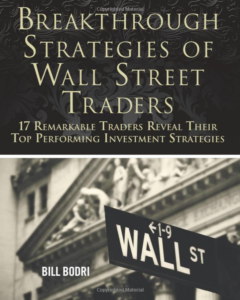 BarroMetrics Views: Breakthrough Strategies of Wall Street Traders
A few months ago, Bill Brodi interviewed me. He has now included that interview in his new book, "Breakthrough Strategies of Wall Street Traders: 17 Remarkable Traders Reveal Their Top Performing Investment Strategies."
In the book, Bill interviews both market professionals and ordinary people who have made it big by trading the markets. Some started with just $10,000 and went on to make millions.
Now, if you thought this is just another "Market Wizards" type book, you'd be mistaken because……
…..in Breakthrough, trader-investors reveal the exact buying and selling rules they employ for trading the markets via stocks, options or futures, and they are clear enough that you can try them out to duplicate their techniques.
The book covers the spectrum of:
Investing-Trading instruments from Stocks to Futures to Options to ETFs to FX.
Investing-Trading timeframes from day trading to swing trading to buy and hold
Investing-trading methods from BarroMetrics to Price Pattern and Time to Market Profile to Sector Investing to Buffet style investing to Quant Investing.
And I have mentioned only some of the areas covered by the interviews!
In short, there is something for everyone.
By the way, you may wonder why I would recommend a book that covers instruments, timeframes and methods that I don't trade or use.
Well, I am particularly interested in reading about how others invest-trade. I'm always open to learning something new. My best ideas have come from areas unrelated to my field of expertise and student questions.
If you read my interview, you'll see what I mean. There is an entire chapter devoted to my trading techniques and system rules (with all the do's and dont's).
The interview ran about an hour and a half. The interview contains all the lessons I privately tell people about trading and investing, including the life lessons I've learned along the way to get to where I am today.
Both newcomers to trading-investing and seasoned pros will find a lot of information that will make you a more profitable trader-investor in this book.
So where do you find the book? Here is the link: http://amzn.to/2d7cgwZ
Oh, almost forget Some of you may not have heard of Brodi. So, here's a short description:
Bill used to work on Wall Street as a research analyst and knows his stuff as to what works, what doesn't and what to ask.
The post Breakthrough Strategies of Wall Street Traders appeared first on Ray Barros' Blog for Trading Success.
Source:
http://www.tradingsuccess.com/blog/breakthrough-strategies-wall-street-traders-4258.html
We encourage you to Share our Reports, Analyses, Breaking News and Videos. Simply Click your Favorite Social Media Button and Share.