It's been a relief to see my Stock in Focus screen fill out with highly-ranked companies again over the last few weeks. The stock market shock wave caused by the referendum left the screen almost empty of stocks during the summer. I was beginning to wonder how easy it would be to continue building the SIF portfolio.
However, discipline is essential for investing, especially if following a rules-based system. That's why this week I am going to venture into a sector that's taboo for many investors.
Beximco Pharmaceuticals is an AIM-listed Bangladeshi company specialising in generic drugs. Although this stock's overseas status will trigger an automatic bargepole for some investors, Beximco is no fly-by-night stock.
The company was incorporated in 1976 and has been listed on AIM since 2005. It's consistently profitable and has very little debt. Sales rose by 15% last year to £111.95m. This figure included a 68% rise in export sales compared to 2014, suggesting that the group's focus on overseas markets is paying off.
Beximco exports to a growing number of markets, including the USA, Australia, Western Europe and Brazil. The company's manufacturing facilities in Bangladesh produce both own-branded products and licensed products from major Western pharmas, such as Roche. Past licence partners have also included German group Bayer.
Beximco also meets all the financial criteria for the SIF portfolio and helps satisfy my need for more defensive stocks. One caveat is that daily volume is often quite low and the share is traded as a GDR on the London market. The spread can rise above my 4% threshold on quiet days, so care and patience would be needed if buying the shares for a real money portfolio.
Currency questions
Another concern is that Beximco's reporting currency is the Bangladeshi Taka (BDT). This isn't exactly a well-understood currency for most investors, but it appears to have been fairly stable against major currencies such as the US dollar in recent years.
The current exchange rate is around 96BDT/1GBP. Sterling's decline has pushed this rate down from about 120BDT/1GBP over the last year. This means that Beximco's earnings are worth around 25% more than they were one year ago.
A reversal of these currency gains is a potential risk, but one I think may be worth taking. Although I expect sterling will recover some lost ground, I don't think it's logical to expect a rapid recovery to pre-referendum levels.
This is one of those situations where it's necessary to take a macro view. If you expect the pound to bounce back rapidly, investing in stocks whose profits have been boosted by a weaker pound might not make sense.
Good value?
Beximco scores well in Stockopedia's algorithms, with a StockRank of 99 and a ValueRank of 87.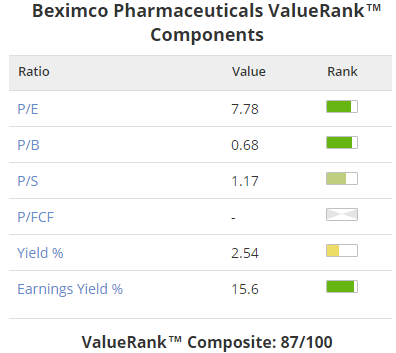 There's little to dislike for value investors, except that free cash flow has been negative in recent years due to a sharp rise in capex.

Debt levels have risen as a result of the negative free cash flow but remained fairly modest at the end of last year, with net debt of around 1.5 times post-tax earnings. However, the firm's latest results mention the approval of a $51.6m loan from a German bank, which will be used to finance new production facilities.
Although this seems likely to result in a sharp rise in debt, I'm not overly concerned by this given the group's track record of growth. Investment in facilities is inevitably going to be a requirement if the group is to continue its export growth drive. The fact that the loan will come from a reputable western bank gives me confidence that suitable due diligence has been done by the firm's lenders.
One final point is that I was interested to see Beximco trading at such a small premium to its tangible book value (P/TB=1.17). Beximco's growing portfolio contains more than 500 products, many of which are own branded. I'd guess that these plus the firm's drug approvals in western markets — notably the USA — should provide some tangible asset backing for the shares.
Rising returns
A QualityRank of 79 suggests few serious problems in the quality department. That's a conclusion which is backed up by a Piotroski F-Score of 7.
Beximco's main weaknesses relate to poor free cash flow generation in recent years. In my view this risk is acceptable given the group's low debt levels and improving returns.
Operating margins have averaged 23% over the last six years, during which return on capital has risen from 8.7% to 11%. This suggests to me that Beximco is generating higher returns from new products, in keeping with its move into higher value markets.

I'd expect the firm's growing scale and portfolio to provide a slow-growing moat relative to smaller emerging market peers. Meanwhile Beximco's low cost base should provide some protection against competition from higher-cost Western pharma firms.
Aside from currency factors, the main risks seem to be that the group will engage in aggressive accounting to accelerate profit growth or that it will overextend its balance sheet to speed up portfolio growth.
At the moment there seems little sign of either risk. There's strong management continuity, too. The chairman and vice chairman are brothers who founded Beximco forty years ago. The MD has been at the firm since 1987, while the other executive directors have between 12 and 20 years of service.
Market-beating momentum
Beximco's share price has risen by more than 80% over the last year, and has outperformed both the AIM index and the FTSE All-Share since 2011. The stock's momentum remains very strong, with a MomentumRank of 99 and strong figures almost across the board: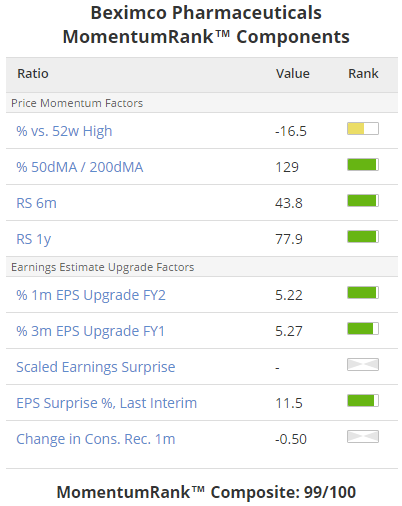 It's not clear to me how much changes to global exchange rates have contributed to the group's rising earnings estimates. Beximco operates in more than 50 countries so some degree of exposure to currency effects is inevitable.
However, the latest broker upgrades appear to have been triggered by the group's interim results update, which was issued at the start of October. This suggests that if earnings remain flat in H2, the full-year earnings per share will be 5.14BDT, about 14% above previous guidance of 4.49BDT and slightly above last year's figures.
The shares currently trade on 7.9 times forecast earnings and offer a prospective yield of 2.7%. Double-digit earnings and dividend growth is forecast for 2017, leaving me of the view that this stock offers decent upside potential at current levels.
As a result, I'll be adding some of these shares to the SIF portfolio this week.
As always, please DYOR before making any trading decisions — and let me know your thoughts on Beximco in the comments below.
Source:
http://www.stockopedia.com/content/can-beximco-pharmaceuticals-deliver-a-defensive-profit-for-the-sif-portfolio-155101/
We encourage you to Share our Reports, Analyses, Breaking News and Videos. Simply Click your Favorite Social Media Button and Share.