Fund manager Chris Ciovacco breaks down Stanley Fischer's recent interest rate commentary, and finds an interesting admission that may have big ramifications for stocks.
What Message Was Embedded In Fischer's Entire Speech?
Human beings tend to look for data that supports their personal bias. This concept applies to interpreting information coming from the Federal Reserve. It would be easy to find portions of Vice Chairman Stanley Fischer's remarks that support the case for raising rates as well as the case for holding rates steady for the remainder of 2016.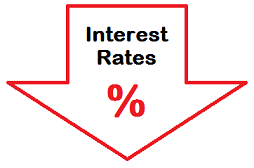 Fischer Says Low Rates Are Concerning
In Monday's speech, Fischer enumerated concerns that are tied to an extended period of near-zero interest rates:
There are at least three reasons why we should be concerned about such low interest rates. First, and most worrying, is the possibility that low long-term interest rates are a signal that the economy's long-run growth prospects are dim.

A second concern is that low interest rates make the economy more vulnerable to adverse shocks that can put it in a recession.

And the third concern is that low interest rates may also threaten financial stability as some investors reach for yield and compressed net interest margins make it harder for some financial institutions to build up capital buffers.
Does It Imply The Fed Needs To Hike Rates?
If the Fed Vice Chair comes out and says there are serious concerns about having low interest rates for an extended period of time, then it is logical to imply the Fed's Vice Chair is in favor of hiking rates in December. However, the text of Fischer's speech makes it clear that it is not that easy:
Now, I am sure that the reaction of many of you may be, "Well, if you and your Fed colleagues dislike low interest rates, why not just go ahead and raise them? You are the Federal Reserve, after all." One of my goals today is to convince you that it is not that simple, and that changes in factors over which the Federal Reserve has little influence–such as technological innovation and demographics–are important factors contributing to both short- and long-term interest rates being so low at present.
Some Areas Are Outside Of The Fed's Control
If Fischer believes successfully pushing interest rates higher is not as "simple" as the Fed hiking rates, what areas did he focus on during Monday's speech? Excerpts from his prepared remarks provide some insight:
What might contribute to raising longer-run equilibrium interest rates?

An improvement in animal spirits
Expansionary fiscal policy (examples: boost government spending by 1 percent of GDP or cuts taxes by a similar amount.)

In summary, a variety of factors have been holding down interest rates and may continue to do so for some time. But economic policy can help offset the forces driving down longer-run equilibrium interest rates. Some of these policies may also help boost the economy's growth potential.
Fed Desperately Wants Higher Rates
With rates near zero, central bankers are probably not sleeping very well given the limited ammunition they have to fight the next recession. The Fed wants to raise rates to put some bullets back in their chamber, but they don't want to push the economy into a recession via an ill-timed rate hike. Based partly on the fear of hiking too soon, Janet Yellen's remarks last Friday contained an easy to discern dovish tone. Fischer's speech basically asked for fiscal help from Congress, something that has been absent for quite some time.
Stock Market Maintains Indecisive Stance
An October 12 article contained four charts outlining some key areas for the stock market. An updated version of one of the charts is shown below. Early in Tuesday's session, the S&P 500 remained above several "we will learn something either way" levels.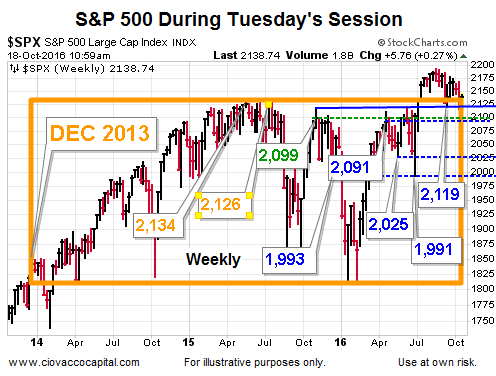 The SPDR S&P 500 ETF Trust (NYSE:SPY) was unchanged in premarket trading Wednesday at $213.71 per share. Year-to-date, the largest ETF tracking the benchmark S&P 500 index has gained 4.83%.
This article is brought to you courtesy of Ciovacco Capital.
You are viewing an abbreviated republication of ETF Daily News content. You can find full ETF Daily News articles on (www.etfdailynews.com)


Source: http://etfdailynews.com/2016/10/19/fischer-admits-fed-cant-control-rates-on-its-own/
We encourage you to Share our Reports, Analyses, Breaking News and Videos. Simply Click your Favorite Social Media Button and Share.