Analyst John Maudlin examines the practices that companies and analysts use to manipulate earnings expectations to ensure earnings beats time after time.
You own stocks for two reasons. You either think the shares will gain value, or they will give you dividend income, or both. Neither will happen unless the company is making money or at least has the plausible hope of making money someday. Earnings reports are important because they tell us whether that's happening.
They're important for a deeper reason, too. A company's market value is essentially the present value of its expected future profits. Small changes in that "expected" number can have a kind of domino effect. Public-company executives know this and try to put their best feet forward. Analysts are supposed to see through such maneuvers and discern reality. They issue forecasts about companies, and then each quarter we get to see if the forecasts were right.
Somehow this innocent-sounding exercise has evolved into a giant expectations shell game. For the most part, Wall Street doesn't care if a company's report is good or bad; it cares whether the results match, beat, or fall below the consensus analyst forecast. A company "wins" the game and earns a higher share price by delivering unexpectedly positive numbers. This creates all sorts of perverse consequences.
You can see the problem all the time in the way analysts, in response to a company's guidance, revise their forecasts downward as the release of the earnings report approaches. Michael Lebowitz at 720 Global published a great chart on the phenomenon last week. These are averages for the 17 quarters from 2Q 2012 through 2Q 2016: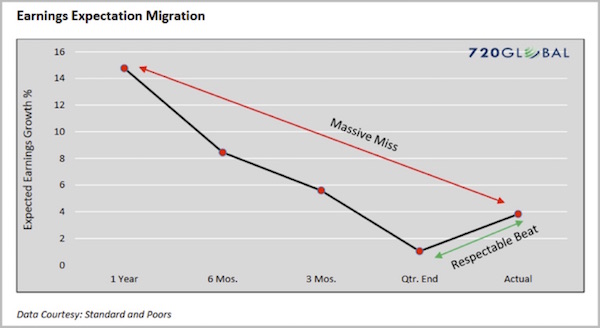 Profit projections made one year out are usually way too optimistic. Over the next twelve months they fall steadily to a point just below the eventual actual number. Voila: a huge failure to deliver on the year's goal gets transformed into a "we beat expectations" victory.
This happens all the time, as Lebowitz shows in this chart for the same 17 quarters.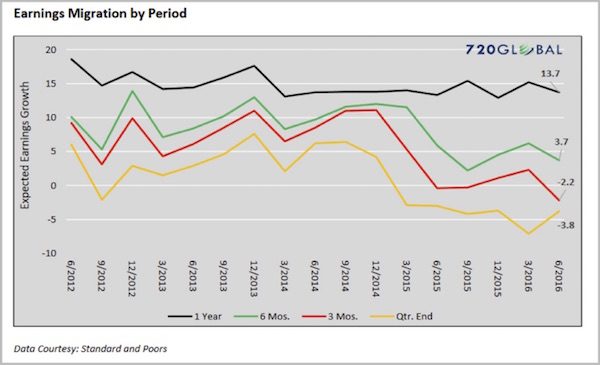 Here's how Lebowitz explains this chart:
The black line represents quarterly forecasts of earnings growth one year in the future. The green line shows that, six months later, earnings growth has been revised downwards in every instance. Earnings expectations continue to get revised lower as shown by the red line, which represents earnings expectations three months prior to their release. The yellow line shows expectations in the quarter that earnings are due to be released. As you can see in every instance, earnings expectations are at their highest a year in advance, and lowest in the quarter they are due to be reported. Hardly a coincidence, we suspect.
Indeed, this pattern is hardly coincidental. It resembles the sort of fact manipulation routinely practiced by political-messaging operatives. Early on, you tell people how wonderful the future will be when there's no way anyone can prove you wrong. As reality draws nearer and the chances of looking foolish increase, you get more cautious. Then at the end you purposely dampen any enthusiasm so your voters (or investors) will get a pleasant surprise.
Unexpected bad news is the absolute worst thing, for both Washington and Wall Street, so both work hard to avoid it – by intentionally disseminating information they know (or should know) to be wrong. They defend this practice by saying it's better to err on the side of caution. That's true, usually, but they are still erring on purpose instead of giving their honest opinions.
You know where this goes next. Wall Street ears fill with "whisper numbers" that supposedly reflect the "real" estimates that analysts don't publish. Who gets the whisper numbers, and when do they get them? The potential for abuse is obvious. People who get reliable whisper numbers can trade ahead of the unwashed public and disfavored institutions that must rely on published forecasts.
Giving someone who is not inside the company advance notice of actual earnings is illegal, and you can get in serious trouble for it. But that doesn't stop a lot of interesting action from happening right before some companies announce their earnings. I should note that there are many legitimate money managers who go to extreme lengths to try to figure out what is going on in the companies they cover, to the point of counting the cars in the parking lot or the number of trucks leaving a warehouse, and so on. But that is just the side story…
The net result of this earnings forecast manipulation is a stock market with a last-minute bullish bias. The rosy early forecasts convince investors to buy a stock, and then the lower last-minute revisions convince them not to sell even when results are nowhere near original expectations. Then, all these forecasts get aggregated into sector and market forecasts, convincing strategists to maintain or increase their allocations to stocks instead of other asset classes.
And the manipulation does make a difference. Mark Hulbert, writing at MarketWatch, gives us the following chart and story:
Consider the percentage of recently-reporting companies that beat Wall Street's expectations. Among the firms in the S&P 500 that have reported this earnings season, for example, 76.1% beat the analyst consensus and just 16.8% missed.

Nor are these recent results a fluke. Over the last 16 quarters (or four years), according to Standard & Poor's data, more than two-thirds of all S&P 500 companies' earnings beat expectations. In no individual quarter was the share beating less than 63%.

Beating expectations has now become expected, in other words.

In contrast to the largely clueless analysts, however, investors appear to be seeing through the expectations game. They have stopped getting particularly excited by beating expectations, for example. At the same time, they severely punish companies that fail to clear the artificially low hurdle that their expectations game has created.

This asymmetry is evident in the performance of a company's stock immediately after reporting its earnings. During the current earnings season, the stocks of companies missing expectations fell 2.3% following their earnings reports, versus just a 0.6% average gain among companies that beat. (Data is from J. P. Morgan Markets.)
I don't think this phenomenon is the result of some nefarious conspiracy, but it might as well be. It is the fault of both company management and all-too-willing analysts responding to the incentives before them. It usually works… until it doesn't – and I think we're approaching a time when it won't.
This article is brought to you courtesy of Maudlin Economics.
You are viewing an abbreviated republication of ETF Daily News content. You can find full ETF Daily News articles on (www.etfdailynews.com)


Source: http://etfdailynews.com/2016/10/31/heres-how-wall-street-manufactures-earnings-beats/
We encourage you to Share our Reports, Analyses, Breaking News and Videos. Simply Click your Favorite Social Media Button and Share.