This post How Biotech Stocks Trumped the Hillary Clinton Curse appeared first on Daily Reckoning.
The election may be all but over. But that isn't stopping our fearless overlords from taking more pot-shots at biotech stocks…
Pharma CEOs breathed a collective sigh of relief after the final presidential debate ended late Wednesday evening without a single mention of rising drug prices.
But the political ruling class couldn't resist one more jab.
Bernie Sanders and Rep. Elijah Cummings kept the pandering alive yesterday with the release of a scathing letter to embattled drug maker ARIAD Pharmacueticals (NASDAQ:ARIA). The dynamic liberal duo demands to know more about "staggering" price increases for the drug Iclusig, a treatment for bone marrow cancer.
ARIAD stock endured a quick 5% haircut when the news hit the wire.
But overall, the biotech sector took the punch like a champ. While the major averages finished Thursday trading near breakeven, the biotech sector jumped nearly 2%.
Our beloved biotechs have had a tough month. These former leaders just can't get off the mat. In fact, biotechs are the only group in the S&P 500 that remain in the red on the year, Bloomberg noted earlier this week…
"Among the 10 biggest single-stock declines in the benchmark gauge this year, six are health-care companies," Bloomberg reports. "The weakness is a departure from the past five years, when health-care's 128 percent advance through 2015 ranked ahead of any other group."
It looks like biotechs have lost their bite. Of course, the financial media blame Hillary Clinton's widening lead in the polls for the group's poor performance.
We get it. Investors are (understandably) a bit spooked as the political elite drums up some anti-pharma furor this election season. Just a few short weeks ago, lawmakers took shots at EpiPen producer Mylan (NASDAQ:MYL). The outrage found its way to the front page of every major newspaper in the country.
But is the prospect of a democratic president and congress enough to push these stocks over the edge? Can another grandstanding press conference crush the entire biotech sector?
Please.
There are bigger forces at play in the markets right now. Since biotechs survived another political pounding yesterday, we should see a meaningful bounce sooner rather than later.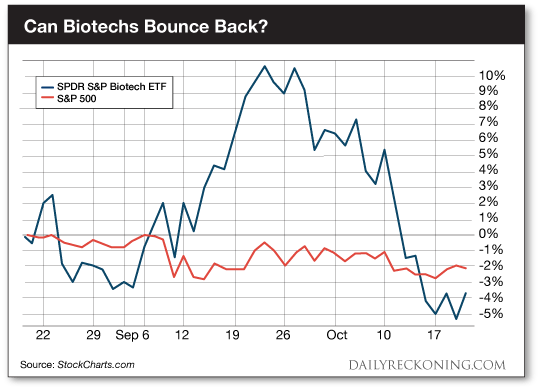 Positive news coming out of the biotech industry outweighs the political circus surrounding drug pricing scandals…
Spending on cancer treatment is pushing new highs and clinical trials for immuno-oncology drugs have taken off. More heads are turning in the direction of gene-editing technology to combat previously untreatable diseases. The companies behind these advancements are saving lives and giving us tremendous trading opportunities.
As we told you last week, we would like to see biotechs and other speculative stocks jump back in from of the major averages. A solid bounce here will let us know it's time from some more "risk-on" action…
For now, you can sit back and let Hillary and Bernie take their shots at whatever drug makers they choose. Soon enough, these biotech stocks are going to rip higher. It's only a matter of time…
Sincerely,
Greg Guenthner
for The Daily Reckoning
P.S. Make money in ANY market — sign up for my Rude Awakening e-letter, for FREE, right here. Never miss another buy signal. Click here now to sign up for FREE.
The post How Biotech Stocks Trumped the Hillary Clinton Curse appeared first on Daily Reckoning.
This story originally appeared in the Daily Reckoning . The Daily Reckoning, offers a uniquely refreshing, perspective on the global economy, investing, gold, stocks and today's markets. Its been called "the most entertaining read of the day.
Source:
http://dailyreckoning.com/how-biotech-stocks-trumped-the-hillary-clinton-curse/
We encourage you to Share our Reports, Analyses, Breaking News and Videos. Simply Click your Favorite Social Media Button and Share.