Shares in large-cap mining companies have seen dramatic swings in sentiment over the past decade. Ten years ago the sector was on the cusp of a massive commodity boom that had investors enthralled. After suffering savage falls in the the financial crisis, they were back at new highs by 2011, but then slipped into a painful five-year decline. After a spell in the wilderness, large-cap mining stocks have been some of the big winners in 2016 – but how do you find the most promising signs of improvement in a notoriously unpredictable sector?
Forecasting trends in the mining sector is not easy because there are so many moving parts that influence prices. In many cases, companies leveraged-up during the commodity boom only to see global demand for metals and minerals slow down drastically in recent years. That forced some of the industry's biggest names into massive writedowns and slashing costs and dividends. In the UK, stocks like Glencore, Rio Tinto and Anglo American all came under huge pressure as a result.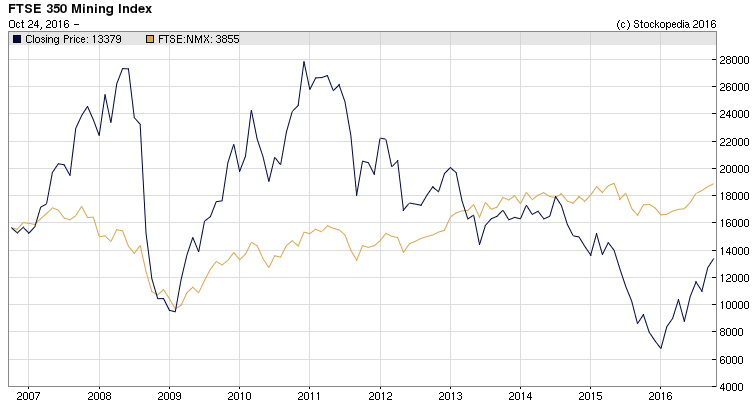 FTSE 350 Mining Index (black line) compared to the FTSE 350 index (orange line) – 10 years
The drivers of this 10-year boom and bust are clear with hindsight. But even some of the investment industry's smartest minds have been wrong-footed by the recent mining upturn. Hedge funds like Lansdowne Partners and Crispin Odey's Odey Asset Management have been burnt by their short positions in mining stocks. Odey reportedly lost £100m by betting that Anglo American would keep falling in price. In fact, a 'short squeeze' in the sector, which has forced short sellers to rush to cover their positions, has been partly credited for pushing prices higher.
Drivers of the mining rebound

The pronounced uptick in the FTSE 350 Mining Index since the start of 2016 maps neatly to modest rises in the price of gold and silver and some other metals over the same period (gold has risen by around 15% this year).
In addition, mining stocks have arguably benefited from turmoil caused by the EU referendum in June and the subsequent decline in the value of sterling. In the aftermath of the referendum, miners were among the big winners as sentiment swung away from stocks sensitive to the UK economy. A major part of their appeal is that, generally, their commodities are priced (and revenues are earned) in dollars, theoretically making them more profitable.
One complication is that the falling pound may not necessarily make an instant difference. That's because many of these companies hedge their commodity exposure to take account of price fluctuations. One way to get an idea about the likely impact is to look at how their earnings forecasts have been changing recently.
With that in mind, we screened the market to find mining stocks that have seen increases in their earnings forecasts over the past three months, and sorted them by StockRank.
There are a few trends here. The first is a strong bias in this list to firms involved in gold and silver mining, which tallies with the idea that investors have seen these as safe havens in recent months as precious metals prices have been rising. There are also some striking EPS forecast upgrades on this list, but it's worth remembering that in some cases – such as the 120% forecast increase at Anglo American – they're flattered as a result of starting from a very low base. Even so, there is a consistent trend towards a brighter financial performance from these firms next year.
In terms of StockRanks, momentum is very clearly the strongest individual factor in the sector right now. But if you look at the StockRank histories of some of these shares, there have been some strong improvements recently. Pan African Resources, the smallest stock here, has actually ranked very well in recent years, but there has still be a definite uptrend.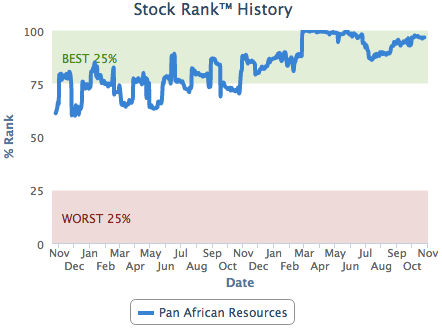 By comparison, the Stock Rank histories for companies like Rio Tinto and Anglo American show that the StockRanks have been rising very quickly since March this year.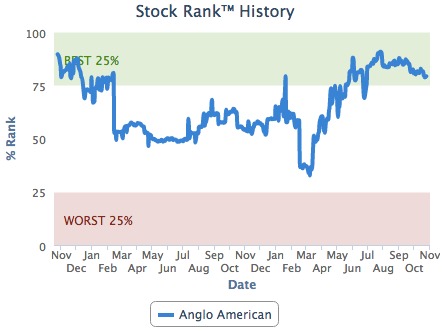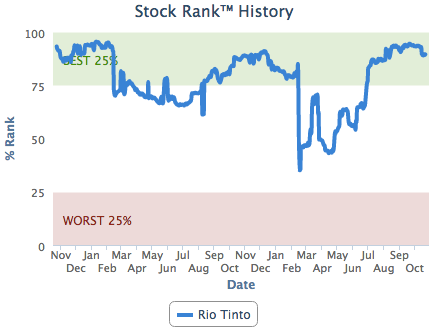 Fool's gold?

It would be foolhardy to try and predict a cyclical upturn in the mining sector but there's no doubt that in the current environment these firms have become much more appealing among investors. Volatility in this sector can be severe and unpredictable, and the events of recent years have shown that it can be out of favour for long periods. But after a period of savage cost cutting and retrenchment, some of these companies could now be well poised to benefit from the uncertainty about the UK economy. It's early days, but as the shocking experiences of hedge funds have shown, when sentiment turns positive, the momentum in these stocks can be very strong.
Source:
http://www.stockopedia.com/content/how-to-hunt-for-stocks-in-the-resurgent-mining-sector-155923/
We encourage you to Share our Reports, Analyses, Breaking News and Videos. Simply Click your Favorite Social Media Button and Share.