Back in March 2014, shares in Monitise hit a high that valued the financial technology company at more than £1.3 billion. Yet, thirty months later it was worth just £57 million. Ninety-five percent of the valuation had evaporated. Monitise joined the Alternative Investment Market nine years ago, with high hopes of leading massive technological change in the banking sector. These days, some might argue that it's priced to go bust.
For loyal shareholders, there are faint signs that Monitise can turn some sort of corner. But looking back, it looks increasingly like a classic 'story stock' disaster. Story stocks have it in them to attract large armies of loyal investors, but they can end in disappointment. So let's explore why that is, and the typical profile of story stocks – and the risks they pose.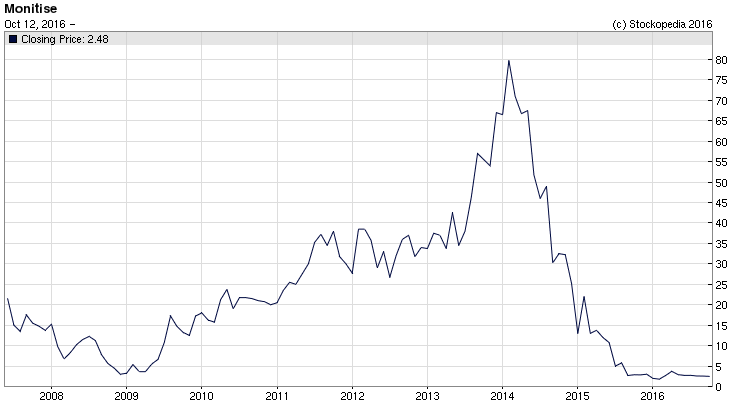 Why humans love a story
In psychology and behavioural finance, stories in the stock market are well known as a source of investment peril. A big part of the problem is that humans are naturally attracted to interesting stories. And it seems we're often prepared to skimp on conventional investment research in order to own them.
James Montier, a well known investment analyst and behavioural scientist, has written that of all the dangers that investors face, perhaps none is more seductive than the siren song of stories. He says that stories essentially govern the way we think and that we will abandon evidence in favour of a good story.
His views are echoed by Daniel Kahneman, an influential researcher into human behaviour. In his book Thinking Fast and Slow, Kahneman writes that stories of how businesses rise and fall appeal to readers because they offer a simple message of triumph and failure (whilst ignoring the influence of luck and regression).
He says: "These stories induce and maintain an illusion of understanding, imparting lessons of little enduring value to readers who are all too eager to believe them."
In other words, Kahneman believes that a good story gives the reader a false sense of confidence that they really understand what's in front of them.
The profile of a story stock
It's worth saying that not all story stocks are going to be bad investments. It's inevitable that at least some very popular blue-sky shares will come good. It's more the case that these shares often have a profile that suggests there's a low probability of a good outcome. But why?
To start with, story stocks tend to have share prices that are underpinned by a great deal of expectation about their growth potential. Often they're found in sexy, but risky industry sectors like technology, biotech and even natural resources. Given that the investment case rests on an exciting narrative, these stocks are frequently among the most discussed on internet bulletin boards. The risks of bulletin board stocks is something we've covered in depth here. In the case of Monitise, all these tell-tale signs were present.
Looking closer at the fundamentals, the most extreme story stocks will display any number of red flags connected to valuation (they will be expensive), quality (which will likely be poor) and momentum (which may be strong but at high risk of sudden deterioration). All three of these can be seen using Stockopedia's StockRanks, which score and rank companies on each factor. The StockRanks are primarily designed to find good, cheap and improving stocks, but a low StockRank can be useful warning sign of potential story stocks.
Hallmarks to be wary of
Let's start with valuation. Story stocks often have no or low earnings, and when you pair that with a popular following, there's a real risk of a share price becoming detached from the underlying value of what the business either owns or earns. What you find is that the only measure of value available is something like the price-to-sales ratio. That was was a popular measure of value during the technology bubble (which obviously didn't end well). If and when the sentiment wanes, the share price of a story stock is likely to be the first casualty. Again, with Monitise, which has had growing sales but consistent losses, this is exactly what happened.
In terms of quality, stocks with blue sky ambitions and zero earnings can obviously be prone to strained finances – which may eventually snap. General measures of company quality such as profitability, margins and return on capital may well be absent. But quality is also about trends in financial health. For instance, a checklist like the Piotroski F-Score – which is heavily weighted in the QualityRank component of the StockRank – will point to signs of improving financial health. But – as was the case with Monitise – it will penalise companies for activities like issuing more shares. Between 2011 and 2016, Monitise's average number of shares in issue rose from 686m to 2,216m, so there was considerable dilution for existing shareholders.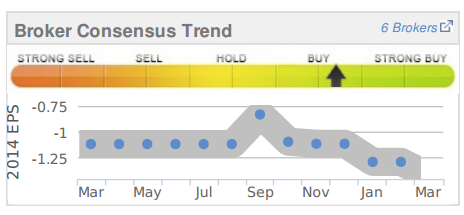 Finally, the momentum of story stocks needs careful attention. Popular companies that are attracting increasing numbers of buyers, may well see very sharp rises in price. This is what happened in the lead up to Monitise hitting a high in March 2014. In the previous seven months it had doubled in price (but it fell back to that original level just six months later). As you can see from the historical StockRanks (below), as it hit new highs, the stock matched the profile of a Momentum Trap. Yet, six months later, when the momentum had collapsed, it looked very much more like a 'Sucker Stock'. It was also notable that just as the company's price was peaking, brokers were actually downgrading their forecast losses even further (although worryingly, the consensus recommendation was still a 'buy').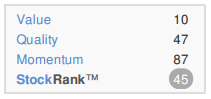 Monitise in early 2014 – signs of a Momentum Trap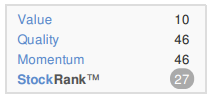 Monitise in May 2014 – Momentum is collapsing - signs of a Sucker Stock
Treat blue-sky excitement with caution
While Monitise has been a useful example of a story stock, there are others. In recent years some of the most extreme examples have been companies like Blur Group, Nanoco, Quindell and Fastjet, among others.
In most cases, story stocks come with an appealing narrative of awesome potential. As such, there's a risk that our love of a story and the instinct to herd together and look for confirmatory evidence that the story is real, can be risky. Blue sky stocks are exciting but highly speculative. So in popular stocks, it's worth understanding whether that excitement is really worth paying up for.
Summary
It's human nature to be attracted to a good story, but good stories don't necessarily make good investments.
Story stocks are often found in potentially speculative sectors like technology, biotech and natural resources and they're widely discussed on bulletin boards.
Price momentum in story stocks can be driven by hope rather than financial strength. Be careful when momentum is the only positive factor about a stock, because it can reverse sharply.
The main clues to a story stock are: 1) expensive valuation, 2) low financial quality, 3) extreme swings in momentum. Expensive, low quality stocks have historically tended to have a low probability of being successful investments. You can check how a company stacks up against these factors by using the StockRanks at the top of any StockReport.
Source:
http://www.stockopedia.com/content/how-to-resist-the-siren-song-of-story-stocks-154085/
We encourage you to Share our Reports, Analyses, Breaking News and Videos. Simply Click your Favorite Social Media Button and Share.