UK stock market indexes have broken out in recent months, but with a number of shares hitting new 52-week highs, investors face some difficult questions. On one hand, our innate aversion to losses makes it seem sensible to take profits on winners. But on the other, there's evidence that these high flyers can go on to fly much higher. With that in mind, it's worth exploring this uncertainty and how to get more comfortable with strong momentum.
In the financial press, the 52-week high is one of the most commonly quoted facts about a share. It's a key momentum signal that points to the most popular stocks in the market. Yet, the very idea that a stock is streaking ahead can be enough to cause uncertainty. This is exactly what we're seeing with stellar risers like Boohoo.com right now.
Why the 52-week high is confusing
Part of the reason why the 52-week high is contentious is that it's a positive signal that actually causes investors to consider selling. On paper this seems crazy, but research shows that investors are predisposed to selling winners and holding losers, and the 52-week high exacerbates it.
In 2015, a study by Jason Birru looked at this in detail and found that the 52-week high creates a psychological barrier in the minds of investors. He found that both investors and analysts simply stopped believing the stock would rise further, and they became less objective and under-reacted to news about it. Ultimately, they became more inclined to sell it.
Birru's work echoed the findings of other studies into the drivers of momentum. The common thread between them is that uncertainty in the minds of investors leads them to underreact to good news about high momentum stocks, which actually causes their prices to drift higher over time. Far from selling these stocks, there's actually an argument for buying them – which is why so many hedge funds swear by momentum.
Yet, as a factor on its own, momentum it's prone to vicious reversals, so it's no surprise that it provokes fear. When investor sentiment is pushing prices higher, any change in mood can be sudden and severe.
Taking a multi-factor approach
To combat this risk – whether it's a current holding or a possible purchase – it's worth exploring whether the momentum is supported by another driver of returns, such as company quality. This combination of factors is a hallmark of successful investors like William O'Neil and Richard Driehaus, both of whom focus on strong earnings growth in stocks that are already rising in the market. At Stockopedia, we label stocks with this high momentum, high quality profile, High Flyers.
Looking for quality in 52-week high stocks
Taking all this together, here are some starting rules for a screen that looks for stocks trading at close to their 52-week highs, with strong general momentum and quality. Specifically, the rules are:
% vs 52 Week High – rank in the market gt; 90%
Momentum Rank gt; 80
Quality Rank gt; 80
Market Cap gt; £25m
Stockopedia members can see the full screen here.
It's important to note that blending Quality with high Momentum is one way of taking extra comfort from stocks hitting new highs – but it's not a failsafe way of avoiding disappointments and sudden pull-backs in price. The idea is to try and limit exposure to disasters by focusing on 52-week high stocks that also have good financial quality.
For instance, with a ValueRank of just 4/100, Boohoo.com is the most expensive stock on this screen. Some would argue that valuation is warranted as a result of its strong financial profile, which is reflected in a high QualityRank. It may well suffer a fall in price, but the quality factor suggests that there's more than just investor enthusiasm that's supporting it.
A useful comparison is Asos, which also makes it onto this screen. Asos has a similar business and similar investment profile to Boohoo.com (although the details are rigorously debated). Back in 2014, Asos endured a sharp sell off after a massive price run because it's growth outlook became less certain. But with the price now recovering, it's back to being a reasonably high quality, high momentum stock on an expensive valuation. The same goes for JD Sports, which was hit very hard after the EU referendum, but quickly recovered to hit new highs (see chart below). It shows that these types of stocks are prone to reversals, but their quality can help them recover.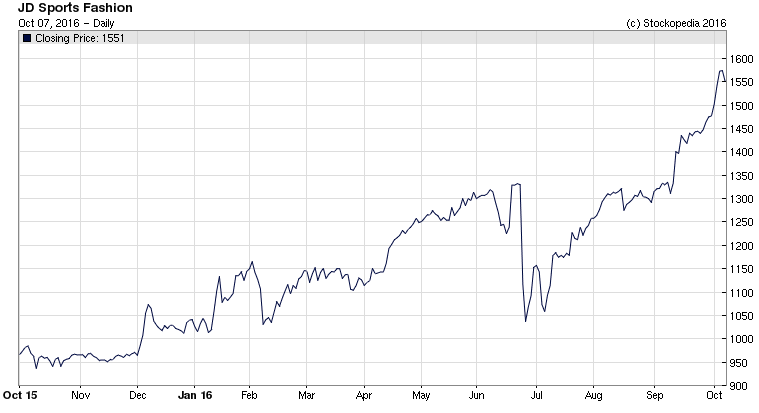 Taking comfort in quality
52-week highs obviously attract the interest of investors, yet holding or buying shares trading at new highs can cause unease. High momentum stocks can induce feelings of disbelief, loss aversion and distort expectations about where prices will move next. Yet in some cases, the evidence points to a different outcome, where a general slowness of response on the part of investors actually causes prices to drift higher over time. And by using factors like company quality, it may be possible to get a better idea about which shares deserve to be flying high – and may be more resilient to any change in sentiment.
Source:
http://www.stockopedia.com/content/how-to-think-about-stocks-that-are-hitting-new-highs-153398/
We encourage you to Share our Reports, Analyses, Breaking News and Videos. Simply Click your Favorite Social Media Button and Share.