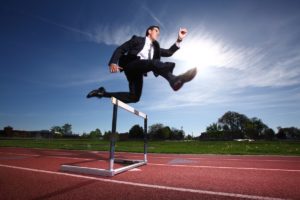 ID:14086169
BarroMetrics Views: Hurdles!?
Unsuccessful traders face two major hurdles to their success:
The first I first learned from the late Mark Douglas, the Four Fears:
The Fear of Missing Out.
The Fear of Leaving Money on the Table.
The Fear of Being Wrong, and
The Fear of Losing Money.
Insidiously, the four fears set us up for failure. Imagine this: "We've just missed getting long by a tic or two. It then immediately roars up without us. We sit there stunned as the market keeps moving parabolically up – a humongous move and we are not aboard!"
So, the next time, with this memory fresh in our mind, we just jump in ……sure enough, this time, the trade goes against us, and we suffer a larger than normal loss.
In both trades, the market triggered at least one of the four fears. In the first, the fear of losing money and fear of being wrong and in second, the fear of missing out.
The second hurdle:
Seeking to control what is beyond our control – usually the outcome of a trade; and
Ignoring to manage what is within our control – usually our behaviour.
Successful trading requires a merging of our intellect and emotions – that's the Holy Grail of trading – the road to profitability. But, newbie traders instead focus on a mythical holy grail method that does away with losses. The claims in my email inbox to the contrary, no such method exists (and if it did, would it be sold to you?).
Consistent profitability comes from producing a win rate x average dollar win greater than a loss rate x average dollar loss. And, we attain this positive expectancy when:
we have a method that possesses a statistical edge,
marry the method with a money management approach, and
execute it on a consistent basis.
Pete Steidlmayer's success equation remains as true today as when he penned it:
Market Understanding x 'YOU" = SUCCESS
So how are you the ladder of success? Are you overcoming the two hurdles? If so, how did you do it? Care to share?
The post Hurdles!? appeared first on Ray Barros' Blog for Trading Success.
Source:
http://www.tradingsuccess.com/blog/hurdles-4281.html
We encourage you to Share our Reports, Analyses, Breaking News and Videos. Simply Click your Favorite Social Media Button and Share.