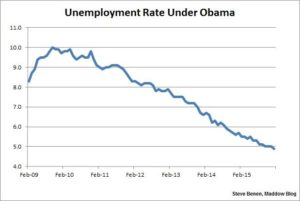 BarrosMetrics Views: It's That Time Again
It's that time again, on Friday, October 7 at 8:30 a.m. EST, we have Non-Farm Payrolls. The consensus figure is around 168k to 170k with the consensus range being 155k to 200k.
Long time readers know that I view US Labour stats more of a political tool rather than an economic measurement. The question I ask is:
What number does the Fed need?
In this case, it needs a number that is not too bullish or bearish. To retain any credibility, it needs to raise rates in December, but it does not want to tank the stock market. So, the best number intervening number is one that does not cause too much euphoria and one that does not send US stocks strongly south.
Last month we had a number at the lower end of the consensus range. I expect this month will be at or slightly above consensus but within consensus range. Such a number should keep the US stock market steady.
By the way, the chart heading this blog suggests that the US job front has been improving under Obama.
I'll let you make up your own mind.
Figure 1 is the ShadowStats estimate of the unemployed rate compared to the Labour Dept's numbers. What is probably alarming the Fed (I choose to believe it does not subscribe to its own hype), is the divergence between the Labour figures (dropping unemployment) with the SS chart (steady at 23%).

FIGURE 1 ShadowStats
The post It's That Time Again appeared first on Ray Barros' Blog for Trading Success.
Source:
http://www.tradingsuccess.com/blog/its-that-time-again-4269.html
We encourage you to Share our Reports, Analyses, Breaking News and Videos. Simply Click your Favorite Social Media Button and Share.