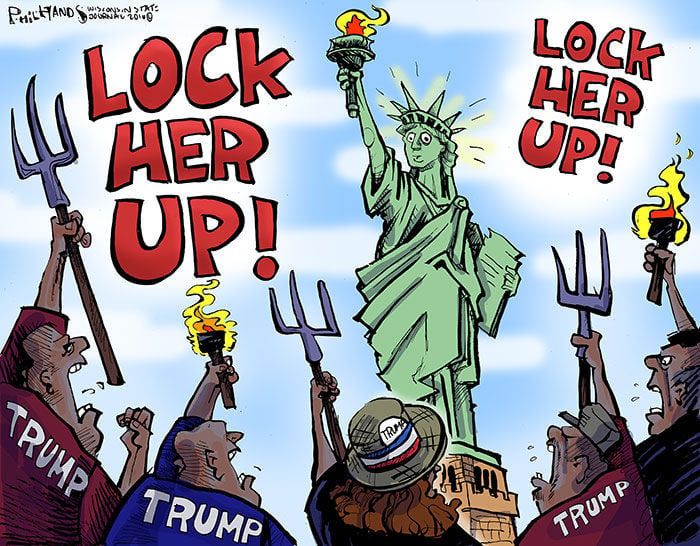 What a difference a weekend makes.
We're back to talking about Hillary's Emails and there's now no chance of this election being decided on issues (what issues?) as we head into the home stretch. The markets don't like uncertainty but it's the last day of the month so expect us to be propped up for at least a day but it would be crazy to call any direction into next week, with all 4 branches of Government (courts too) up for grabs in what is likely to be the most important election of the Century as far as setting direction for this country.
We're having a pool to see which American city will have the first riot. We haven't had a good election riot since 1855 when the Democrats in Louisville went at it with the Know-Nothing Party and no, I'm not insulting Republicans – that's actually what they used to be called (at least they've never broken with that spirit!). And what was the core principle of the Know-Nothings? Well they were anti-immigration, of course, and they attacked German and Irish Catholic neighborhoods, leaving 22 dead and hundreds injured in what came to be called Bloody Monday.
According to the Louisville Daily Journal by Monday morning the city was "…in possession of an armed mob, the base passions of which were infuriated to the highest pitch by the incendiary appeals of the newspaper organ and the popular leaders of the Know Nothing party." [3] The Know-Nothings formed armed groups to guard the polls on election day. Hundreds were deterred from voting by direct acts of intimidation, others through fear of consequences. In the Sixth Ward William Thomasson, a former Congressman from the district, while appealing to the maddened crowd to cease their acts of disorder and violence was struck from behind and beaten.

After dusk, a row of frame houses on Main street between Tenth and Eleventh, the property of Mr. Quinn, a well known Irishman, were set on fire. The flames extended across the street and twelve buildings were destroyed. These houses were chiefly tenanted by Irish, and upon any of the tenants venturing out to escape the flames, they were immediately shot down. Those badly wounded by gun shot could not escape from the burning buildings.[3]
Here's the speech given by our potentially future President regarding his rival:
So what do you think is going to happen if he doesn't win? According to Trump's rhetoric, the only way he can lose is if the criminal conspiracy of the media and THE CLINTONS (because they are that powerful) succeed in putting the worst criminal ever in charge of our country. Keep in mind that, according to polls, more than 40% of the country believes this guy – that's 140M people! Do you really think all 140M of them will go to bed Tuesday, if Trump loses, and accept the fact that Hillary has taken over the country?
This is going to get messy folks and the markets don't like messy so make sure you have some good hedges in place (see Friday's post for a good one) and plenty of cash on the sidelines as it's going to be a bumpy ride.
Meanwhile, it is Monday so we'll have a nice, low volume rally, at least into the open but it will probably hold up and we should get back to our bounce lines (see Wendesday's post) on the indexes and then, of course Helter Skelter once again. Oil is already heading to the bottom of the slide, on it's way to our predicted $47.50 line, which is the taget I laid out for RigZone on Oct. 21st:
"We've shorted WTI at $51 in the hope of reaching $47.50 if there's be a build big enough to counter the recent draw," said Phil Davis, trader at PSW Investments in Woodland Park, New Jersey.
That's a nice $3,500 per contract winner in the Futures so you're welcome on that one. Of course, I was banging the table on that one two in our Morning Report that Friday, following through on our strategy to short oil on the OPEC BS from Thursday's post. OPEC's strategy of holding constant meetings is now backfiring on them as they are leading to only constant disappointment and, this morning, even desperate rumors of the Saudis unilaterally cutting 2Mb/d of production didn't save oil from spiraling downward.
Speaking of oil, though, the only oil company in our portfolios is Baker-Huges (BHI), who just announced a merger with GE's oil and gas business, which will catapult BHI to 2nd place, behind Shlumberger (SLB) in size. We're thrilled as BHI is a big position in our Options Opportunity Portfolio and was, in fact, one of our first trade ideas for that portfolio (see: "Baked In Profits With Baker Hughes Options") - initiated back in September of last year:
As you can see, the net cost of the trade was actually a net credit of $770 and the trade, if BHI holds $55 through next January, will pay back $20,000 and already it's net $12,345, which is already a gain of $11,575 (1,503%) on cash in less than a year (the trade also requires $5,000 in ordinary margin) yet it still has $7,655 to go, which is another 62% even if you just start today, using the scraps our Members leave behind for you.
Whatever you do, don't subscribe to our Newsletter, then you'd have to pay taxes on the money you make – and you know how annoying that could be…
Provided courtesy of Phil's Stock World.
Would you like to read up-to-date articles on the day they are posted? Click here to become a part of our growing community and learn how to stop gambling with your investments. We will teach you to BE THE HOUSE – Not the Gambler!
Source:
http://www.philstockworld.com/2016/10/31/monday-market-movement-trump-minus-8-days/?utm_source=beforeitsnews&utm_medium=feed&utm_campaign=psw-feeds&utm_content=article-link
We encourage you to Share our Reports, Analyses, Breaking News and Videos. Simply Click your Favorite Social Media Button and Share.