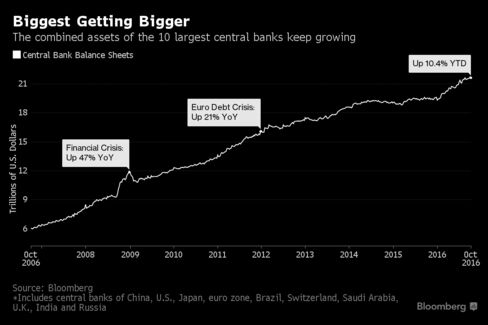 $3 Trillion Dollars!
That's how much QE stimulus has been added by the World's Central Banksters in the last year and the headlines say it's "only" a 10% increase (in 2016, not 12 months) but it's 10% of a MUCH BIGGER NUMBER than when we had a 20% increase in 2012 ($2.4Tn from $12Tn) or a 47% increase in 2009 ($2.4 Tn from $9.5Tn). This is in fact, the most stimulus EVER pushed into the markets and the S&P is at 2,132, after starting the year at 2,050 so up 82 points is 4% for $3Tn.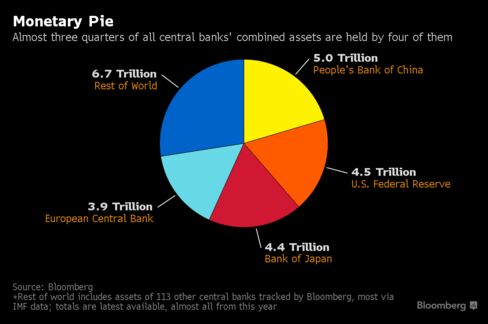 So it costs about $1Tn to buy 1% of S&P growth these days – that's not much bang for the buck. From Jan 2012 (1,250) to Dec (1,425) $2.5Tn bought us 175 points, which was 14% so now we're spending 30% more to get 70% less now. How long will this madness continue? Will we spend $4Tn to buy another 1% growth or will the Central Banskters finally admit their policies are a dismal failure and, at this point, doing far more harm than good?
In China (and it always comes back to China), Beijing has quietly launched the biggest fiscal stimulus in history, one that is even bigger than 2009-10, following the global meltdown. According to Evercore ISI, the size of the stimulus is a whopping 4.5 %- 5.0% of GDP in 2016 or, to put it simply, 2/3 of China's GDP growth is nothing more than fiscal stimulus!
This terrifying chart shows you just how far off the rails the Chinese Government has driven the stimulus train, driving the Government's fiscal balance from +400Bn in 2008 to – 3,000Bn in 2016 adding 429Bn more debt in August alone!
THAT is how China avoided our predicted August melt-down and all the demand numbers you are seeing from China that are being treated as good news are completely stimulus-driven and are simply not a sustainable reality. For example, the dramatic surge in car purchases is not due to organic demand, but is the result of a tax cut (by half) on small engine cars implemented by the government in September, 2015. Since the cut, China's auto sales have increased…
Provided courtesy of Phil's Stock World.
Source:
http://www.philstockworld.com/2016/10/17/monday-market-quagmire-more-stimulus-less-results/?utm_source=beforeitsnews&utm_medium=feed&utm_campaign=psw-feeds&utm_content=article-link
We encourage you to Share our Reports, Analyses, Breaking News and Videos. Simply Click your Favorite Social Media Button and Share.