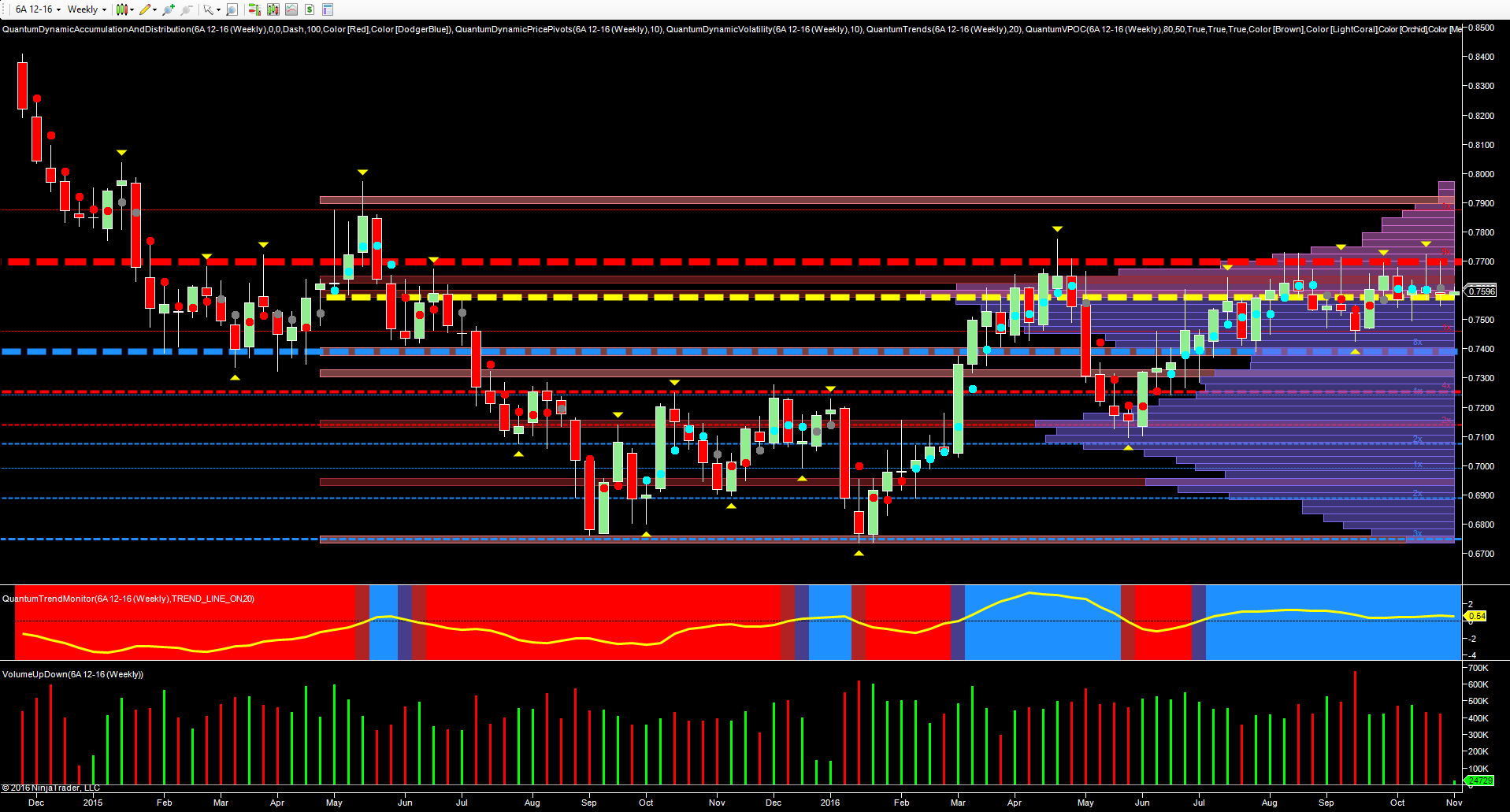 For any longer term trend traders across the primary majors, these are testing times, not testing from a trading perspective, but testing one of the hardest personality traits we have to develop as traders, namely that of patience. As people and indeed as traders, we all like to be doing…something.. but congestion phases, whether on a intraday basis or longer term are those periods of price action when patience can be tested, and this is certainly the case on the daily and weekly charts at present.
If we start with the 6A futures contract for the Aussie dollar and the weekly timeframe, this really encapsulates the current technical picture with the constant testing and retesting of the 0.7700 area and defined with the deep area of resistance denoted with the red dashed line. This is an area which has been tested on nine previous occasions, with the pair failing to make any progress higher, and given the number of candle with deep wicks to the upper body would suggest it is not a question of if the pair develops a new bearish trend, but when. Many of these candles are punctuated with yellow pivots, with the volume point of control firmly anchored in the 0.7600 area (yellow dashed line) defining the maximum transacted volumes building in this area.
Moving to the linear price and volume relationship, the heavy selling of the mid September candle is self evident with ultra high volume and a deep wick to the upper body and duly topped off with a pivot high. This price action has been repeated in the last two weeks, albeit on lower volume.
To the downside, the floor of potential support is equally well defined with the blue dashed line of the accumulation and distribution indicator defining this level at 0.7400. This too has been tested, but remains intact for the time being.
Longer term, the technical outlook for the pair is building to a bearish breakdown, and once the 0.7400 area is taken out, this is likely to be followed with a move through the minor support at 0.7100 with a deeper move then in prospect towards the 0.6750 floor last tested in January. And all that will be required to take advantage is simple:- patience, patience and more patience. The key level on any such move is the 0.7400 floor of support and if this is breached the low volume node below offers little meaningful support with price action likely to slice through this area fast with the trend picking up momentum in the deeper move South.
By Anna Coulling
Source:
http://www.annacoulling.com/forex-trading/patience-patience-for-the-aussie-dollar/
We encourage you to Share our Reports, Analyses, Breaking News and Videos. Simply Click your Favorite Social Media Button and Share.