When oil producers' cartel OPEC announced plans for a modest production cut last week, reactions were mixed.
OPEC's commitment to cut production to between 32.5 and 33.0 million barrels per day implies a cut of between 240,000 and 740,000 b/d from August's production level of 33.24mb/d. The hope is that this might be enough to help rebalance the market without sacrificing too much of OPEC's market share.
Saudi-led OPEC has resisted a cut until now in order to defend its market share. Instead, OPEC producers have aggressively ramped up their oil production over the last two years. OPEC oil production in August 2014 was 30.35mb/d. Last week's proposed cut still represents a production increase of more than 2mb/d compared to two years ago.
The problem now is that many OPEC countries are desperate for the influx of cash an increase in the price of oil would provide. They've seen US oil production fall by around 600,000 b/d over the last year. They may believe that by making a similar cut, they can erase the remainder of the global supply glut and lift oil prices.
We'll have to wait until November to find out more. So far, western oil companies that have adopted the lower for longer mantra have been proved right. But having followed the oil market quite closely over the last couple of years, my personal view is that we are getting closer to a recovery.
Even if I'm wrong, I believe most diversified portfolios should have some exposure to the energy sector. At present, the SIF portfolio does not have any oil stocks. In the remainder of this article I'll explain why, and take a look at some possible choices.
Why are there no oil stocks?
I do own some oil stocks in my personal portfolio. But I have not added any to the SIF portfolio because with one exception, none of the stocks in the UK oil and gas sector have qualified for my screen.
One reason for this is that the screen isn't intended to pick up cyclical stocks exiting a major downturn. The screen is designed to identify companies that are already profitable and have the potential to deliver above-average returns.
The oil sector has a poor track record in this regard. When Brent crude oil traded above $100 almost continuously from 2011 until mid-2014, this didn't generate bumper returns for shareholders. Escalating costs and over-ambitious new projects swallowed up the tidal waves of revenue that flowed into company coffers.
For example, Royal Dutch Shell's return on capital employed peaked at 18.1% in 2011. By 2014 it was down to 7.5%. Over the same period, reported earnings fell from $4.95 per share to just $2.36 per share. Dividend growth averaged just 2.3% between 2010 and 2014.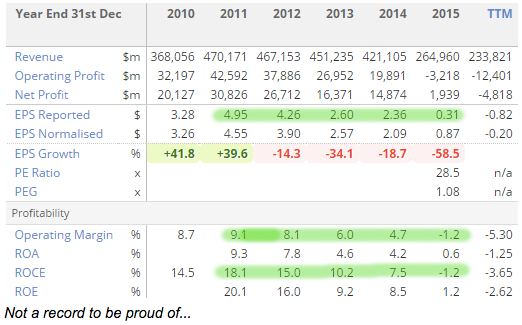 3 oil stocks to consider?
Fewer than 10% of the 113 UK oil and gas stocks listed on Stockopedia have a StockRank above 60. In comparison, more than 30% of stocks in the Food amp; Tobacco sector have a StockRank over 60.
It's not hard to see why oil and gas stocks are so out of favour with Stockopedia's computers. Very few of these stocks are profitable or pay reliable dividends. Many are heavily indebted.
Interestingly, the top-ranked stocks are mostly dual-listed Russian firms which only show up when you select the 'Include Dual Lists?' checkbox at the top of the page. The top-ranked of these is NK Lukoil PAO, a £26bn oil and gas firm with a StockRank of 99.
Lukoil has been a regular fixture in my screen results for the last few weeks, and I've been debating whether to add it to the portfolio. Russian oil firms appear to have survived the combined impact of sanctions and the oil market crash in much better shape than many investors expected. This is partly because the falling value of the ruble has helped to mitigate lower oil prices. The RUB/USD exchange rate was 35 in early 2014. Today, it's 65. Anecdotal reports also suggest that a more lax environmental regime in Russia helps keep operating costs lower than they might be elsewhere…
In any case, Lukoil's numbers certainly look good. According to Stockopedia, the shares trade on a trailing P/E of 10 and a rolling forecast P/E of 6.1. The forward dividend yield is about 6% and net debt is pretty modest, at just 2.3 times trailing net profit.
What's stopped me investing in such stocks is a lack of market knowledge and the perceived additional risks of investing in Russia. Rightly or wrongly, I'd rather leave Russia to those who know more about the market.
However, I do have some indirect exposure to the Russian oil market in my personal portfolio, via BP. The UK's number two oil and gas firm has a 20% stake in Russian oil and gas giant Rosneft. BP has operated successfully in the Russian energy market for many years and should return to profit this year. Profits are expected to rise sharply in 2017, so could BP soon become a candidate for the SIF portfolio?
I used Stockopedia's excellent checklist tool to see how close BP is to meeting my screening criteria: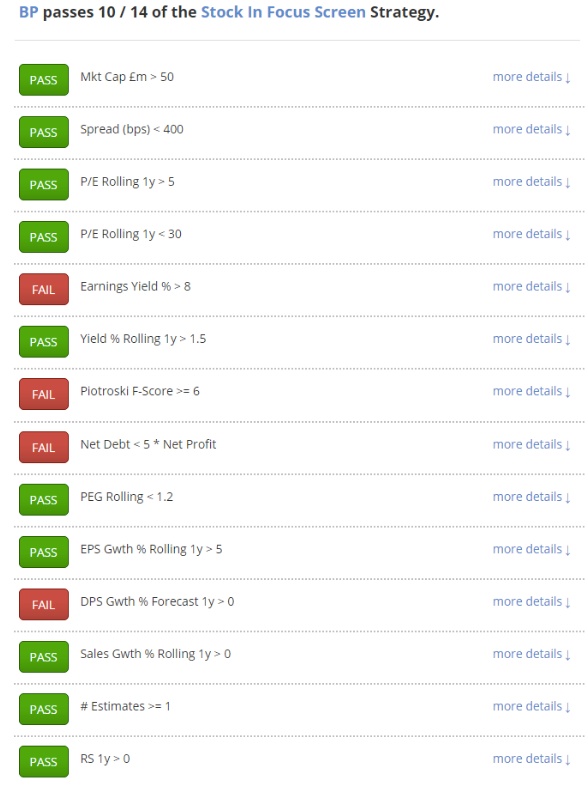 It's clear that BP is some distance away from satisfying qualifying for my screen. Perhaps the biggest obstacles are the group's lack of profitability and its rising debt. Extrapolating from 2016 broker forecasts, I estimate that BP may generate an earnings yield (EBIT/EV) of 4%-5% this year. That's well below my 8% threshold. Another problem is that net debt is currently 8.6 times forecast net profit, much higher than my limit of five times.
Barring a violent move upwards in oil prices, I don't think BP is likely to qualify for the SIF portfolio in the near future.
A smaller firm?
One alternative choice is to focus on smaller producers with strong balance sheets. But this is still risky, in my view. I think that investing in an oil services company might be a better idea.
Although these companies are seeing margin pressure from their customers, they've become an essential part of the energy industry ecosystem. They provide much of the engineering know-how that's required to develop and operate oil and gas fields.
One stock which might soon qualify for the SIF screen is FTSE 250 firm Petrofac: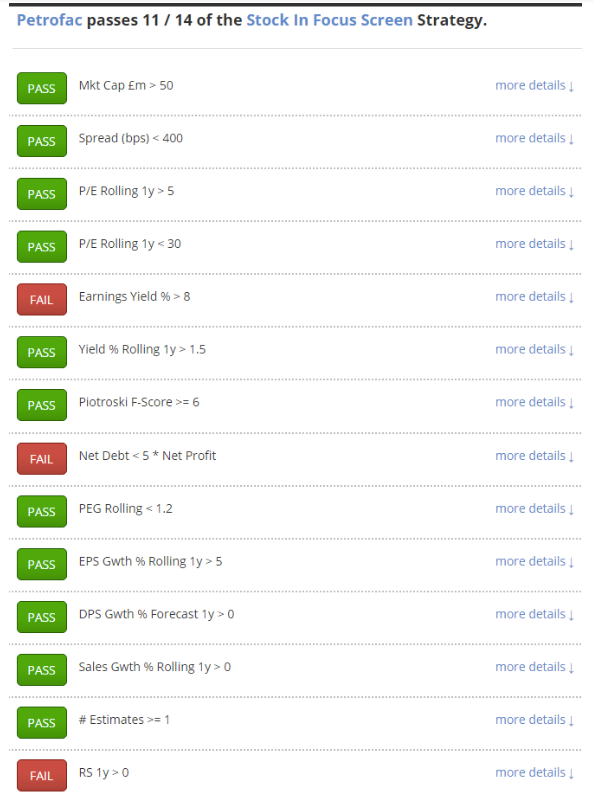 Petrofac doesn't quite meet my criteria, but I think this could change if the firm's 2016 figures meet expectations. I estimate that Petrofac's earnings yield could top 10% this year, while the ratio of net debt to earnings should fall sharply.
I suspect the SIF portfolio will remain without an oil stock for a little longer. But the market outlook is definitely improving. I believe 2016 will see oil firms deliver some solid results on which to base investment decisions.
Disclosure: Roland owns shares of Royal Dutch Shell and BP.
Source:
http://www.stockopedia.com/content/should-i-be-buying-oil-stocks-for-the-sif-portfolio-153086/
We encourage you to Share our Reports, Analyses, Breaking News and Videos. Simply Click your Favorite Social Media Button and Share.