It's now been six months since I added the first stocks to the Stock in Focus Portfolio on 27 April. In this week's article I'm going to review the portfolio's progress during its first half year. Has my experience so far suggested any changes I should make?
I'll also review the SIF Portfolio's two oldest holdings, Go-Ahead Group and Persimmon. As these are now six months old, both are due for review. If they no longer qualify for my screen, they'll be sold.
Finally, I'll tot up the dividend payments for the shares in the portfolio over the last six months, and add this to my portfolio return.
Progress in an odd market

Since April, I've added a total of 17 stocks to the SIF portfolio. You can see how things look on the SIF Portfolio page.
The value of the portfolio — including uninvested cash but excluding dividends — has risen by 5.6%. Over the same period, the FTSE All-Share has risen by almost 10%. In other years, a 5.6% gain over six months might have been enough to beat the portfolio's FTSE All-Share benchmark. But 2016 has been exceptional for the rapid gains seen in certain sectors of the market.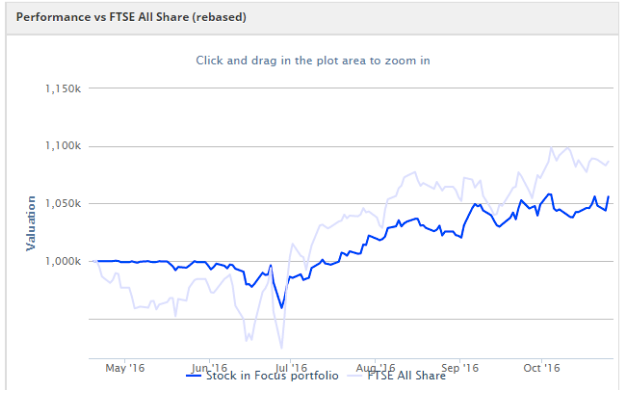 I chose the FTSE All-Share for my benchmark as the portfolio is open to stocks of all sizes. But one downside of this benchmark is that it is very heavily weighted towards the FTSE 100. The big cap index has delivered rapid gains for natural resources stocks and defensive businesses whose earnings are mainly generated outside the UK.
These sectors aren't proportionately represented in the SIF portfolio, as they haven't qualified for my SIF screen. I believe this is one of the main reasons why the portfolio has lagged the benchmark over this relatively short period. A second factor limiting potential returns is that the portfolio also contained a high level of cash for the first few months of its life.
I'm hopeful that over longer periods, these effects will fade. In any case, I'm not too distressed by a 5%+ gain in six months.
Go-Ahead Group disappoints

My purchase of Go-Ahead stock was poorly timed. Soon after the bus and train operator joined the portfolio, it issued an update warning that profit margins on its troubled Govia Thameslink franchise would be lower than expected for the duration of the franchise.
Despite the fact this wasn't a profit warning, the shares fell by about 15% in one day. Go-Ahead went on to deliver full-year results in line with forecasts, but investors have not been tempted back to the stock. The SIF portfolio's Go-Ahead shares are currently worth about 21% less than they were six months ago.
Go-Ahead's sliding share price has given the stock a 1-year relative strength (RS 1y) of less than zero. This has knocked the stock out of the SIF screen. But Go-Ahead still qualifies on all other counts and boasts an increased StockRank of 97.
Interestingly, the requirement for relative strength to be positive is the screening requirement I've been most tempted to change. In the wake of the post-referendum sell off, I could see lots of attractive stocks which weren't qualifying for the screen because their share price had fallen. No other reason.
The value investor in me wanted to change the rules so that I could add them to the portfolio. However, I resisted this temptation and left the screen rules unchanged. All of these criteria were added for a reason. Relative strength is a momentum indicator, and part of my strategy for the SIF portfolio is to select stocks with decent momentum. Removing this requirement could open the door to value traps, which isn't what I want.
If I wasn't following a mechanical strategy, I wouldn't sell Go-Ahead at this point. But discipline is essential, and I will shortly sell this stock out of the SIF Portfolio fantasy fund.
Persimmon suffers Brexit bash

Housebuilder Persimmon will also be exiting the SIF portfolio. I'm sure I don't need to remind anyone that the UK's Brexit vote brought an end to the relentless rise of housebuilding stocks.
As with Go-Ahead, Persimmon's financial performance has not yet been affected by the catalyst for the sell off. But unlike Go-Ahead, Persimmon no longer qualifies for the SIF screen on a number of counts: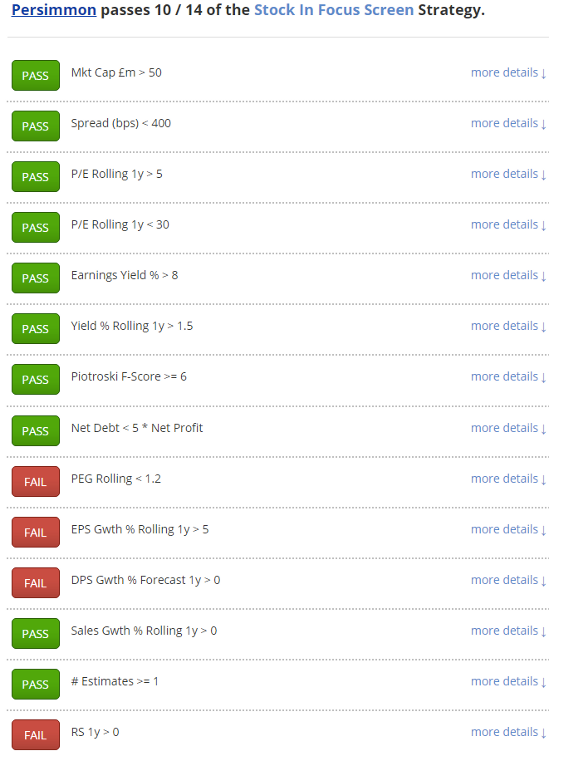 Earnings growth is slowing, the dividend is flat and relative strength is negative.
Although Persimmon shares have staged a partial recovery since the referendum, the SIF Portfolio's holding is still down by 15%.
Dividend returns

Neither Go-Ahead nor Persimmon has paid a dividend during the SIF Portfolio's holding period. But a number of other stocks in the portfolio have done. Here's a summary of the dividends a real shareholder would have received over the last six months:
John Laing: £358.55
Total Produce: £292.83
BAE Systems: £869.89
Norcros: £1,214.27
Macfarlane: £420.33
Somero Enterprises: £680.59
GlaxoSmithKline: £1,280.98
Total: £5,117.44
This adds about 0.5% to the capital gain on the portfolio over the period, lifting my total return for the half year to 6.1%.
The Fantasy Fund service on Stockopedia doesn't currently seem to allow cash deposits. But I have added this cash to the mirror portfolio I run in the Folio section of my personal Stockopedia account. So I'll be able to keep track of the growth of the portfolio on a total return basis.
As the SIF portfolio was largely in cash for much of this period, I don't think that comparing my dividend return with the yield on the FTSE All-Share is a fair comparison. In future periods through which the portfolio has been more fully invested, I will do this.
What's next?

I'm happy with the way the SIF portfolio is performing so far. Although Go-Ahead and Persimmon are being sold at a loss, I don't see this is a reflection on the screening criteria I use for stock selection.
I will sell Go-Ahead and Persimmon from the SIF Portfolio Fantasy Fund this week. From now on, I will review six-month old holdings in the portfolio at the end of each month. So at the end of November, I'll review (and potentially sell) the four stocks which were added in May.
Next week, I hope to add a new stock to the portfolio. In the meantime, thank you for reading — I look forward to your comments and thoughts each week.
For the avoidance of doubt, I'd like to stress that the Stock in Focus Portfolio Fantasy Fund is a virtual portfolio I run for Stockopedia. It is not a real money portfolio and doesn't reflect my personal portfolio. My comments reflect my opinion and are not advice. Please DYOR.
*As of market close on 25 October 2016
Source:
http://www.stockopedia.com/content/sif-portfolio-half-year-review-go-ahead-group-persimmon-and-dividends-155914/
We encourage you to Share our Reports, Analyses, Breaking News and Videos. Simply Click your Favorite Social Media Button and Share.