Good afternoon!
I'm running late today, so please update this report later afternoon, as I'll be adding sections throughout the afternoon. I'm currently imprisoned for the day in my London abode, as our affable but incompetent handyman is currently making his third attempt of the year at painting our doorstep. So due to wet paint, I can't leave the house, unless I miraculously find a pair of those spikey shoes at the back of a cupboard. Or perfect the art of levitation.
To keep you busy until today's report is finished, please make a start on Friday's report (which I wrote yesterday evening), which is here. I looked more closely at exchange rates, and I fear for the impact on retailers in particular in 2017.
Interestingly, I've also seen some recent data/commentary suggesting that consumers are less interested in buying stuff, with wardrobes bursting at the seams with clothing amp; shoes, after years of heavy buying. Consumers appear to be focusing more on experiences, such as nights out. So I think bars amp; restaurants are looking a more interesting area to focus on, although care is needed as some of the older bar chains have horribly structured, and expensive debt (e.g. Punch Taverns (LON:PUB) and Enterprise Inns (LON:ETI) ) and are killing many of their tenants with unbearably high rents – not a sustainable model at all.
However, I do very much like the format, and figures at Revolution Bars (LON:RBG) (in which I hold a long position) - which is completely ungeared, and is generating tons of cashflow to fund its future roll out. The price looks far too low to me (fwd PER of 9, with no debt), for a self-funding retail roll-out. This one appears to have simply been overlooked, as a relatively recent IPO which many private investors may not be aware of yet. So I think that's a really good one to check out. The recent results presentation slides are very interesting, and are here.
Note that 60% of the customers are female, with a premium, high margin drinks (cocktails) and food offering. Also, with new sites costing around £1m to fit out, this puts them well above the run of the mill bar offering. Rental deals seem good value, as the decline in conventional retail is opening up new, affordable sites for bars amp; restaurants in city centres. So there's a lot to like here. Above all though, the complete lack of debt. That's what usually kills bar operators, so I much prefer this very well funded company.
ShareSoc Brighton – cancelled
I've just had notice from ShareSoc that, due to only 6 people registering, the event tomorrow has had to be cancelled. That's such a pity. We'll never get these events off the ground if people don't support them. Still, it saves me the bother of having to prepare a presentation on small caps.
---
Amino Technologies
(LON:AMO)
Share price: 148p (up 5.8% today)
No. shares: 71.6m
Market cap: £106.0m
Trading update – this sounds encouraging;
The Board is pleased to announce that the Group is trading ahead of expectations driven by record orders in August coupled with currently favourable foreign exchange effects. In addition, the strength of the current order book gives management confidence in continued growth for the year ahead.

The Board expects revenue for the full year ending 30 November 2016 to be slightly ahead of current market expectations; and full year adjusted EBITDA and adjusted profit before tax to be ahead of current market expectations.
Good stuff.
Valuation – broker consensus seems to be for 10.7p EPS this year. That puts Amino on a current year PER of 13.8 – seems reasonable, in an expensive market.
Finncap has lifted its adjusted profit forecast for this year by 9%. That's just in a short, flash note this morning, so I don't have the full figures yet. Assuming that consensus EPS forecast also rises c.9%, that would take it to 11.7p EPS for this, and a revised PER of 12.6 – even more reasonable.
Balance sheet – Amino used to have a cash-stuffed balance sheet, but it spent the money on an acquisition. So the balance sheet now is OK, rather than excellent.
Dividends – are generous, with a forecast yield of over 4%. Although there isn't now the balance sheet strength to take the divis quite as much for granted as in the past.
My opinion – profitability can be a bit volatile at this company, and its difficult to know whether its products have will remain current, or be overtaken by new technology, in this fast-moving space.
Current trading amp; outlook seem good though, and the valuation isn't demanding. So certainly it's one that is worth of deeper research, in my view.
---
YouGov
(LON:YOU)
Share price: 225p (up 5.6% today)
No. shares: 104.3m
Market cap: £234.7m
Results y/e 31 Jul 2016 – I'm afraid that many investors swallow "adjusted" profit figures without questioning the basis on which they are prepared. That can be a serious error, as it is in this case. I've written frequently before about how the adjusted profit amp; EPS figures here at YouGov are, in my view, highly misleading, and a completely unreliable way to value the shares. This has resulted in a grotesque overvaluation – so personally I see this share as an accident waiting to happen, once the penny drops with investors that the adjusted profit figure is complete nonsense.
If you take a look at the highlights in today's results, you could be forgiven for thinking that this is a tremendously profitable business, roaring from strength to strength. Trouble is, that's an illusion, created through aggressive capitalisation of costs into intangibles.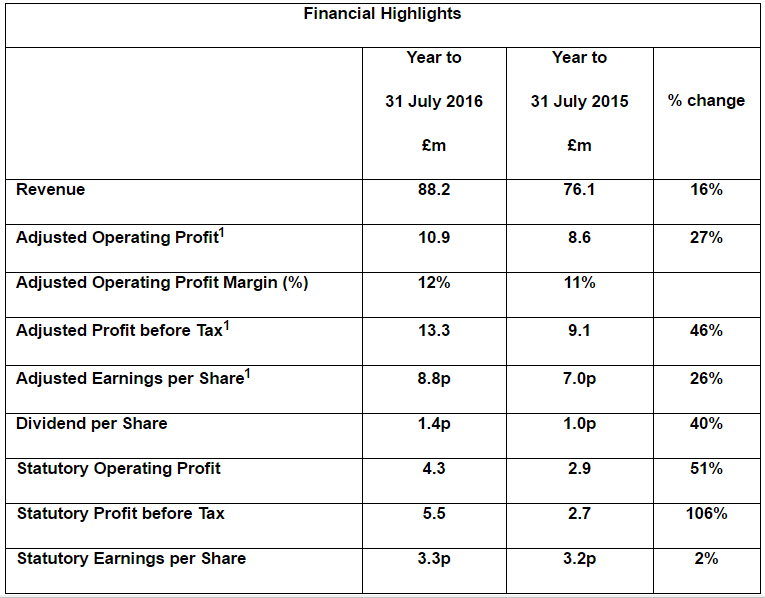 The real profit figures are the last 3 items in the table marked statutory. It only really made 3.3p EPS, up just 2% against last year. So the valuation at 225p per share is an insane, and plain wrong PER of 68.2 times!
I think a sensible PER for this company, if you're being generous, would be 20 times. So this means the shares are probably overvalued by more than a factor of 3. It's an accident waiting to happen in my view.
Let me explain why the figures are wrong, using this table where the company moves from a modest operating profit of £4.3m, to a much larger adjusted profit of £10.9m;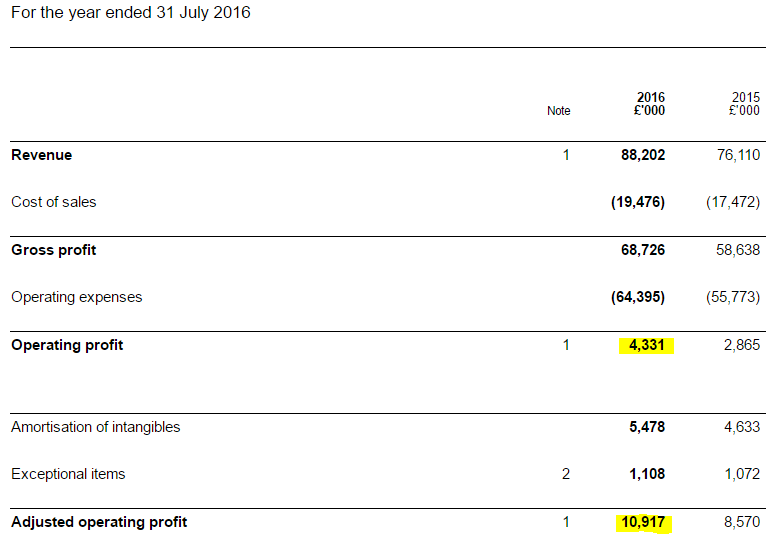 In each of the last 2 years, there are exceptional items of £1.1m. However, the much bigger adjustment is for £5.5m amortisation of intangibles. Now, if this was goodwill amortisation, then fine, it's non-cash, and can be ignored. It's not goodwill though. If you look at note 7 to today's accounts, there was not any goodwill amortisation in the year. That seems to be the new accounting treatment – i.e. no amortisation of goodwill, but instead an impairment review.
What is the £5.5m amortisation of intangibles then? It's amortisation of the following intangible assets;
Consumer panel
Software amp; development (both external, but mainly internal costs)
Customer contracts/lists
Patents amp; trademarks
Order backlog
Product development costs
Business combinations (£762k out of the £5.567 amortisation charge)
As you can see, basically if it moves, then YouGov capitalises it.
Looking at that list again, here are the figures for what costs it actually capitalised in 2015/16;
Consumer panel £1,979k (separately acquired)

Software amp; development £391k separately acquired, and £2,555k internal costs

Customer contracts/lists nil

Patents amp; trademarks £49k

Order backlog nil

Product development costs £106k (separately acquired)

Business combinations nil
So as we can see, the biggest costs capitalised are £1,979k consumer panel, and £2,555k internal software development costs.
The concept of capitalising intangible costs is not in itself wrong, although we can argue about whether day-to-day costs of operating the business should really be expensed directly to the Pamp;L immediately, or not.
However, what you cannot do, is ignore both the costs (by capitalising them) AND ignore the amortisation charge of those intangible assets. That is akin pretending that those costs were never incurred. Yet that is what YouGov's adjusted profit figure exactly does – it totally ignores all the costs in the list above, as if they never happened. Yet they do happen, as it's real cash leaving the business.
The inescapable conclusion therefore, is that YouGov's adjusted profit figure is totally misleading, and just plain wrong as a way to value the business.
Note 5 gives us a similar reconciliation at the basic to adjusted EPS level;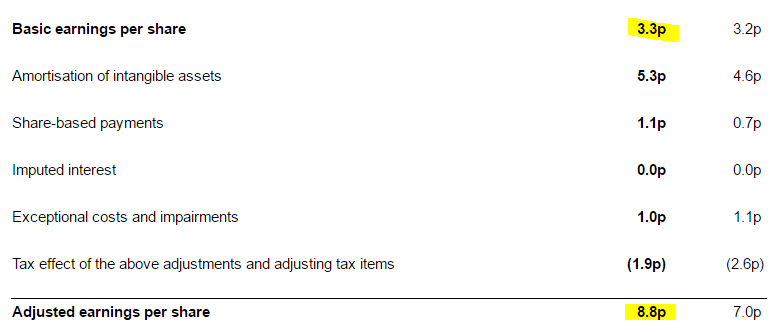 Again, the real profit figure is the 3.3p EPS. That's fact, that's truth.
The 8.8p adjusted figure is total nonsense. You can't ignore both the aggressive capitalisation of costs into intangibles, AND also ignore the amortisation charge! That's just plain wrong.
I would also challenge the share-based payments adjustments – what is that if it's not remuneration? That should be expensed properly, not adjusted out.
Exceptionals also seem to recur frequently, which makes you wonder if they really are exceptional?
Balance sheet – overall this looks healthy, so no issues there.
Dividends – small. That's because this business is not actually very profitable or cash generative. Cash seems to have gone up mainly due to trade creditors rising.
Finance income – note that the FY2016 profit before tax is boosted by a £2,144k finance income item (up from £422k in FY2015). I can't find an exact breakdown of this, but it appears to be forex gains, so is non-trading. Therefore care needs to be taken, to remove this item, when valuing the shares.
Outlook – they've gone for the fairly meaningless "well placed" wording;
We recognise, however, that the UK's "Brexit" vote has created a more uncertain economic and political environment, especially for UK and European businesses, although the international spread of our revenues (with a significant US element) means that our Group can also benefit in the short-term if £ sterling rates remain relatively low compared to other major trading currencies.

Taking both the macro-environment and our own plans into account, the Board is confident that YouGov remains well-placed to exploit opportunities for growth, especially in our Data Products and Services business, in both our more mature markets and our newer operations.
My opinion – the reality is that this is a modestly profitable collection of businesses, which generated a pre-exceptional operating profit of £4.3m in the year (up usefully from £2.9m in the prior year).
The company then uses accounting sleight of hand to present adjusted profit figures which are much higher, but totally bogus.
This has resulted in the share price roaring to a greatly inflated level, where the PER on statutory EPS is a ludicrous 68.2 times. There is no justification for a rating anywhere near that high.
Therefore this share looks to me like an accident waiting to happen, when investors finally realise that they've been duped by creative accounting. More fool them – the numbers are not difficult to interpret.
This company's accounts really highlight the big danger of relying on adjusted accounts. Sometimes the adjustments are fair amp; reasonable. However, in this case the adjustments are clearly ridiculous, and I see this share as an accident just waiting to happen. The foundations for the current valuation are extremely weak in my view. Caveat emptor!
---
Work in progress. Main report will be finished by 3pm.
Source:
http://www.stockopedia.com/content/small-cap-value-report-10-oct-2016-amo-rbg-you-153653/
We encourage you to Share our Reports, Analyses, Breaking News and Videos. Simply Click your Favorite Social Media Button and Share.