Good evening,
Apologies for my running late today, this is due to it being Friday, and there being hardly any news of interest today, so I had a lie in.
I'm delighted to read that Tesco amp; Unilever have resolved marmitegate, although no details of the compromise deal have been released. I think Tesco has played a PR blinder here – setting itself up as the consumers' champion by resisting inevitable price rises from suppliers, which are being triggered by weaker sterling.
We have to prepare for the inevitable higher inflation, and therefore probably a consumer spending slowdown. I'll be sifting through the market over the weekend, making a list of things to open some small short positions on.
---
I'll update this on Sat or Sun, too tired now, sorry.
OK, here goes, second attempt (it's now Sunday lunchtime):
Elegant Hotels (LON:EHG)
Share price: 64.5p
No. shares: 88.8m
Market cap: £57.3m
Trading update amp; new management contact – this is my first commentary here on this particular company. I did glance at it when it floated, in May 2015. However, seeing as though its operations are overseas, and it was listing on AIM, that was enough to put me off – that type usually seem to go wrong. Also there's debt on the balance sheet.
I'm very suspicious of all IPOs to begin with – why does the existing owner want to sell, if things are supposedly going so well? Often there's an ulterior motive behind IPOs – the vendor wants to get out because either the price is too high, or the business model is likely to worsen in some way in future. Therefore I'm not usually interested in taking the other side of the trade from the person who knows it best (the existing owner).
Looking back at the first RNS, in May 2015, there is some interesting info. The IPO was done by Zeus Capital, and sought to attract investors with an initial dividend yield of 7%. I got caught on one of these, namely Entu (UK) (LON:ENTU) – also a Zeus float, with a big initial yield. The shares have absolutely tanked, and the divis have been cut. So already the red flags are piling up, before I've even looked at EHG's figures.
Elegant Hotels describes itself as the;
…owner and operator of six upscale freehold hotels and a beachfront restaurant on the island of Barbados.
I like the fact that it owns freeholds. Tangible assets are always good, and to my mind freehold property is the next best thing to cash.
Current trading – this sounds reassuring;
Year to 30 September 2016
The Board is pleased to report that it expects that the Group's full year results for FY16 will be in line with market expectations.
Note that this company reports in US dollars. So it is now worth more in sterling terms – the share price is quoted in sterling;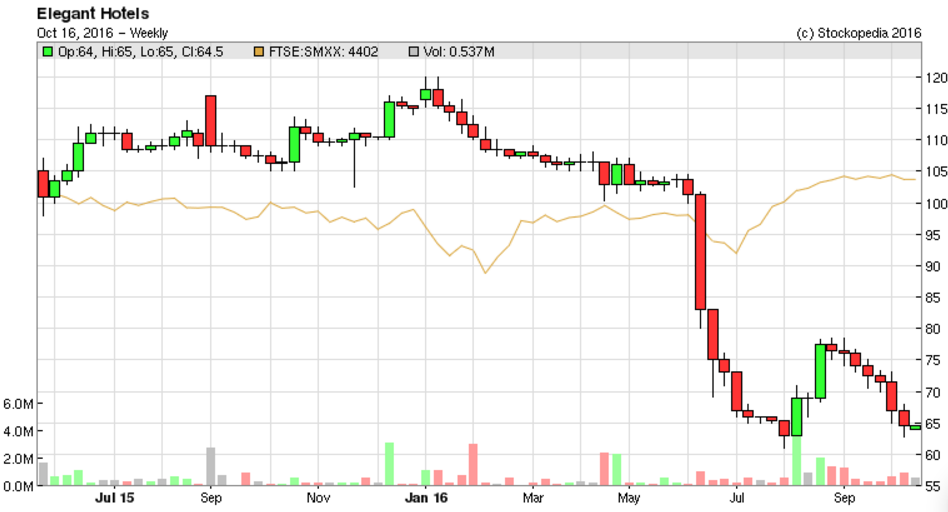 With the share price at a low, dollar earnings (a positive thing for UK investors), and an in line trading update last week, plus freehold property, I'm starting to get interested. More research is required.
(work-in-progress – will update this article later on Sunday, the sun has just come out, am popping out for a cycle ride)
- trading update
Inland Homes (LON:INL) – results y/e 30 Jun 2016
Carclo (LON:CAR) – trading update
Source:
http://www.stockopedia.com/content/small-cap-value-report-14-oct-2016-inl-ehg-154532/
We encourage you to Share our Reports, Analyses, Breaking News and Videos. Simply Click your Favorite Social Media Button and Share.