Good morning!
More interesting news about the retail sector. I'm very fearful about this sector, and think it's generally best avoided at the moment. This is due to multiple headwinds – online is increasingly eating their lunch, plus overheads are rising fast (Living Wage, etc). The latest one – much higher input prices feeding through in 2017 due to weak sterling, could I think crush a lot of smaller retailers that have only just been hanging on. Plus margins are likely to be squeezed across the board, for all retailers.
This article makes some interesting points. There's evidence that consumers are tiring of buying "stuff", and are now prioritising holidays and entertainment (meals amp; nights out) ahead of adding to already groaning wardrobes.
All in all then, I reckon a lot of apparently cheap retailers could turn out to be value traps next year. So caution is definitely needed there. Which brings me on to probably my favourite GARP share at the moment, in a sector which is rapidly transitioning online.
---
Gear4Music (G4M)
Share price: 334p (up 5.7% today)
No. shares: 20.2m
Market cap: £67.5m
(at the time of writing, I hold a long position in this share)
Interim results for 6 months to 31 Aug 2016 – if you follow me on Twitter, then you'll already know that this is probably my favourite GARP (growth at reasonable price) share at the moment. The company is an online retailer of musical equipment. It operates about 17 websites across Europe, with the UK being the biggest market. It's based in York, and has been established for about 13 years. The founder CEO is still by far the largest shareholder.
The stock market is attributing very high valuations to growth companies. I'm not saying that is necessarily correct (as I think some valuations are too high now). However, if you spot something with outstanding organic growth, then it can pay to pile into it whilst the price is relatively cheap, because the rating is likely to expand dramatically once other people also spot it. That worked brilliantly for us with Boohoo.Com (LON:BOO) between Jan 2015 and now, I know a lot of readers joined me in that one (which I no longer hold personally, as the price seems quite high now).
For me, G4M is not dissimilar, although it's more niche. So some people question whether its addressable market is big enough? The company says that it's 4bn euros, which seems a fairly decent market to me. G4M's strategy seems to be a land grab for market share, on lowish margins, and it's clearly working. This sector is rapidly moving online – conventional retailers simply won't be able to compete against such a huge product range, and low online prices, unless they're a niche within a niche. I'm looking forward to meeting management this Thursday.
On to today's interim results – the key figures speak for themself. Here's a screen shot, which saves me having to re-type it. Comments below on the items I've highlighted.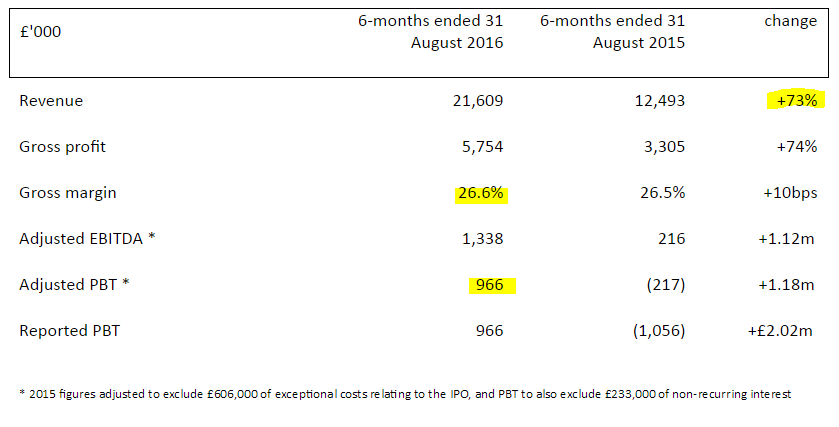 Spectacular organic growth of 73% was already flagged up in the trading update which I reported on here on 6 Sep 2016, so that's as expected.
In the past, I've worried too much about the low margins achieved by G4M, but for me the penny dropped recently that this is an irrelevance. The stock market is interested in top line growth, rather than profitability, right now. Again, I'm not saying that's necessarily correct, but that is what's going on, and it's a good way to make money by observing what the market does.
With G4M, it will be able to gradually raise its margins as more own-brand product feeds through, and volumes rise. Also, Amazon has shown how the way to dominate online is to keep prices amp; hence profitability low, then you can switch on the profit engine later, once you totally dominate a market.
Note also that the average order size is quite big, at £125.64. So whilst by comparison, fashion retailers may boast larger % gross margins, their basket size is usually smaller than that. So the gross margin per order in £ terms for G4M looks just fine to me, even though 26.6% gross margin may look low.
G4M has fantastic customer service too – which is the way to build customer loyalty amp; market share. Their TrustPilot reviews are generally superb, at 9.5/10 for a large number of customer transactions overall.
Valuation – how to value it? For hyper-growth companies like this, you're missing the point if you try to value it on a conventional basis, using the PER. Nonetheless, it's always reassuring to at least make a stab at that, and then accept that the PER will look very high for a while, until earnings growth brings it down again.
Broker upgrade – Panmures is the house broker, and has put out a very upbeat note this morning. This raises their price target from 200p to 400p. I usually ignore broker price targets, but in this case the valuation comments amp; calculation look sensible to me.
Panmures has raised its forecast for the current year's profits by 22% to £2.0m (year ending 28 Feb 2017). This results in EPS forecast rising from 6.0p to 7.7p. That gives a current year PER of 43.4.
Yes, that looks expensive to most of us. However, I would say that 73% organic top line growth justifies a high PER. This is cheap compared with some other online retailers, yet the growth here is out-pacing that of most others.
Also, I reckon the new profit forecast looks conservative. There is a strong H2 seasonality to G4M's business, so there's plenty of chance it could beat the revised forecast. Indeed, Panmures says today that its revised forecasts are "conservatively framed".
Panmure's forecast for FY18 is 11.4p EPS, giving a PER of 29.3, which looks perfectly reasonable to me, given the growth going on here.
Capitalised development spend – is fairly modest, at £600k in H1, compared with an amortisation charge of £277k. That looks reasonable to me, although the net figure of £323k is the amount by which H1 profit is boosted from this accounting policy.
I like the news today that the software development team is being brought in-house.
Outlook – everything seems to be going great;
"Accelerating sales growth into Europe, which represented 40% of our total sales during the last two months of the period, has reinforced our decision to expand our distribution capacity in Europe and further enhance our customer proposition.

"To underpin our strong growth and physical geographic expansion, we are pleased to announce that our software development team will be brought in-house and, with further recruitment planned, expanded even faster to ensure we continue to build a market leading e-commerce platform.

"Whilst we continue to invest to grow the business it is pleasing to have generated significant profits during the last six months, when historically we've produced the majority of our profits during the second half of the year.

"Trading remains strong heading into our important Christmas period and the Board considers the Group well placed to deliver results for the full year that will be ahead of its previous expectations"
The key sentence being the last one – trading ahead of expectations. It's always good to see that. Also note how Europe is expanding very rapidly. Within the 73% total sales growth in H1, Europe grew at an astonishing rate of 169%!
Two new European distribution hubs are being opened, which will improve delivery times into these rapidly expanding markets. So we should see very strong growth from this company for some time to come I think. It's already gearing up for £100m p.a. sales. You could probably double that, looking a couple of years further out, at which point the current market cap of £67.5m would possibly be a distant memory. That's what I'm hoping for anyway, and it looks achievable.
Seller this morning – I was puzzled why the share price was initially marked down this morning by 8.5p, and remained stuck there for about an hour. There was a seller drip-feeding out stock through Panmures at 310p, which private investors were hoovering up relentlessly.
Just after 10am this morning some very large trades (totalling about 3.5m shares) went through at 300p. This could well be the former private equity owner, Key Capital Partners, selling out, as they've been top-slicing previously. I hope it's not the CEO selling some of his holding, but there again you could hardly blame him for reducing somewhat, given that the price has more than tripled in recent months.
Anyway, the RNS will no doubt reveal all shortly. Quite a bit of the shareholder register has changed today, and it's good to see a big shareholding being fragmented into retail buying, as this will improve liquidity and should narrow the spread too.
As with practically all recent floats, the City firms pay no regard to the need for liquidity post flotation. They just want to bag their huge fees as quickly amp; easily as possible, by placing the shares with institutions, and usually leave behind a very poor ownership structure – with large, lumpy holdings, and hence no after-market. This needs to change. However, it can also create nice opportunities for those of us who sniff out bargains, where a company is overlooked because few PIs have researched it yet.
My opinion – as you've probably gathered, I love it!
People tend to "anchor" to a share price, and be reluctant to buy a share that has risen a considerable amount already. Personally I've been trying to unlearn this very bad habit. It's all about fundamentals, and if the fundamentals have dramatically improved, then the share price should be a lot higher.
If market conditions towards growth companies remain as positive as they are now, then I could see this share reaching £5 (c. £100m market cap) in the not-too-distant future. Longer term, I'm targeting considerably more than that. As we saw with BOO, once the institutions start scrambling over each other to build a stake, they will chase the price up to levels that most private investors wince at. So I think there is a strong case for running positions in growth companies to an over-valuation in this current market, if you have the cojones to do so. I didn't, and sold my BOO shares far too early. Still, hindsight and all that.
Now of course, things can go wrong along the way. Rapid growth often leads to bumps in the road, which are particularly painful at highly-rated companies. Competition can intensify, etc. So nothing is a given.
Overall though, on just under 30 times earnings for the new financial year starting on 1 Mar 2017, yet achieving stellar growth in Europe, I really don't see this share as expensive right now, despite its explosive move up. I've actually bought more today.
DYOR as usual, but if I sound very upbeat about this share, that's because I am! It's one of the best opportunities I've spotted in some time.
More bearish views on this share are encouraged – I need dousing with some cold water, so if you take a negative view on this share then please do post in the comments section below, to stop me getting perhaps over-excited!
---
Avon Rubber
(LON:AVON)
Share price: 1006p (up 0.6% today)
No. shares: 31.0m
Market cap: £311.9m
Trading update, and FD leaving – personally I always find it unsettling when an FD leaves a company, as it can be a warning sign of trouble ahead. There again, I can understand why the FD here wants to move on after 8 years – that's the sort of timeframe when you're bored with a finance job, and ready for something new.
Mind you, today's trading update sounds fine;
We are pleased to report that the financial year has concluded in line with the Board's expectations on both sides of the business.

In Protection amp; Defence, in September we received a non-DoD order for 15,000 mask systems which will be delivered in the first quarter of our new financial year.

In Dairy, the global milk price has continued to increase, which provides an encouraging backdrop against which to start our new financial year.

Our balance sheet remains strong, and good operating cash flow meant the year concluded with net cash of £2.0m (30 September 2015: Net debt of £13.2m).
As you can see from the Stockopedia graphics below, it has high quality scores. The dividend yield looks mean – I wonder if there is scope to increase that?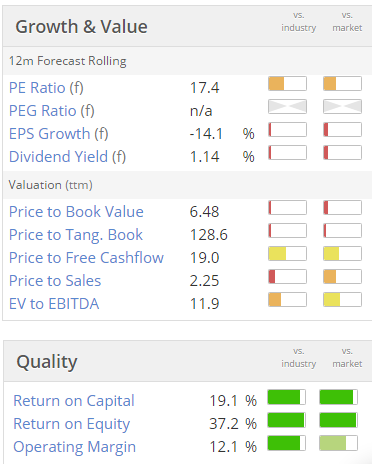 Overall – I don't have a strong opinion on it either way, but recognise that the company has performed very well in recent years, with excellent earnings growth.
---
dotDigital
(LON:DOTD)
Share price: 53.2p (down 2.2% today)
No. shares: 294.1m
Market cap: £156.5m
Results, year ended 30 Jun 2016 – it seems rather late to be publishing results for a June year end. However, the numbers look good to me. It's another year of decent growth in turnover and profits.
Diluted EPS has risen 13.7% to 1.83p – which translates into a PER of 29.1 times – that looks a very punchy rating for good, but not spectacular growth.
Net cash has risen to £17.3m – the company appears to be hoarding cash. Although it does mention special divis today. In valuation terms, the net cash is now 11.1% of the market cap. Hopefully at some point shareholders might either receive a meaningful special divi, or be delighted with an earnings enhancing acquisition. Doing nothing with a cash pile seems a wasted opportunity, given that DOTD has reliable recurring revenues – so doesn't have to worry about future cashflow.
Outlook – there's quite a lot of detail, with points covered being;
More international expansion
Developing partner relationships
Integration with other software packages
Overall:
…well placed to continue to generate strong organic growth not only from the markets it currently operates in today but wider into the global markets it is looking to enter.
My opinion – I've only skim read the narrative, having already decided that the price is too high for me. Nice company, but looks fully priced, and perhaps not strong enough growth to justify a rating quite this high?
(work in progress)
Source:
http://www.stockopedia.com/content/small-cap-value-report-18-oct-2016-g4m-avon-dotd-154903/
We encourage you to Share our Reports, Analyses, Breaking News and Videos. Simply Click your Favorite Social Media Button and Share.