Good morning!
CEO/FD Interviews
I've decided it's time to do another batch of audio interviews, with CEO/FDs of interesting small caps. I'm generally doing them free now, as I think charging a company creates a conflict of interest. Also, as questions are sourced from the private investor community, then the questions are genuinely independent. All of which makes for interesting amp; unique interviews.
I'll usually (but not always) hold a position in the companies concerned, or at least will be considering taking a position. Otherwise the company wouldn't be of interest to me, and hence I wouldn't want to waste mine or their time doing an interview in the first place.
The interviews are a good way for me to learn more about a company, so why not publish it, and let everyone listen in? People seem to like them, so I'll try to find the time to do more of them.
Begbies Traynor (BEG)
(at the time of writing, I hold a long position in this company)
My next interview is with Ric Traynor, of £BEG . This is an interesting one, as it's the UK market's only listed pure play insolvency practitioner. I am wondering whether sterling weakness, Living Wage, and various other headwinds might tip the UK into recession next year?
With this in mind, I thought that Begbies could be a good hedge for my longs, as theoretically it should benefit from a recession. Although that's what people thought in 2008, but ultra-low interest rates prevented the wave of insolvencies that was expected.
I'm looking forward to asking Mr Traynor what he thinks about the outlook for the UK economy, impact of Brexit/sterling, etc. Should be interesting. So I need some questions please!
This is the link for submitting your question for Begbies, through an online form, which collates them all into one place for me, saving lots of time. The deadline for questions is midnight of 23 Oct 2016, as I'm conducting the interview on the 24th. Please don't put questions in the comments section here, as that messes up my system.
Staffline (STAF)
(at the time of writing, I hold a long position in this share)
This interview is a bit further out – I'm interviewing Andy Hogarth, CEO of Staffline, on 9 Nov 2016. So please submit your questions (deadline midnight of 8 Nov 2016) using the form here.
Staffline shares have sold off heavily, and now look very cheap on a fwd PER basis. However, with 3/4 of their workforce being Eastern European, clearly the Brexit vote has caused some investor jitters. There is also the matter of renewal of Govt work programmes.
As regards other companies, the key one I'm trying to get lined up for an interview is Gear4Music (G4M) - in which I also hold a long position - so watch this space!
---
Motorpoint
(LON:MOTR)
Share price: 134.5p (down 19.4% today)
No. shares: 100.2m
Market cap: £134.8m
Half year trading update (profit warning) – this is a new share for me. This company floated in May 2016, and has already blotted its copybook with a profit warning today. This reflects very badly on the company and its advisers (Numis, Shore Capital, and Rothschild). Investors should be able to buy a new issue, without being hit with a profit warning just 5 months later.
Investors who backed the 200p IPO have already lost about a third of their money, which is terrible. I wonder how long investors will continue to back new issues, given that so many seem to go wrong? I think there's a strong argument for introducing deferred fees for advisers, so that maybe half their remuneration could be held back in escrow, and only released at the end of year 1, and year 2, providing there have been no profit warnings?
The company operates 11 car supermarkets, mostly in the midlands amp; north of the UK. It's not unique, there are other companies doing the same thing – selling high volumes of keenly-priced secondhand cars from large, no frills, out of town sites.
I'm having a look through the prospectus now. The IPO seems to have been based on strong profit growth from 2014-2016, as the table below shows;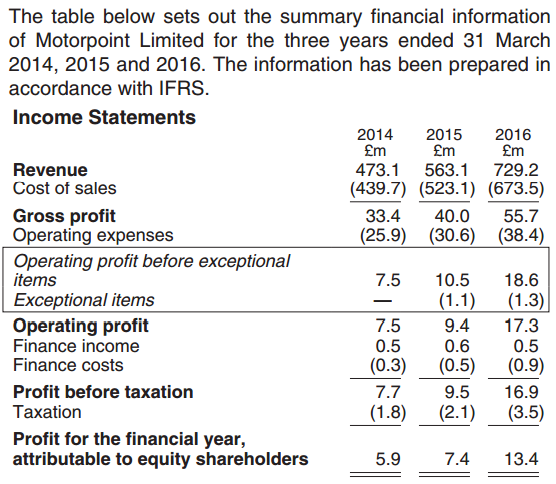 There's not a great deal of asset backing, with net assets being £25.7m at 31 Mar 2016. Actually, it's worse than that, because I've just found a pro forma balance sheet post IPO on page 5 of the prospectus, which states that NAV was only £2.6m post IPO. So there's really almost no net asset backing.
Profit warning – let's get onto what the company says today, which relates to the 6 months to 30 Sep 2016 (H1 of FY2017):
The Group expects to report c.11% revenue growth underpinned by a positive LFL performance in the first half.

Because of the uncertainty around the result of the EU referendum, management has invested in margin to protect the Group's good level of stock turn, and managed its stock levels carefully.

Accordingly, the volume and margin performance in the first half is behind original management expectations.
It's unhelpful that the company doesn't give a split of how the 11% revenue is broken down – other than saying that LFL sales are positive. My guess is that most of that 11% growth probably came from new site openings.
"Management has invested in margin" – don't make me laugh! This is a ridiculous phrase, designed to deceive. What it actually means is - management had to lower prices to shift stock. There's no investment aspect to it at all! It's just a silly PR phrase, which really winds me up.
Overall then, H1 has under-performed on sales and margins, hence overall profits too. Although this is not quantified, so we're in the dark as to how bad things were in H1.
New sites – they're loss-making, but this is PR-ed into the following wording;
The Group has opened three new sites in the last twelve months and although these are yet to make a positive contribution, are performing broadly to plan.

Management is confident that these new sites will deliver a solid performance in the second half and beyond.
I can understand that it might take some time for new sites to become established, and for local marketing to become effective. So this doesn't sound too bad. Although it's clearly still a negative.
Outlook comments – supply of used cars is plentiful, and margins appear to be improving more recently;
The Group's unique and flexible stock sourcing model, combined with new car registration figures from the Society of Motor Manufacturers and Traders ("SMMT"), which show continued growth in fleet registrations, provides a strong supply outlook as a significant proportion of stock is sourced from fleet companies.

Early indications in H2 are also showing improving margin trends.
Overall – reasonably encouraging;
With an improved contribution from the new site openings, good supply and an improving margin outlook, management foresees a stronger H2 weighting with net margins moving back to more normal levels.

The pipeline of potential new sites remains encouraging, and positive progress is being made on a number of options.
My opinion – overall, it doesn't sound too bad. The company's had a disappointing H1, but seems to be regaining its poise in H2. Mind you, with it being a recent float, we don't yet know whether management outlook comments are reliable, or whether they're perma-optimists?
The frustrating thing is that there are no figures in today's announcement, so we're left in the dark about how the company is actually performing. So how can we value the shares, with no proper facts amp; figures?
I've asked my broker to look around for some revised broker forecasts, so I'll update this article if he finds anything.
UPDATE – I've now seen an updated broker note. Forecast for this year (ending 31 Mar 2017) has been dropped 20% from £21.0m profit before tax (PBT) to £16.7m. So that's quite a material reduction.
In terms of EPS, this means forecast 13.3p for this year, down from 14.3p last year. That equates to a PER of about 10.
I'm uneasy about this. Motorpoint is supposed to be an expanding business, with a disruptive business model, yet earnings are actually now forecast to fall this year. Conventional motor dealers are on very low PERs at the moment, of around 6-8. So does Motorpoint deserve a premium to that? I'm not so sure, after today's update.
Another point to consider is that, with sterling's fall, the car manufacturers are beginning to raise prices. This should be helpful for secondhand cars, as it may pull their prices upwards too, or at least allow dealers to make better margins, if customers decide to opt for a nearly new car, rather than a more expensive new car, in 2017.
Lots to ponder, but personally I am not intending to take Motorpoint any further as a potential investment.
---
Foxtons (LON:FOXT)
Share price: 99.25p (up 5.2% today)
No. shares: 281.7m
Market cap: £279.6m
(at the time of writing, I hold a short position in this share)
Q3 trading update – I'm not supposed to write about any company where I hold a short position. So I'll just report the facts, and not give any contentious opinions.
This is obviously London's most prominent estate agency, with the business split roughly half:half between sales and lettings.
Revenues are down, unsurprisingly as it's been widely reported that the London residential sales market is grinding to a halt, especially at the top end:
Total group revenue for the quarter was £37.5m (2015: £43.5m) with revenue for the nine months ended 30 September 2016 totaling £106.3m (2015: £114.5m).
Lettings business is holding up fine, but residential property sales have fallen sharply;
Sales revenue in Q3 was £12.2m (2015: £18.5m) reflecting a continuation of reduced activity in the London property sales market.

Lettings revenue, whilst also reflecting lower levels of new tenant activity, benefited from Foxtons strong renewals book and grew modestly in the third quarter to £22.8m (2015: £22.6m).
Cost-cutting has been done;
Continued tight cost control in Q3 has improved margins and we expect to be broadly in line with full year market expectations. Foxtons remains highly cash generative with no debt.
My opinion – I'm not really meant to give an opinion under Stockopedia's editorial rules, but I will anyway. I was expecting something worse than this. So far it looks as if Foxtons has coped alright with the slowdown in London property market. However, it's early days, and who knows what the future holds? Its lettings business should act as a shock absorber to a certain extent, but I think the sales side of the business is likely to get worse into next year.
---
Hotel Chocolat
(LON:HOTC)
Share price: 226p (down 0.7% today)
No. shares: 112.8m
Market cap: £254.9m
Results, year ended 26 June 2016 – it might be a 52 week period actually, I'm not sure.
These figures look excellent, but of course that's very much baked into the valuation, which is £254.9m.
Profit before tax was £5.6m, after £2.6m of exceptional costs, so that's £8.2m pre-exceptional PBT. Not much at all for a £254.9m market cap really.
Growth is important though, and the £8.2m pre-exceptional PBT does compare very favourably with £2.9m in the prior year.
Since it's valued as a growth company, we're now into that foggy area where judgment and opinions about what the future holds are how the valuation is determined. As we saw yesterday with G4M, investor opinions can wildly differ when it comes to growth companies. Some people saw it as expensive, others (myself included) as cheap. It all depends to what extent you're looking into the future, and anticipating how the figures will look in a few years' time – which in my view is the correct way to value growth companies. Providing of course that you know what you're doing, and get your forecasts right! (which often people don't).
Brand – I very much like the Hotel Chocolat branding, which is key to the long term performance of the business. If it becomes a profitable roll-out of more shops/cafes, then it will command a premium rating.
There's also a nice back story, of this being an establised company (since 1993), which owns a cocoa plantation, and has differentiated, premium products. Fevertree springs to mind – could this be something similar, who knows?
Outlook – it's one of those annoying ones which just makes general positive-sounding noises, without any hard facts or figures;
I am confident that our plan for the coming year is robust. Our capital plans are based on proven store formats and digital channels, and on making greater use of existing production methods and technology. Our strategy remains on track and our continued innovation and focus on customer happiness aim to deliver increased sales, combined with disciplined capex and a tight control on costs with the goal of improving returns.

The market and wider economy may not be without challenges, but we still have significant addressable market headroom and benefit from having distribution and manufacturing directly under our control, which supports the resilience of our business.

Ensuring that we maintain the strong relationship we enjoy with our customers will always be our top priority.
My opinion – I'm intrigued by this company, and can see the potential.
However, it's too expensive for me. EPS is reported at 3.9p, but by my calculations that rises to 5.9p if you take out exceptionals. So on the latter figure, that's a PER of 38 times – very rich for something that's growing at a reasonable, but not spectacular pace.
The roll out of stores seems conservative – only 7 new stores (83 in total). Also, I note that there have previously been unsuccessful stores rolled out, which have had to be closed. That makes me nervous, as it suggests this format won't work everywhere, and maybe the sales per sq.ft. might not be enough? There are online sales too though.
On balance, I can see why longer-term, growth orientated investors may like it, but for me the valuation is too high, for growth that isn't rapid enough to justify such a high rating. I can get faster growth, on a lower rating elsewhere.
---
OneView (LON:ONEV) – profit warning – this was previous Armour Group, and now seems to be some kind of cloud software business;
…one of the retail industry's leading digital transformation software providers for in store customer service
Whatever that means.
Contract delays have caused a profit warning;
The Company continues to see strong interest in its software and is confident that the current pipeline will deliver growth in the future. The mission critical nature of solutions means that sales cycles are long and can be difficult to predict and the Company has seen a number of delays in some of the major pipeline contracts.

Accordingly, whilst the Board remains confident that the on-going discussions will come to fruition there can be no certainty on timing and as a result, the Company's revenue is likely to be below market expectations for the current financial year.
Also, the balance sheet doesn't look great. It's got some cash on it, but also a $3m loan has been taken out. That's not good for a loss-making company.
My opinion – on the most brief glance, I'm repulsed by this share. Jam tomorrow things hardly ever work out as planned. They're an investing graveyard, I'm afraid.
I'd rather pay more for something that has reached profitability amp; has a good outlook, rather than taking a punt on something when it's loss-making amp; strapped for cash.
Source:
http://www.stockopedia.com/content/small-cap-value-report-19-oct-2016-motr-foxt-hotc-onev-155131/
We encourage you to Share our Reports, Analyses, Breaking News and Videos. Simply Click your Favorite Social Media Button and Share.