Good afternoon!
Today's report will be updated throughout the afternoon, as I've got a few other things on today – including my latest CEO interview – of Ric Traynor, CEO of Begbies Traynor (LON:BEG) – actually to be 100% accurate, he's their Executive Chairman, not CEO. I'll be recording that interview at 2pm, so am preparing for it now. Will be published later this afternoon.
Note that Begbies Traynor (LON:BEG) issued its regular Red Flags Report this morning, which is surprisingly upbeat. It reports that financial distress amongst UK companies was down 6% in Q3. Listening to the daily television news, they seem to be constantly telling us how everything is going to hell in a handcart. So it's refreshing to get some proper data which actually says the opposite.
Mind you, we've not felt the impact of weaker sterling yet. Once prices rise significantly in the shops next year, then that could cast a dark shadow over the UK economy. Also, nothing has actually changed yet. We've only had the referendum vote, but nothing has changed as yet. Who knows what the future holds? Nobody does, it's all educated guesswork. Although we always seem to find a way of muddling through – individuals and companies are inherently adaptable.
Although a very interesting point was made by the CEO of Gear4Music (G4M) in a meeting I attended last week. They import a lot of product from China, either directly, or via UK distributors. He said that UK prices would not have to rise as much as some people feared. This is because the Chinese Yuan has depreciated about 7% against the dollar in the last year. This partly mitigates the weakness of sterling against the dollar. Also they can secure lower unit prices by placing a larger order – so they might increase inventories to secure cheaper pricing.
I've just checked the figures, to quantify this, and this is how much currencies have moved in the last year:
Sterling now buys 8.287 Chinese Yuan, compared with 9.73 a year ago = sterling depreciation of 17.4%
Sterling now buys 1.223 US dollars, compared with 1.535 a year ago = sterling depreciation of 25.5%
So based on those figures, the Chinese currency has absorbed about a third of the US dollar impact on sterling. These are still huge moves though, over just one year.
I see that G4M shares are continuing their remarkable re-rating, after excellent recent results amp; outlook. I love it when an overlooked share suddenly gets a double boost – from investors being prepared to pay a much higher earnings multiple for faster growth, and earnings estimates also being revised upwards. That's the perfect type of situation for a very rapid, and substantial gain. I just wish I could find more things like that!
To keep you going whilst I update today's report, here is a bonus report I wrote on Saturday, catching up on some companies that were overlooked in the last week.
On to today's other news.
---
Begbies Traynor
(LON:BEG)
(I currently hold a long position in this share)
Here is the link for my completed audio interview conducted today with the Exec. Chairman of Begbies Traynor.
---
Next, I'm going to look at trading updates from;
CML Microsystems (LON:CML)
Share price: 395p (up 4.6% today)
No. shares: 17.0m
Market cap: £67.2m
Trading update – this company describes itself as;
CML Microsystems Plc, ("CML" or "the Group"), which designs, manufactures and markets mixed-signal and Radio Frequency (RF) semiconductors, primarily for global communication and solid state storage markets
There's a very clear trading update today, covering the half year to 30 Sep 2016;
The Group announces that its unaudited figures indicate that revenues for the half year will be circa £13m, including a two month contribution of product revenues from its acquisition of Sicomm of £0.4m.

Profit before tax is expected to be approximately £1.9m and

cash generation continues to be healthy.

As at 30 September 2016, the Group had net cash of over £11m, which includes the net effect of the cash element of the consideration paid for Sicomm and the cash balances within that business. The Group has no borrowings.
Net cash is material, at 16.4% of the market cap. I seem to recall this business also has some surplus freehold property, so it's very strong financially.
Other accounting points to note;
Capitalisation of development spend is very large, so a key point to consider.
There's a small pension deficit.
Comparing the above figures to interim results last year, I note the following;
H1 2016/17 – revenues up from £11.0m last year to £13.0m, so a decent increase.
Profit before tax last year H1 was £1.5m, and has risen to £1.9m – so a good increase there too.
Net cash has fallen from £12.3m to £11.0m.
Outlook comments today sound upbeat;
"We're pleased with our first half performance. CML is focused on two highly niche industrial storage and communication markets where the quality and reliability of our technology sets us apart and makes us an integral part of our customers' products. The Group is seeing the benefits of our strong focus on Ramp;D which remains a key part of our strategy as we continue to build for the future."

"The contribution from Sicomm to date has been pleasing, in line with our expectations and we look forward to the second half of the year with confidence."
My opinion – it sounds like the company is likely to meet or beat broker consensus for this year, which is 19.6p EPS. The PER is 20.2 based on a 395p share price. That may look expensive, but it's more reasonable when you factor in the property amp; cash on the balance sheet, so mid to high teens once those adjustments are made.
The valuation all depends on how the future pans out. I don't know anything about this sector, so can't really form a view on that. I wonder if this might be a takeover target at some point?
Overall, if you understand the sector, then this share might be an interesting one to research further. I quite like the numbers, so that's a good starting point. There's a reasonable divi too, currently yielding about 2%.
---
McBride (LON:MCB)

Share price: 190.75p
No. shares: 182.2m
Market cap: £347.5m
Trading update – it sounds as if the solid turnaround underway here is on track;
McBride plc, the leading European manufacturer and supplier of Co-manufactured and Private Label products for the Household and Personal Care market which today holds its 2016 Annual General Meeting, provides the following trading update for the period from 1 July 2016 to 30 September 2016.

The Group's first quarter financial performance has been an encouraging start to our new year.

Whilst Group revenues fell at constant currency and were 2.9% lower than last year (net of the impact from the customer reduction project), our margins and costs have continued the positive progress seen since the launch of our new strategy.

At this early stage of the year the Board is comfortable that the business remains on track to deliver its full year expectations, taking into consideration the many uncertain macro-economic factors ahead of us.
Falling revenues are not a problem, because MCB's revised strategy has been to intentionally drop off low margin business.
Valuation – nothing particularly jumps out at me from the usual Stockopedia graphics below. It looks priced about right, in my opinion;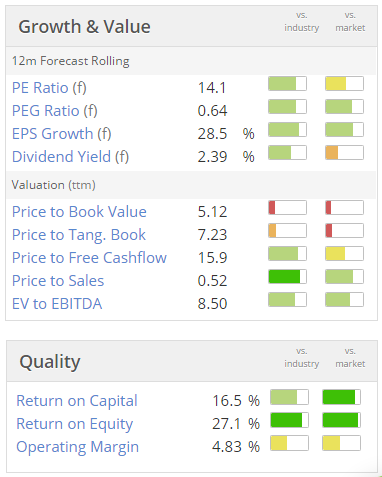 ---
That's me finished for today. See you in the morning!
Regards, Paul.
(usual disclaimers apply)
Source:
http://www.stockopedia.com/content/small-cap-value-report-24-oct-2016-beg-g4s-cml-mcb-155635/
We encourage you to Share our Reports, Analyses, Breaking News and Videos. Simply Click your Favorite Social Media Button and Share.