Good morning!
In case you missed it,here is my interview yesterday with Exec Chairman, Ric Traynor, of insolvency practitioner Begbies Traynor (LON:BEG) (in which I hold a long position). I thoroughly enjoyed chatting to him, and reliving a few moments from my own experience of working in the sector, 25 years ago.
The next interview planned is with the CEO of Staffline (LON:STAF) (in which I also hold a long position) – so I invite you to submit any questions you'd like me to ask on your behalf using this link.
Shoe Zone (LON:SHOE)
Share price: 169p (up 18.6% today)
No. shares: 50.0m
Market cap: £84.5m
Trading update – this covers the 52 weeks to 1 Oct 2016.
The key paragraph is more positive than I was expecting, saying;
The Board expects pre-tax profit for the period to be broadly in line with expectations and marginally ahead of the prior year.

The business continues to have strong cash conversion and closed the year with an approximate net cash balance of £15.0m (2015: £14.2m).
Valuation – broker consensus EPS forecast is 17.5p, so assuming they achieve about 17.2p (based on "broadly in line" actually meaning slightly below), then after today's big rise in share price, the PER is 9.8.
Given that nearly 18% of the market cap is the company's own net cash balance, then the ex-cash PER is about 8.1 by my calculations.
Dividends – the yield is generous, with a payout of 10.5p forecast for this year, yielding 6.2%
Outlook – the company has not really said anything about the future in today's update, and has therefore completely ignored the elephant in the room – the devaluation of sterling. Since ShoeZone imports product from China, cheap plastic shoes, then its future deliveries are bound to be more expensive.
Competitors will also have to put up prices, to protect margins, and we simply don't know yet how consumers are going to respond. Clearly higher prices will reduce volumes sold, but we don't yet know by how much.
I think it was a big omission for the company not to say anything about this issue at all in today's update.
My opinion – this is the calm before the storm for retailers. Hence I reckon today's pop in the share price may prove short-lived perhaps?
I'm avoiding apparently cheap retailers for now, because when business turns down next year, on more expensive product feeding through, and overheads rising, who knows what profits will be? Today's surge in the share price looks to me more like a selling opportunity, than a buying opportunity.
---
Carpetright (LON:CPR)
Share price: 196p (unchanged today)
No. shares: 67.9m
Market cap: £133.1m
Trading update – I read this update before 8am this morning, and was left feeling confused – it didn't seem to make sense to me – with LFL sales down, but then saying profit expectations were unchanged. Let's have another crack at working it out!
Today's update covers the 25 weeks ended 22 October 2016. The company has a 30 April year end, so this is the bulk of H1 for 2016/17.
Key points;
The Group's full year profit expectations are unchanged. (note 1)
I've been nagging for companies to provide a footnote to quantify what expectations are, and am delighted to see that this company has indeed provided such a footnote, as follows;
1. Consensus for the year ending 29 April 2017 is for Group underlying profit before tax to be £18.5m, with a range from £15.2m to £20.5m.
Although to get top marks here, the company could have included the EPS equivalents too! Let's assume that the 20.7p EPS forecast shown on Stockopedia is consistent with the company's underlying PBT figures above. It looks about right to me.
Therefore the current year PER is about 9.5. That's the cheapest I can remember for a long time. If you cast your minds back, Carpetright commanded a bonkers premium rating for many years – it was valued on a PER of about 40 for a long time, for no apparent reason.
Anyway, the price has finally come back down to earth – maybe due to more competitive pressure from other sector participants? In particular, the son of Carpetright's founder, has set up a new carpet retailer called Tapi, and is said to have taken some Carpetright management with him.
Doing a bit of googling, Tapi seems to already have 23 UK sites, with a target reportedly of 200. DFS founder Lord Kirkham is also an investor in Tapi – so it appears to be a serious competitor, out to eat Carpetright's lunch.
UK LFL sales have worsened from the last time reported, and are negative 2.9% in the most recent 25 weeks.
UK gross margins are under pressure;
Full year guidance of a decline in gross profit percentage revised to between 150 and 200 basis points, a combination of increased sourcing costs resulting from the devaluation of sterling, competitive market conditions and a mix impact.
I imagine margin pressure is likely to increase, as imported products rise in price.
Store revamps are underway, and seem to be working;
"The initial trading performance of these newly refurbished stores has been encouraging - they are outperforming comparable stores in the estate, giving us confidence that where we invest we are able to drive a material improvement in performance.

In addition, the introduction of new hard flooring sections in 26 stores, has contributed to a 15% increase in laminate/luxury vinyl tile sales. We continue to make progress with our plans to reduce property costs.
So there are some self-help initiatives underway.
European trading – this is only a small part of the overall business, but is benefiting from the appreciation of the Euro against sterling – hence results translate into more sterling. Although I note that it was barely above breakeven in H1 last year.
"Trading in the Rest of Europe continues to improve and is a little ahead of our expectations.
Outlook for H2 sounds reasonable;
"As we enter the second half, we are looking forward to implementing the next phase of our refurbishment and rebranding programme as we continue our drive to update and revitalise the business.

With the benefit of recent UK investment expected to flow through as the second half progresses, further significant refurbishment work already underway and a continued improvement in the Rest of Europe, our guidance for the year as a whole remains unchanged."
My opinion – I'm not convinced. To my mind, there's possibly an increased risk of an H2 profit warning. It's the increased cost of imported carpets that worries me, together with the founding family of Carpetright having set up in direct competition with it. They will know all its strengths amp; weaknesses, and how to undermine it – not a good scenario at all, in my view.
All too often you see old businesses gradually killed off by more dynamic, smaller competitors, especially when it's the most ambitious people who have left the old business to directly compete with it.
I don't find that an appealing situation to get embroiled in at all. I'd rather buy shares in the up amp; coming competitor (if it lists), than Carpetright.
Consumer spending will also be under pressure next year, as disposable incomes are squeezed, so it's difficult to find much to be positive about for Carpetright. It looks to be up against multiple headwinds, and the share price has reflected that.
My hunch is that this is likely to be a business that will struggle just to stand still in future.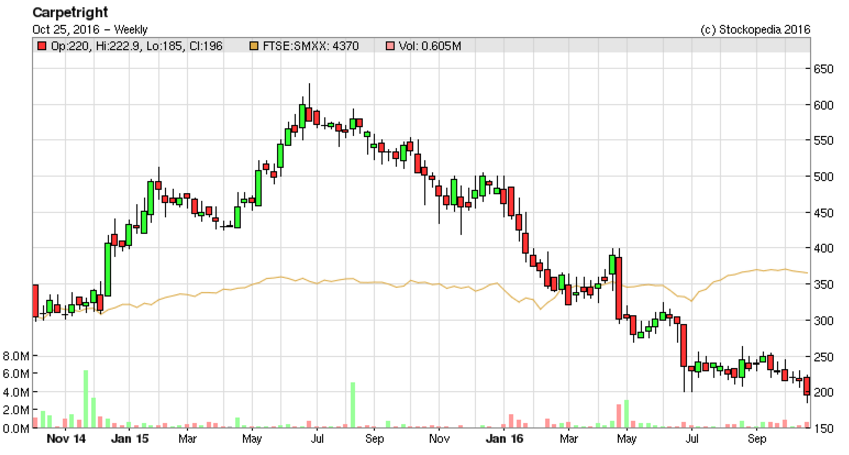 Braemar Shipping Services plc (LSE: BMS), a leading international provider of broking, consultancy, technical and other services to the shipping, marine, energy, offshore and insurance industries.
Results out today are poor, with underlying operating profit having crashed from £7.1m in H1 last year, to just £3.2m this time, and even lower to £1.4m once one-off restructuring costs of £1.8m are taken into account.
Poor results were expected though, as the company issued a profit warning in the summer, which I reported on here on 31 Aug 2016. That was a strange profit warning, as there seemed a muted market reaction on that day, with only an 8.9% share price fall to 370p. The share price then continued sliding down to its present 323p. There's been no change today. Has it reached equilibrium, or will we see another delayed response to poor results? I don't know.
Dividends – this is a very high yielding stock, and the 9p interim divi has been maintained but is not covered by earnings, so future divis might be at risk.
Outlook comments confirm full year expectations;
"The Board is confident in our long term strategy to grow the business through both organic and acquisitive business development. The Board expects the underlying financial performance, excluding restructuring costs of the Group, for the full year to be in line with current market expectations following the actions we are taking to make structural changes within the Group."
Cost-cutting has already achieved £3m of annualised savings.
Market expectations seems to be for 22.1p EPS this year, rising to 27.8p next year.
Edison has today put out slightly revised (down) forecasts, showing 21.4p EPS this year, but rising to 29.4p next year, so in the same ballpark as the consensus figures on Stockopedia.
Valuation – using the Edison forecasts, this year's PER is 15.1, falling to 11.0 for next year. That doesn't strike me as a particular bargain. The shipping sector seems to be very depressed at the moment – who's to say it won't just stay the same, or get worse? It's all a bit difficult to predict.
Mind you, checking on Bloomberg's website, the Baltic Dry Index has recovered strongly from the extreme lows earlier this year;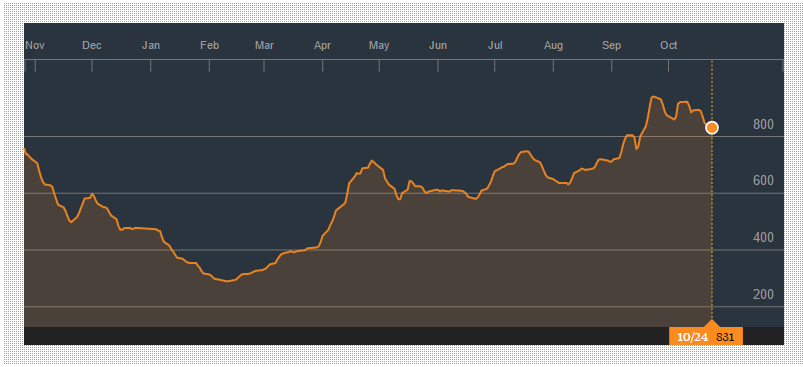 The narrative in today's results indicates that the improvement in Baltic Dry Index should help improve the company's performance in future.
Forex – hedging arrangements have blunted what should eventually be a benefit from the weaker sterling exchange rate against the US dollar;
A large proportion of the Group's income is US$ denominated and the average rate of exchange for conversion of US$ income in the six months to 31 August 2016 was $1.39/£ (interim 2015/16: $1.535/£). The rate of translation as at 31 August 2016 was $1.31/£ (31 August 2015: $1.54/£).

The Group maintained its treasury policy during the period so the full positive impact of the movement of the dollar has not yet been reflected in the results. At 31 August 2016 the Group held forward currency contracts to sell US$30 million at an average rate of $1.43/£ (interim 2015/16: $17 million at an average rate of $1.52/£).
So this gives encouragement that, after a time lag, profits should rise from the favourable currency movements.
Balance sheet – mostly OK, although note that there is a fairly small pension deficit.
Also debtors seems very high, which would need investigating.
My opinion – there seem sound reasons to expect this company's performance to improve in H2 and beyond. Overall though, not really knowing much about the sector in which it operates, I'm not keen to get involved unless the valuation looks extremely cheap, which it doesn't.
Moreover, I think the divis look unsustainably high, and that it might be better if the divis were rebased to a level of say half the current level. That's a clear risk here, in my view.
Pendragon (LON:PDG)
Source:
http://www.stockopedia.com/content/small-cap-value-report-25-oct-2016-shoe-cpr-bms-155779/
We encourage you to Share our Reports, Analyses, Breaking News and Videos. Simply Click your Favorite Social Media Button and Share.