Good morning!
An earlier, and shorter report today, as I have to dash to an investor lunch.
---
Debenhams
(LON:DEB)
Share price: 55.6p (up 3.5% today)
No. shares: 1,227.8m
Market cap: £682.7m
Full year results – for the 53 weeks to 3 Sep 2016 – note the extra week, which is necessary every few years to maintain a roughly similar year end date, for companies which use weekly, instead of monthly accounting.
In my experience, monthly accounting is better, as it evens out management accounts throughout the year, making monthly prior year comparisons more meaningful. However weekly accounting is easier to do, but results in horrible 4 amp; 5 week mismatches when you try to compare each month the prior year equivalent.
Overall today's figures from Debenhams look alright to me, given the strong headwinds which bricks amp; mortar retailers are experiencing – from online-only competition, rising costs (especially from Living Wage), other cost increases, and of course now all the problems coming through from weaker sterling.
Mind you, Debenhams should benefit from the recent demise of BHS, and I note that it is introducing lighting departments into 30 stores, to grab some of that business. It's a pity that BHS went bust, but it was a tired old format. Green managed to breath fresh life into it for a few years (boosting profits substantially in his first few years of ownership), but its demise was inevitable in my view – especially after the 2008 financial crisis, which resulted in its pension scheme liabilities soaring, due to interest rates being lowered so much.
It's bizarre the way the facts re BHS have been twisted by the media amp; politicians after the event, in order to create a pantomime villain in the shape of Philip Green. When actually if he hadn't been involved, BHS would have almost certainly gone bust years earlier.
The further I go on in life, the more I realise that human beings are predominantly emotional, and are not actually interested in the facts, in many areas of life. People really want simple stories, which reinforce their existing prejudices, not facts. You can see the same effect going on with shares all the time, on bulletin boards, etc - once someone owns a share, they block out and angrily shout down negative opinions or facts on it. This is very dangerous indeed, and is one of the key bad habits to unlearn as our investing experience builds.
People who can view shares they hold with a cold detachment, and will happily listen to amp; consider bearish views on their shares, make much better investors in my experience.
Anyway, back to Debenhams.
Bull points
LFL sales up 0.6% – not bad for a conventional retailer.
Gross margin also held up, only very slightly down, by 10bps
Underlying profit before tax in line with expectations, and 0.5% up on last year, at £114.1m
Underlying EPS very slightly down, at 7.5p – giving a PER of 7.4 – apparently good value.
Online sales growing well, up 9.3%. Now 14.7% of total group sales.
Dividend yield is good – 3.425p full year divis = yield of 6.2% – nice, but I'd rather see them paying down debt.
Positive actions mentioned in the narrative – this is a business which is clearly doing lots of stuff to bolster amp; improve performance, ie it's not standing still.
International performance is good, and on decent margins too – will help mitigate impact of weaker sterling too.
Bear points
Net debt has come down usefully, but at £279m it's still nearly 41% of the market cap. Adjust to cash neutral, and the PER would rise to roughly 10 – not such a bargain after all?
Pension deficit – it's an iceberg deficit. So only £4.1m deficit shown on the balance sheet, but the actuarial deficit is bigger, and requires £9.5m + RPI overpayments each year, plus admin costs. So a considerable drain on cashflow.
Capex hungry – with lots of very large sites, heavy capex is an ongoing necessity to keep them looking modern amp; attractive to customers. So be careful with EBITDA – it's a bit meaningless for a business with constant, heavy capex requirement.
No current trading statement, and no meaningful outlook comments – which can only be neutral to negative, in my view. If they were trading well currently, surely they would have said so?!
Weak balance sheet, with NTAV negative at -£78m
Note the huge £354.5m liability in long-term creditors for lease incentives. This is not a strict liability, but it is a measure of the up-front cashflow benefit which the company has received from reverse premiums amp; rent-free periods on leases. When I've got more time, I'll expand on this point. It's basically a drag on cashflow in the future – because credits will be put through the Pamp;L from this item on the balance sheet, but will have no cashflow impact – i.e. profit will then run ahead of cashflow, which is clearly a negative thing.
Guidance for 2016/17 – Debenhams follows best practice, in guiding the market as to how it sees the new financial year working out. I wish all companies would do this, it's so helpful for investors, and of course these figures can be revised as the year progresses.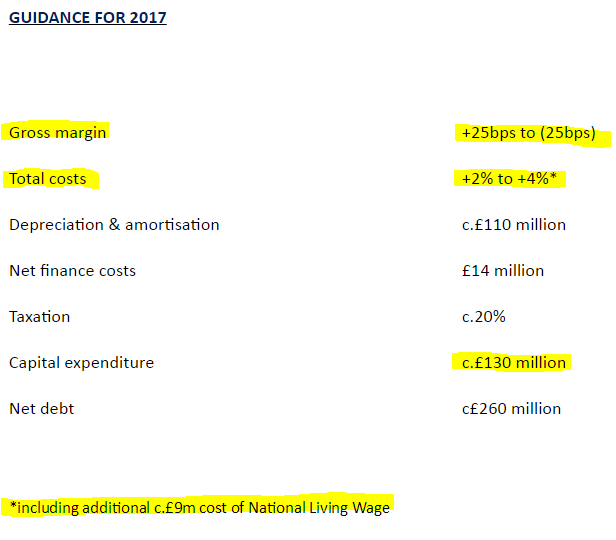 I've highlighted a couple of items above;
Gross margin – they're saying it's likely to be flat (between up or down 0.25%). I'm sceptical about this. Sterling weakness means prices will have to go up considerably. I think retailers will have to absorb some of that impact themselves. Hence in my view, we could see gross margins down something like 200bps at a guess. It depends on how far forward DEB has hedged, or contracted its input prices though.
Total costs – up between 2-4%, and see the footnote about Living Wage. This is the huge problem that UK retailers have at the moment – lots of their costs are rising, but most are struggling to get any top line growth. This is going to be potentially disastrous for profitability for retailers in 2017. Hence why I am so negative on the sector.
Remember that profit is already wafer thin for many retailers. So jack up their costs by 2-4%, with no top line growth, and gross margins under pressure, and you could see profits disappear altogether in some cases.
I fear that we're likely to see another wave of small to medium retailers going bust in 2017. That will free up more market share for the ones that survive of course.
My opinion – a fairly solid set of figures – Debenhams has fared reasonably OK in a tough market. However, the low PER amp; good dividend yield are not as solid as you might thing. There's a lot of debt, and a significant drain caused by the pension fund. Capex is large, and ongoing.
The outlook is grim, in my view, for almost all conventional UK retailers. They're facing big headwinds on costs in 2017, plus problems from sterling devaluation. I'd put money on Debenhams profit falling significantly in 2017. Hence why it's not an attractive share to buy right now, despite the apparently cheap value characteristics.
I don't think DEB is going bust, but I think there are probably better places to park our money in the next year anyway.
---
Richoux (LON:RIC) – (I hold a long position in this share) - shareholder circular published re the huge share options incentive package for new CEO, Jonathan Kaye. The Kaye family are of course very experienced restaurateurs, having been behind numerous successful chains.
More details are given on the trigger points for Mr Kaye's huge options package;
Under the terms of the share incentive being presented to Shareholders (the "Share Incentive") Jonathan Kaye may acquire up to 14,994,588 Ordinary Shares (14 per cent. of the then issued share capital of the Company) if the share price of the Company reaches 40p per Ordinary Share and a further 8,032,815 Ordinary Shares (bringing the total to 20 per cent. of the then issued share capital), if the share price of the Company reaches 55p per Ordinary Share. The Share Incentive will vest on the later of the second anniversary of the date of grant and the date(s) on which the performance targets are met.
My opinion – I've been saying for years that Richoux has great potential, and needed new management. At long last, the company has agreed, and done something about it.
The options package for J.Kaye looks insanely generous, but there again shareholders have to decide whether they would rather keep a larger slice of a small pie, that's going nowhere?
I jumped the gun a bit, and overpaid for my shares (I paid c.36p recently), so I'm not buying any more unless amp; until the price comes down a fair bit. It's so illiquid that it's very difficult to trade anyway. In my view it would be worth buying some more at around the 20p level.
Long term (say 5 years+) then I've little doubt the shares will be much higher. The Kayes have done loads of roll-outs, to a simple formula (pasta+pizza, very high margins, nice fit-outs).
---
Alumasc (LON:ALU) – a positive-sounding statement today, but the conclusion just confirms existing expectations for the year.
The valuation measures here look great. Be careful though, because it's cheap for a reason – due to a pension deficit. Deficits are becoming a bigger problem right now, due to bond yields being low, and inflation rising.
You can check if there's a pension deficit on Stockopedia now, just glance at this little box on the RHS of the StockReport;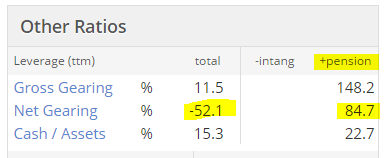 If the gearing figures in the "+ pension" column are larger than the gearing figures on the left, then it's flagging that you need to check out the pension scheme.
---
I have to dash now.
Also today, Bloomsbury Publishing (LON:BMY) reported, and there was a trading update from Caretech Holdings (LON:CTH) . I might possibly get a chance to update this report on those this evening, but we'll see how it goes.
Have a good day!
Regards, Paul.
(usual disclaimers apply)
Source:
http://www.stockopedia.com/content/small-cap-value-report-27-oct-2016-deb-ric-alu-156085/
We encourage you to Share our Reports, Analyses, Breaking News and Videos. Simply Click your Favorite Social Media Button and Share.