Good morning!
It's very quiet for results today. I'm travelling back to Hove later this morning, so once back home will try to catch up on a few companies that I missed yesterday.
Bond yields
I don't follow bond markets in particular, because it strikes me that risk:reward on bonds could hardly be worse. You get no inflation protection (apart from index-linked gilts) on most bonds, yet the yield is derisory in most cases. So the risk is all to the downside (as the value of a bond will fall when inflation amp; interest rates rise), in return for a pathetic reward (yields are extremely low). Who in their right mind would want to buy that sort of asset? Pension funds seem to think they are matching their assets and liabilities by buying bonds, but what happens if there's a surge in inflation? Then a gap would open up. UK inflation is likely to rise to 3-5% in 2017, due to imports costing more after sterling's devaluation.
My Twitter feed is filling up with comments and articles about bond yields rising. It strikes me that this could be good news for UK companies which have significant pension deficits. These deficits have swollen in recent years due to very low bond yields – because the liabilities are measured with reference to bond yields. Liabilities increase when bond yields reduce, and vice versa.
So it occurs to me that pension deficits may benefit from rising bond yields. Mind you, presumably there would be an offsetting effect from higher inflation – meaning that the annual inflationary rise for pension payments would increase the liability. I'm not sure how the 2 factors would combine. Do we have any actuaries in the house, who could comment on the situation?
I hold over 40 positions in my family portfolios, and from memory can only think of one position that has a significant pension deficit (relative to market cap), which is Norcros (LON:NXR) (in which I hold a long position). I'm considering topping up there, as the valuation looks remarkably low – it's not often where you see the PER the same as the divi yield (both 5.2 in this case). Sure its pension fund is huge, but the overpayments are modest. So instead of seeing a huge liability, I see a manageable cash outflow for maybe the next 20-30 years. It hasn't prevented the company from paying generous divis, nor making several decent acquisitions, so why is it such a big deal to investors? I think the fears are overdone, presenting a nice value opportunity perhaps.
Do readers see any other good value shares, beaten down too low due to pension deficits? Alumasc (LON:ALU) might be one? I haven't done the sums on it, but noted yesterday that its PER is very low, and the trading update was solid.
---
Entu (UK)
(LON:ENTU)
Share price: 19p (down 6.4% today)
No. shares: 65.6m
Market cap: £12.5m
Strategic disposal of Astley – this car crash stock, floated in Oct 2014 by Zeus Capital, at 100p per share, just gets worse amp; worse. It's obvious now that the market was sold a pup. It was floated on the back of an apparently enticing high dividend yield. The trouble is, profits have since collapsed, so the big divis can no longer be paid. I'm now very wary about any other new floats which hinge on a supposedly generous divi yield.
Anyway, ENTU has decided that one of its subsidiaries, called Astley, is non-core, so it's being sold for £0.2m, which after working capital movements reduces down to just £1. Yes, one pound.
Yet apparently, Astley makes a significant profit;
On 11 October 2016, the Group issued a trading update stating that EBITDA from continuing operations before exceptional items was expected to be in the range of £3.6 million to £4.0 million.

Astley's EBITDA up to the point of sale is expected to be £1.1 million and, as this will now be reported within discontinued operations, the Group now expects EBITDA from continuing operations and before exceptional items to be in the range of £2.5 million to £2.9 million.
Why on earth would you sell a subsidiary for £1, if it's just made £1.1m in profit for the year? There is mention of its order book becoming more low margin work, so perhaps the outlook for profitability is not so good?
Looking back at the original RNS for when Astley was acquired, it only cost ENTU £0.2m to buy, and had historically been loss-making, only reaching breakeven at the time of acquisition. So in the light of that, it looks to be a poor quality business, that perhaps just had one good year under ENTU's ownership? Or at least perhaps benefited from their EBITDA accounting – which has a tendency to create artificial profits out of thin air.
My opinion – I completely lost confidence in this company some time ago, and wouldn't touch this share now at any price. It's been a value trap from day one.
Also, I met a former employee of ENTU some time ago, who warned me away from the company – saying that he left because of concerns he had over the company's ethics in dealing with customers.
---
Zotefoams
(LON:ZTF)
Share price: 260p (up 0.7% today)
No. shares: 44.4m
Market cap: £115.4m
Q3 trading update – in line with expectations. The outlook sounds positive (with a couple of caveats included, to cover themselves);
Zotefoams saw third quarter sales grow ahead of the comparative period last year, buoyed by continued favourable currency and particularly good growth in HPP and North American polyolefin foams.

This was offset somewhat by lower polyolefin foam sales in the UK and continental Europe. The Company has entered the fourth quarter with a very strong order book.

The Company's investment at its facility in Walton, Kentucky, USA, which will increase Zotefoams' global capacity, remains on target to be operational in H1 2017.

Whilst being mindful of the operational risk to delivery of the very strong order book in the final quarter and the potential consequences of currency volatility, Zotefoams continues to expect another year of positive progress, with performance in line with management expectations.

The Company also remains confident about the long-term prospects for the business.
Valuation – the share price, and broker EPS forecasts, have been gradually falling over the last year. Even so, the valuation metrics don't look particularly appealing to me;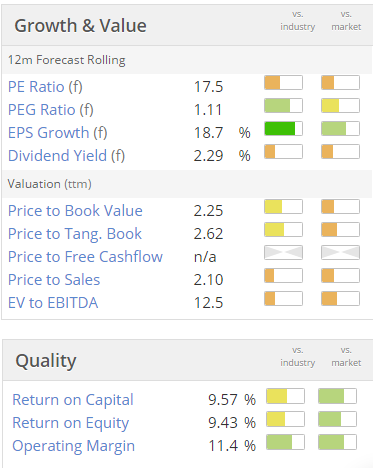 Bear in mind that the forward PER on Stockopedia is calculated on a rolling 12-month forwards basis – so it's mainly relying on the 2017 earnings forecast. That forecast assumes a decent rise in earnings from 2016.
Overall then, the price looks probably about right, to me.
However, with a strong order book, and new capacity coming online next year, there could be upside on this perhaps? Potentially worthy of doing more research then.
Source:
http://www.stockopedia.com/content/small-cap-value-report-28-oct-2016-entu-156217/
We encourage you to Share our Reports, Analyses, Breaking News and Videos. Simply Click your Favorite Social Media Button and Share.