Good morning!
STOP PRESS! ShareSoc has just asked me to mention that IG Design (LON:IGR) are appearing at their Richmond supper event tomorrow. Here's the link to sign up. Very interesting company.
Preamble
After deciding the big "should we or shouldn't we?" issue of Brexit, we now have another big question to ponder - is it time to put the heating on yet? This burning (geddit?!) issue has been made much easier for me this year, as we invested in one of those "Hive" wireless heating controllers. It's absolutely brilliant, and only cost about £275, installed. The payback period should be months, as previously we used to just leave the hot water switched on, 24/7, because nobody had any idea how to programme the little white sliders on the tiny white box, in a dark corner of our utility room.
Our new Hive thermostat/controller box is freestanding, not fixed onto the wall. So I have it on my bedside table, next to the iPad for reading RNSs. If it feels a bit nippy in the morning, I can just press a button to give a 30 minute blast of warmth to take away that morning chill. The other thing is that, in my London home, nobody else can be bothered to learn how to use it. So the heating amp; hot water are entirely under my control, mwahahaha!
Nobody has complained about cold showers yet, so my initial programming must have been good. It's so much easier programming heating from the Hive app, or from the cloud via my laptop. Vastly superior to those little white boxes with tiny buttons amp; sliders, which 13 year old me became expert in operating in the 1980s (together with programming video recorders, which again only teenagers could do successfully back then).
So if Hive is anything to go by, then the internet of things is looking an immensely positive development. I can't wait for the day when my fridge will automatically re-order milk, and stock itself up with beers for Friday evening!
Exchange rates
Sterling is under pressure again, so I'm just flagging this up, so readers can consider again the impact on your portfolio companies. At the time of writing, sterling only buys $1.286, and E1.145. So at this rate, my summer holiday in 2017 might have to be a staycation in a static caravan in Devon or Cornwall.
On a similar note, the weekend press contained an article from the boss of Jaguar/Landrover, saying they had noticed a drop in sales on the continent. Apparently some consumers over there are reacting to the Brexit vote by boycotting British cars. So be it. To protect our own industry, we must reciprocate. When the lease on my German car expires at the end of 2017, I shall be replacing it with a British-built car.
As a large net importer of goods, the UK is in a stronger negotiating position than most people realise. Apparently the UK buys 20% of the entire output of the German car industry. So there's no question of punitive tariffs against Britain, it's unthinkable, since tariffs go two ways of course.
Turkeys don't vote for anything, but it's safe to say that if they could, they definitely wouldn't vote for Christmas. In the same vein, European Governments won't support erecting trade barriers against their largest single export market (the UK – we buy 16% of the entire EU's exports), it would be complete madness to score an own goal of that size.
Anyway, who knows how things will actually pan out? PM Mrs May seems to have put some flesh on the bones of how Brexit might actually pan out, at the Tory conference over the weekend, which seems to be the cause of the current sterling weakness.
Mind you, if the German banking system does go into crisis, then sterling could strengthen suddenly, as it's seen as a safe haven against Eurozone turmoil, which has happened in the past.
Manufacturing PMI
I don't religiously follow PMI data, but probably should. It comes up on my Twitter feed anyway, so I usually spot the numbers.
As you would expect from much cheaper sterling, this is boosting UK manufacturing. This is confirmed with positive data out this morning;
UK manufacturing PMI at 55.4 vs 52.1 exp., 53.4 last month
(Tweet courtesy of @spreadexfins )
Cheaper sterling is a big boost to UK manufacturers, as it means all their sterling-denominated costs (wages, rent + rates, etc) are now cheaper when converted into dollars or Euros for exports. Thus profit margins rise, or prices abroad can be lowered whilst maintaining profit margins. Although of course, where applicable, imported components become dearer, offsetting part of the benefit.
So whatever worries there are about Brexit, the UK has got a lot more competitive as a manufacturing base this year, than say France or Germany.
Deutsche Bank
This issue continues to rumble away. It's glaringly obvious that Deutsche is under-capitalised, and has far too large exposure to derivatives. EU amp; domestic German politics are preventing the solution, which is state aid, or forced recapitalisation.
It very much appears that European policymakers learned nothing from the 2008 crisis, so it seems inevitable that another Eurozone crisis is probably now unfolding. As usual, I expect they will only fix things when facing total disaster, instead of nipping problems in the bud.
Is it time to sell?
All of these issues, combined with equities generally looking rather expensive, are making me increasingly nervous. So I'm starting to trim one or two lower conviction positions back in size, in my geared accounts. If we are going into a new period of turmoil, then I don't want to be geared up, that's for sure. That was my disastrous mistake in 2008, and I won't be repeating it.
I'm relaxed about holding positions in my ungeared account (my SIPP), because when there's no gearing, one can just ride out market gyrations. Small caps are not suitable for repeatedly selling when you're nervous, and buying back when you're comfortable. Not only is that prohibitively expensive in terms of costs (especially the bid/offer spread), but also it usually means people sell at the lows, and buy back at the highs!
The best purchases are usually made when the market is at its most anxious. The best traders/investors have learned how to often do the complete opposite of what their emotions are telling them to do. Having said, that, I have also noticed how, in the build-up phase of crises, the market can have a delayed reaction. So there can be a window of opportunity to sell, in the early stages of a crisis, before the biggest market falls actually happen. I am asking myself whether we might perhaps be entering such a phase? Should we be quietly exiting from the nearest door, before a stampede begins? What do readers think? Comments in the comments please!
There again, with interest rates so low, and that increasingly seeming to be a semi-permanent state, where else are we supposed to put our money? Safe bonds are ludicrously expensive, where there's little to no reward, but only risk. Even supposedly safe bonds (such as some sovereign debt) is probably nowhere near as safe as prices currently suggest. Property generally looks far too expensive. Cash yields nothing. So arguably that only really leaves equities as a sensible place to put our money.
Right, enough waffling, let's look at today's results amp; trading updates. Firstly one from last week which I overlooked, Speedy Hire.
---
Speedy Hire
(LON:SDY)
Share price: 36.5p (up 2.1% today)
No. shares: 523.5m
Market cap: £191.1m
(for the avoidance of doubt, I have recently sold this share)
Trading update – a reassuring update from this equipment hire company was issued on Friday last week, with the main points being;
As previously indicated, the recovery plan has stabilised the business and continues to drive improved performance.

During H1 FY2017 the operational restructuring and focus on management of rental assets has continued, resulting in further improvements in operating performance. Employee numbers have been reduced by over 100 from the start of the financial year.

Revenue for H1 FY2017 is ahead of the prior year and slightly ahead of the Board's expectations. With lower overhead costs, profit before tax will be ahead of H1 FY2016. We anticipate further progress and the Board expects that the full year profit before tax will be ahead of its previous expectations.

The costs associated with the operational restructuring and September's general meeting will be recognised as exceptional items. Following disposal of the large mechanical plant fleet, net debt will be significantly lower than in the comparable period and at the year end.
That all sounds pretty good to me.
My opinion – as mentioned in the preamble above, I'm a bit nervous about the Eurozone, and various other issues, so am having a bit of a portfolio cull at the moment. For that reason, I've decided to ditch my SDY position, which was only tiny anyway.
This may have been a mistake, as now I've had time to read amp; digest it, the above trading update reads rather well. So I might dig out the latest broker notes, and see if I should buy back in possibly?
I took my eye off the ball re the EGM from Toscafund. Looking back at the result, announced here, it's quite interesting. The key resolution, to remove Jan Astrand as Chairman was defeated. So he remains in post. However, a resolution to appoint David Shearer as a NED was passed, so he has joined the Board.
This looks overall like a good result. Toscafund main motive seems to have been an attempt to force Speedy Hire into buying dangerously over-indebted rival, HSS. That's a terrible idea in my view, as it would burden Speedy with a debt mountain. So I'm very pleased Toscafund has failed in its efforts there.
David Shearer sounds a good addition to the Board. Although, the airing of dirty linen in public is now looking rather embarrassing – SDY had previously stated that he lacked the necessary experience to join the Board! Now they have been forced into welcoming him onto the Board. I do wish companies would think before issuing statements that slag off individuals. It's very foolish, and shows poor judgement in my opinion.
That said, I don't rate Toscafund's judgement either. They've had a series of howlers in small caps in recent years – not just bad investing decisions (which we all make from time to time), but some utterly bizarre amp; questionable things (such as an inflated takeover bid for the apparently worthless InternetQ).
---
Victoria
(LON:VCP)
Share price: 349p (up 6.7% today)
No. shares: 91.0m
Market cap: £317.6m
(at the time of writing, I hold a long position in this share)
Acquisition of Ezi Floor – I wouldn't normally comment on this, as it's not material to the market cap. However, it's topical because we were discussing this share last week here, in a debate about how buy amp; build type shares, run by financial engineers, usually go wrong (e.g. Vislink (LON:VLK) and Lakehouse (LON:LAKE) being 2 recent examples, of many).
Carpet manufacturer Victoria, is an example of where a financial engineer has actually (apparently) made a huge success of a buy amp; build. It also had the added negative of a massively extreme management share bonus scheme. Yet it's worked astonishingly well – just look at the share price over the last 3 years: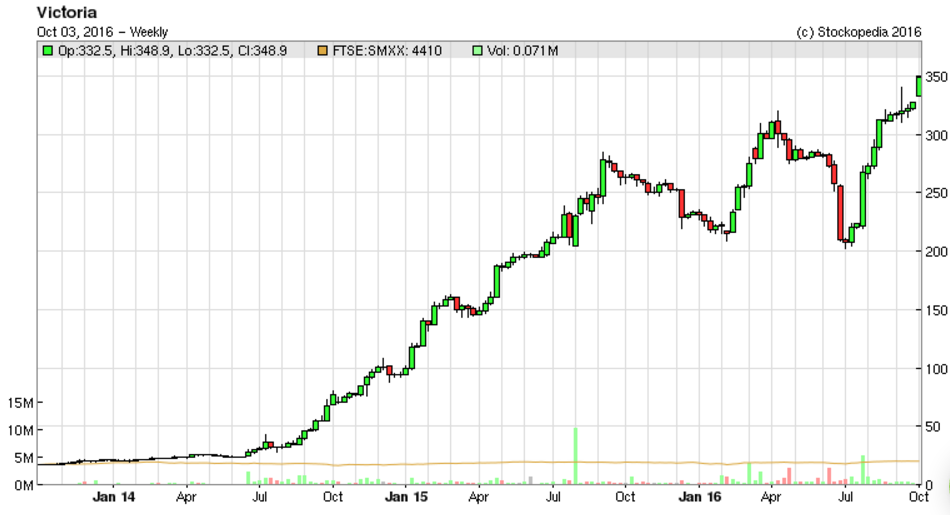 The acquisition today looks very sensible – Ezi Floor is an underlay manufacturer (in the UK). It's being bought for £6.5m initial consideration, and a further £6.5m payable over 4 years in annual instalments.
On top of that, there are additional contingent payments, up to a maximum of a further £6.5m, entirely based on performance targets, with management staying on for 4 years. So this element of the consideration looks like it will be self-funding, if I've understood the RNS correctly.
My opinion – this looks like another cracking deal, at 5.5x EBITDA. Plus Victoria says that, as before, it will look to improve margins from better sourcing of raw materials. So that could lower the acquisition multiple further.
This company really does seem to be on a roll [groans]. Unless I've missed something, it looks as if the buy, build amp; improve strategy here is working astonishingly well.
Furthermore, as the company said recently, it is benefiting from sterling's devaluation, as Dutch/Belgian competition are being forced to increase their prices in the UK – thus giving Victoria a lovely opportunity to increase its own UK market share, at the same time as potentially even increasing its profit margins.
The story here just seems to get better amp; better. Brokers are upgrading forecasts every few months, so the PER is not looking stretched, despite the share price zooming up.
---
Stanley Gibbons
(LON:SGI)
Share price: 11.75p (down 9.6% today)
No. shares: 178.9m
Market cap: £21.0m
Final results, y/e 31 Mar 2016 – this company has been in a mess for some time. A good summary (even if I say so myself!) of the issues is here in my last comments on 15 Jul 2016.
Obviously, note that these accounts are very late (31 March year end!), due no doubt to wrangling with the new auditors. Also, a kitchen-sink job was expected, as noted in my comments on 15 July.
Skimming through the figures today, can of worms is the only conclusion. There's so much detail to plough through, I'm not going to get into it all – there's no point, as I wouldn't consider buying any shares in this company.
The audit report is as rare as a penny black – it's qualified. So it's worth reading, to see what a qualified audit report looks like. There are several items where the auditors were not able to obtain satisfactory audit evidence. This is supposedly due to the timescales involved in getting the accounts out before the 6 month deadline. However, quite why 6 months is a demanding timescale, when most companies manage with less than half that time, is a mystery. IT's clearly highly unsatisfactory, and suggests to me that the kitchen sink has only been partially drained.
The biggest item in the audit report is this one;
In respect of the contingent liabilities arising from investment products that were sold previously as disclosed in note 28a, we were unable to obtain sufficient appropriate audit evidence to support the completeness and accuracy of the Director's assessment of the contingent liability being £64.3m..
There are other, smaller items of uncertainty too.
There's also a going concern question mark in the audit report;
In forming our opinion on the financial statements, we have considered the adequacy of the disclosure made in note 2 to the financial statements concerning the Group's ability to continue as a going concern.

The Group has reported a net loss for the financial year of £29.3 million. This, together with the other matters explained in note 2 to the financial statements, indicates the existence of a material uncertainty which may cast significant doubt about the Group's ability to continue as a going concern.

The financial statements do not include the adjustments that would result if the Group was unable to continue as a going concern.
Valuation – net assets have dropped to £38.4m, but that includes £19.6m of intangibles. So NTAV is £18.8m, or less than the current £21.0m market cap! So this share which was supposedly underpinned by rock solid asset backing, turns out to be not actually below NTAV now.
There's lots of bank debt, and obviously covenants will have gone out of the window a while ago – so it's very high risk because the bank might just decide to pull the plug and force a liquidation of the assets. In such a scenario, they would just be sold off for enough to cover the bank's position, and then everyone else can whistle. Shareholders obviously stand at the end of the queue, so usually get nothing in that type of scenario.
My opinion – my feeling is that the asset values here are highly dubious – in a fire sale they probably wouldn't achieve anything near book value. With a load of bank debt, and serious accounting issues still unresolved, I think people re crazy to consider buying this share.
So a total bargepole for me. As much as anything, it would take up so much time to really properly get under the bonnet here, and consider all the different uncertainties. For me though, it's the question of what rare stamps could actually be sold for, if a large collection such as the one owned by SGI actually came onto the market.
Also, another face-saving fundraising looks likely. Again, why take the risk when you don't have to?
---
I have to dash to a 1pm meeting, so a couple of very quick comments;
Seeing Machines (LON:SEE) – I don't follow this one closely any more, as it was taking too long, and using too much cash, to commercialise its driver alertness technology. Figures today look OK at first glance, but benefit from a large one-off licence fee from Caterpillar. My concern is that the heavy cash burn looks to be continuing.
It's all a question of how you rate the undoubted opportunities it has to scale up driver alertness products into mainstream vehicles. That could be good, but it's going to take more time.
Overall, it's too speculative for me right now. Things like this nearly always seem to lose money for me, so I've now got a much higher barrier against them.
---
Renew Holdings (LON:RNWH) – a reassuring, in line with market expectations update today. Also, improved operating profit margin is noted.
The company says it has moved into a net cash position. That's great, but don't forget that this business is financed through stretched working capital. So make sure to check the balance sheet, and ensure you're comfortable with that position. It's a potential time bomb in my view, if the current very favourable working capital contractual terms were to change adversely. I'm just flagging the risk, that's my job!
---
Got to fly now, see you tomorrow!
Regards, Paul.
(usual disclaimers apply!)
Source:
http://www.stockopedia.com/content/small-cap-value-report-3-oct-2016-sdy-vcp-sgi-see-rnwh-152588/
We encourage you to Share our Reports, Analyses, Breaking News and Videos. Simply Click your Favorite Social Media Button and Share.