Good morning!
I can scarcely believe that it's November tomorrow. I was out cycling in a t-shirt yeaterday, it was so mild. Yet again we're having such mild autumn weather that it must be playing havoc with clothing retailers' attempts to sell us winter clothing. Mind you, the same thing happened last year, so the prior year comparatives this year are actually like-for-like in terms of weather. So any retailers blaming the weather for poor sales this year will be given very short shrift in my reviews here!
My newish Windows 10 laptop has an incredibly annoying tendency to switch itself off without warning when the battery has depleted. This happened today, and I lost the whole section below on SPL. After some swearing amp; ranting, I remembered the feature on Google Chrome which re-opens recently closed tabs. It worked - Chrome had saved my work! So top marks to Google, and a big fat raspberry noise for Microsoft, quite frankly.
I suppose the next factor for us to all worry about is the US Presidential election. What an absolute farce the whole thing has turned into. I'll resist the temptation to comment further. If the most powerful country on earth can only come up with these 2 appalling candidates, then something has gone very badly wrong with its democracy. America has become a laughing stock – I think they've got horrendous problems over there. Anyway, let's hope it doesn't end up affecting our portfolios, or more importantly sowing the seeds for WWIII.
Let's start today with announcements from 2 companies which have been lousy investments in my portfolio, and the lessons learned.
---
SKIL Ports amp; Logistics
(LON:SPL)
Share price: 12.12p (up 15% today)
No. shares: 44m (before fundraising) + 376m new shares = 420m
Market cap: £5.3m before fundraising / £50.9m after fundraising
Fundraising amp; name change – the market cap has collapsed here to just £5.3m. It's been obvious for a while that the wheels had come off, and that all the previous assurances from management were hogwash.
The only surprise is that they've actually been able to pull off a further fundraising at all. So far, the company has partially built a barge loading amp; unloading port in India. It then ran out of money to complete the project, hence the share price collapse as people dumped their shares.
I dumped my shares too a while back, as it became obvious that things were going badly wrong. To my mind, the market cap had fallen to such a low level, that the Indians would have been hoovering up cheap shares themselves in the market, if all had been well. They weren't, so obviously things were not going to plan.
Also the company began to admit over the summer of this year, in its updates, that more funding would be required. Not a good idea to pre-announce that, and then spend months arranging the finance. As you can see from the chart, the share price dropped from c.55p to c.10p over this period, as people understandably bailed out, to await details of the new financing.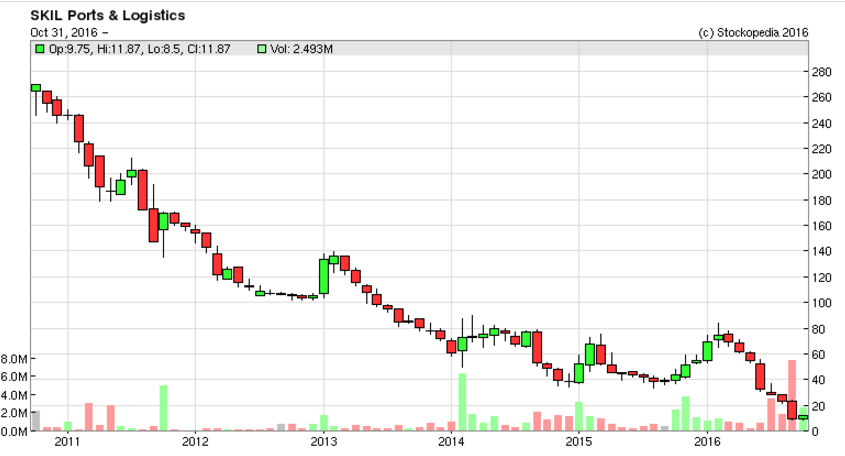 My opinion – as mentioned previously here, I suspended my usual rule of no overseas AIM shares in this case. Clearly that was a mistake. Although for speculative stocks I now tend to use a trailing stop loss 50% below the peak. That's a very loose stop loss, but it's clearly worked in this case, getting me out at about 40p-ish (I can't remember exactly).
We've debated stop losses here many times, and it's an interesting discussion. Some people like them, others don't, I can see merit in both approaches. The key thing is to do whatever works best for you – and we're all different.
Generally I don't use stop losses, as it's a substitute for proper research. However, I have warmed to the idea of using stop losses for speculative stocks only. Since they are inherently very difficult to value, and the price is mainly sentiment-driven (rather than on fundamentals), then it makes sense to bail out once a speculative share has fallen out of favour.
That saved the day for me with SPL, and I can now decide at my leisure, whether to re-enter now that the project is being refinanced. On balance, I'm not going to give it the benefit of the doubt. I don't like management here, and they've made a hash of things so far. Therefore I imagine there is plenty of scope for more things to go wrong in future too.
Lessons learned – yet another AIM overseas disaster. Suspending my usual blanket rule of avoiding all of them, ended up being a mistake here. Plenty of people warned me, but I (wrongly) thought I knew best. Although in mitigation, I did stick to my 50% trailing stop loss, and chuck them out once that level had been reached. As it turned out, that wasn't much below my original purchase price, so the losses here were actually quite small.
Also, I think infrastructure building shares are nearly always a bad idea – projects almost always take much longer, and cost much more than planned. Therefore the initial financiers end up, as in this case, funding the difficult bit, only to be diluted to almost nothing when a further, distressed fundraising is required. Early stage investors should really be seen as donors, not investors.
Overall then, it's just further reinforced my aversion to speculative shares, especially when they are overseas amp; listed on AIM. The odds are so stacked against you, why bother to take the risk?
If however we do become beguiled by one of these speculative shares, a trailing stop loss could be a very good idea. It breaks the infatuation which can otherwise lead to 90%+ losses in our portfolios.
Optimists might say that SPL (which is changing its name to Mercantile Ports amp; Logistics Ltd) is now funded to complete the project, and that the difficult work has been paid for by the original shareholders. The key thing now would be to find out what sort of revenues amp; profits the completed project will be able to achieve? The valuation now is well below the construction cost, so if they do manage to complete the project, and assuming it becomes a commercial success, then who knows?
---
I've got to drive from Bournemouth back to Hove now, but will add to this report later this afternoon for the following companies;
Plexus Holdings (LON:POS) – results for y/e 30 Jun 2016
£PPHE – Q3 trading update
Plant Impact (LON:PIM) – results y/e 31 Jul 2016
I think there were a couple of company results from last week left over for me to look at too. So more later.
Source:
http://www.stockopedia.com/content/small-cap-value-report-31-oct-2016-spl-156460/
We encourage you to Share our Reports, Analyses, Breaking News and Videos. Simply Click your Favorite Social Media Button and Share.