Good morning!
I can scarcely believe that it's November tomorrow. I was out cycling in a t-shirt yeaterday, it was so mild. Yet again we're having such mild autumn weather that it must be playing havoc with clothing retailers' attempts to sell us winter clothing. Mind you, the same thing happened last year, so the prior year comparatives this year are actually like-for-like in terms of weather. So any retailers blaming the weather for poor sales this year will be given very short shrift in my reviews here!
My newish Windows 10 laptop has an incredibly annoying tendency to switch itself off without warning when the battery has depleted. This happened today, and I lost the whole section below on SPL. After some swearing amp; ranting, I remembered the feature on Google Chrome which re-opens recently closed tabs. It worked - Chrome had saved my work! So top marks to Google, and a big fat raspberry noise for Microsoft, quite frankly.
I suppose the next factor for us to all worry about is the US Presidential election. What an absolute farce the whole thing has turned into. I'll resist the temptation to comment further. If the most powerful country on earth can only come up with these 2 appalling candidates, then something has gone very badly wrong with its democracy. America has become a laughing stock – I think they've got horrendous problems over there. Anyway, let's hope it doesn't end up affecting our portfolios, or more importantly sowing the seeds for WWIII.
Let's start today with announcements from 2 companies which have been lousy investments in my portfolio, and the lessons learned.
---
SKIL Ports amp; Logistics
(LON:SPL)
Share price: 12.12p (up 15% today)
No. shares: 44m (before fundraising) + 376m new shares = 420m
Market cap: £5.3m before fundraising / £50.9m after fundraising
Fundraising amp; name change – the market cap has collapsed here to just £5.3m. It's been obvious for a while that the wheels had come off, and that all the previous assurances from management were hogwash.
The only surprise is that they've actually been able to pull off a further fundraising at all. So far, the company has partially built a barge loading amp; unloading port in India. It then ran out of money to complete the project, hence the share price collapse as people dumped their shares.
I dumped my shares too a while back, as it became obvious that things were going badly wrong. To my mind, the market cap had fallen to such a low level, that the Indians would have been hoovering up cheap shares themselves in the market, if all had been well. They weren't, so obviously things were not going to plan.
Also the company began to admit over the summer of this year, in its updates, that more funding would be required. Not a good idea to pre-announce that, and then spend months arranging the finance. As you can see from the chart, the share price dropped from c.55p to c.10p over this period, as people understandably bailed out, to await details of the new financing.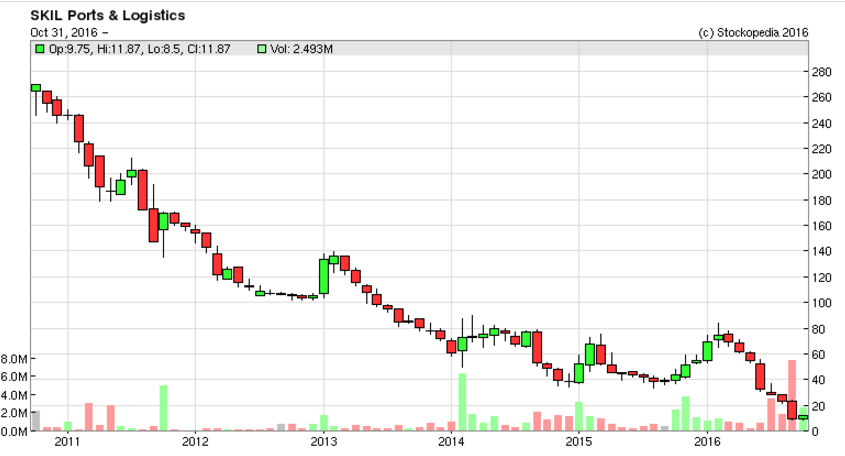 My opinion – as mentioned previously here, I suspended my usual rule of never buying overseas AIM shares.
Clearly that was a mistake. Although for speculative stocks I now tend to use a trailing stop loss at 50% below the peak. That's a very loose stop loss, but it's clearly worked in this case, getting me out at about 40p-ish (I can't remember exactly).
We've debated stop losses here many times, and it's an interesting discussion. Some people like them, others don't, I can see merit in both approaches. The key thing is to do whatever works best for you – and we're all different.
Generally I don't use stop losses, as it's a substitute for proper research. However, I have warmed to the idea of using stop losses for speculative stocks only. Since they are inherently very difficult to value, and the price is mainly sentiment-driven (rather than on fundamentals), then it makes sense to bail out once a speculative share has fallen out of favour.
That saved the day for me with SPL, and I can now decide at my leisure, whether to re-enter now that the project is being refinanced. On balance, I'm not going to give it the benefit of the doubt. I don't like management here, and they've made a hash of things so far. Therefore I imagine there is plenty of scope for more things to go wrong in future too.
Lessons learned – yet another AIM overseas disaster. Suspending my usual blanket rule of avoiding all of them, ended up being a mistake here. Plenty of people warned me, but I (wrongly) thought I knew best. Although in mitigation, I did stick to my 50% trailing stop loss, and chuck them out once that level had been reached. As it turned out, that wasn't much below my original purchase price, so the losses here were actually quite small.
Also, I think infrastructure building shares are nearly always a bad idea – projects almost always take much longer, and cost much more than planned. Therefore the initial financiers end up, as in this case, funding the difficult bit, only to be diluted to almost nothing when a further, distressed fundraising is required. Early stage investors should really be seen as donors, not investors.
Overall then, it's just further reinforced my aversion to speculative shares, especially when they are overseas amp; listed on AIM. The odds are so stacked against you, why bother to take the risk?
If however we do become beguiled by one of these speculative shares, a trailing stop loss could be a very good idea. It breaks the infatuation which can otherwise lead to 90%+ losses in our portfolios.
Optimists might say that SPL (which is changing its name to Mercantile Ports amp; Logistics Ltd) is now funded to complete the project, and that the difficult work has been paid for by the original shareholders. The key thing now would be to find out what sort of revenues amp; profits the completed project will be able to achieve? The valuation now is well below the construction cost, so if they do manage to complete the project, and assuming it becomes a commercial success, then who knows?
---
Plexus Holdings (LON:POS)
Share price: 58.6p (down 2.9% today)
No. shares: 105.4m
Market cap: £61.8m
(at the time of writing I hold a long position in this share)
Results for year ended 30 Jun 2016 – note the sloppy reporting schedule – it should not take 4 months for a small company to produce its preliminary results.
I last reported on this company back in Jan 2016, when the company put out a major profit warning for the year which is being reported on today. I guesstimated turnover of c.£12m, which tied in with a broker update at the time. The broker forecast a loss of £6.7m. Let's see how the actual numbers compare.
Key figures;
Revenues £11.2m – even worse than expected, and a huge fall against prior year revenues of £28.5m – that's a drop of nearly 61%, which is horrendous.
Loss before tax of £6.9m – versus a prior year profit of £5.9m. So pretty disastrous results, but the £6.9m figure is close to what was forecast, at £6.7m.
EBITDA – is less horrendous, as profit is stated after quite large depreciation amp; amortisation charges. So adjusted EBITDA is a loss of £1.6m (vs. profit of £9.5m).
Cash – whenever I see a company making heavy losses, the first thing I check is how much cash does it have left? i.e. is the company likely to go bust? Plexus has £9.9m in net cash, so it looks fine for now. Management had the presence of mind to strengthen the balance sheet when things started to get sticky.
Cashflow – it's interesting to note that the company was actually cashflow positive, due to modest EBITDA losses, and working capital unwinding (mainly a big reduction in debtors). It raised £16.9m in fresh equity too, which now looks a very smart move.
Dividends – obviously no divi is being paid, so no surprises there (prior year it paid 1.75p divis). The policy is to reinstate divis "at the earliest opportunity".
Outlook – Plexus doesn't do brevity, so its outlook comments run to 7 long paragraphs. Its comments mainly concern macro factors. To summarise;
Current lack of oil exploration is sowing the seeds for a future supply crunch.
Supply glut due to Russia amp; Saudi Arabia defending market share, "could quickly go into reverse".
Demand for oil will continue to rise.
Cleaner gas will be more in demand than dirtier oil.
Plexus has cut its costs, in response to lower demand, halved workforce.
Two capital raisings were well supported;
We view this as testament to the strength of our technology and the potential for Plexus to deliver significant shareholder value over the coming years.
My opinion – this share is obviously going to be closely tied to the outlook for the oil amp; gas sector, not my area of specialism at all.
As far as I can tell, Plexus seems to have very interesting technology, and between 2011-2015 the company was demonstrating strong profitability and growth. Therefore it seems reasonable to believe that profit should come surging back again when the oil amp; gas sector eventually normalises, and resumes a higher level of exploration activity. In the meantime Plexus seems to have adequate funding to ride out the downturn.
The trouble is, it could be seen as dead money, with an opportunity cost, leaving money invested in this company. Personally I only hold an absolutely tiny position here, which is just in a dormant account that I hardly ever touch. So it's not something that I have any conviction about really, and might chuck them out at some point.
Is Plexus worth £61.8m? Definitely not, based on its current performance, but of course the market looks to the future potential, not just what's happening right now. So it might be the case that, in a few years' time, if profits recover on a rising oil price, that it might end up looking cheap.
Overall, I think I'll probably chuck out the small long position I have here. After all, it's not really worth holding a tiny scrap of something. I should either bail out, or buy in more sensible size.
---
PPHE Hotel
(LON:PPH)
Share price: 700p
No. shares: 42.2m
Market cap: 295.4m
Q3 amp; YTD trading update – it's been a while since I've looked at this hotels group. I quite like hotel companies, as you can check out what their properties are really like from review sites like TripAdvisor (taking care to sift out bogus-sounding reviews). Or visit the hotels yourself – a good excuse for a jolly! It has 38 hotels currently, mostly operating under the Park Plaza brand.
Lots of data is given on revenue, occupancy, etc, in both Q3 and YTD (year to date), which I must admit to finding a little confusing. So to simplify things, I'm latching onto the most important sentence, which says;
Based on the results to 30 September 2016 and the outlook for the final quarter of the year, the Board anticipates the full year results to be in line with its current expectations.
It's taken me a couple of hours to get up to speed with events over the last year, reading through RNSs, and the presentations on the company's website here.
Key points are;
30 Mar 2016 – refinancing of £87m debt, relating to the Park Plaza Victoria London hotel. 10 year facility, at a fixed rate of 3.41%.
12 May 2016 – refinancing of £182.4m concerning the Park Plaza Westminster Bridge Hotel. 12 year term. All bar £10m of the borrowings will be at a fixed rate of 3.8%.
16 June 2016 – refinancing of £294.3m of debt (relating to 2 London hotels, and all its Dutch hotels), for a 10 year term, and at very attractive fixed interest rate costs of 3.25% (London) and 2.17% (Holland hotels).
Given that PPH has a lot of debt on its balance sheet, I think these refinancings, onto long term facilities, at attractive fixed interest rates, is a very shrewd move. The company is now well insulated from any rise in interest rates, and inflation.
Put together, this resulted in it having surplus cash, and the company paid a 100p special dividend in Aug 2016.
Several new hotels are also under construction in London.
Interim results – I've had a skim through the company's figures for the half year to 30 Jun 2016. The figures are quite complicated, with lots of moving parts.
There was also a mild profit warning, due to delays in hotel openings;
"As we continue to invest in the quality and expansion of our portfolio with a number of renovation projects and new hotel openings, trading for the 2016 financial year remains in line with the Board's previous expectations.

However, due to slightly delayed hotel openings, for which pre-opening expenses have been incurred without a significant amount of revenue contribution to offset such expenses, the Board expects that this timing difference may result in the Group's results being behind market expectations."
(31 August 2016)
To my mind this is largely irrelevant. The share price measures the future value of the company. So a bit of a delay in opening a new site doesn't matter at all really, looking at it long term.
It did knock the share price down by around 100p, so I wonder if this might be a nice buying opportunity, possibly?
Property values – several of the RNSs referred to above note that the property valuations done for lending purposes, delivered valuations considerably above the book value on the balance sheet.
So there is an interesting angle here in terms of hidden asset values – i.e. the hotels could be worth a lot more than book value. Mind you, ultra low interest rates are inflating asset values, so once interest rates are rising again, then the capital value of the hotels is likely to reduce somewhat.
London market – another factor to consider is that the London market may now be becoming oversupplied with hotel rooms? That is alluded to in the narrative of PPH's interim results. Occupancy rates seem to be falling, even when one-off factors are stripped out, in their LFL comparisons.
Set against that, is that of course sterling devaluation should mean a boom in overseas visitors coming to London, which has already been reported in some stats.
There's the ever-present terrorism risk too, a real worry here for a portfolio of hotels that is quite concentrated on London, although it does have operations overseas too.
Rising costs – especially business rates and Living Wage are headwinds for London hotel operators.
My opinion – it's quite a complex company to analyse, with all the various refinancings, acquisitions, special divis, etc, going on.
In the past I've disliked the heavy debt burden here. However, refinancing that onto cheap, fixed rate, long term facilities, has drastically reduced risk in my view, and makes this share much more attractive. My key question is whether the new borrowings have any covenants attached? I wonder if any readers know the answer to that?
Management are clearly very shrewd, and like paying out divis, with a cracking 100p special divi being a lovely bonus for shareholders.
Overall, I quite like the look of this share.
---
T Clarke (LON:CTO) - bad news announced a few minutes after the market shut – financial irregularities have been uncovered at a subsidiary company. An employee appears to have stolen over £2.8m over a number of years. How on earth did that happen, and not get detected earlier? It clearly suggests that financial controls here are not good enough.
I am struggling to understand these comments from the company;
Investigations indicate that the incident is limited to DGR and does not impact the wider TClarke Group. Our findings to date suggest that if anything the Group's historic trading results and balance sheet net worth may be understated to the extent that any of the misappropriated funds are recoverable.

The Board believes that any necessary accounting adjustments in the current period are unlikely to have a material adverse effect on the Group's results taken as a whole and, overall, the Group remains on track to meet market expectations for the year.
Clearly more explanations are needed, as the above doesn't make sense to me.
I imagine this might knock 10% off the share price tomorrow, as it's a very unsettling development. A low margin business like this needs to have absolutely watertight financial controls.
---
All done! See you in the morning.
Regards, Paul.
(usual disclaimers apply)
Source:
http://www.stockopedia.com/content/small-cap-value-report-31-oct-2016-spl-pos-pph-cto-156460/
We encourage you to Share our Reports, Analyses, Breaking News and Videos. Simply Click your Favorite Social Media Button and Share.