Good morning!
Some interesting discussions on Twitter today. Several of us noted that the small caps market seems extremely polarised at the moment. Companies which are out-performing seem to be relentlessly rising, with valuations going through the roof in some cases. Sky high PER now seem to be the norm for any company delivering good organic growth. There's some sense in that of course, but it's all starting to look stretched to me.
I think some stocks are continuing to rise on momentum trading – i.e. arguably rising above a reasonable valuation. The trouble with that, is that when the music stops (e.g. if something goes wrong), then a vertical move down is on the cards. Dangerous stuff.
The flipside of that is that companies which disappoint the market with a poor trading update, are being absolutely clobbered. Relentless selling – just look at how Crawshaw (LON:CRAW) (in which I hold a recently purchased long position) has fallen from grace. 80p to 29p in the last 3 weeks. Catching the falling knife there has been a costly lesson – although nowhere near as costly as people who paid a big premium for growth when things were going well.
Spaceandpeople (LON:SAL) (in which I hold a long position) is another one – yes it has repeatedly disappointed, but looks to still be profitable (as it benefits from an H2 weighting, due to Xmas trading), now down to only 22p. I'm staggered it's gone that low, the mkt cap is below £5m now.
I think there's bound to be a turning point, when the bombed out stuff recovers somewhat, and the toppy stuff corrects. However, timing is everything on that front, and I've no idea when the turning point will come – but it will come – these valuation extremes between growth amp; value stocks do eventually correct.
It's starting to feel a little bit like 1998-99 again – raging valuations for tech amp; other growth stocks, and plummeting valuations for value stocks. That reached as astonishing peak in Mar 2000, before it all crashed, with a 2.5 year bear market following. Worth noting.
---
ShareSoc Richmond
Last chance to register to see IG Design Group at ShareSoc's Richmond Supper today – an interesting company with a solid track record. CEO Paul Fineman will present the company and answer questions.
Here is the booking link. I understand that a few more people are needed to get the numbers up, so please do support this event if you're local.
STOP PRESS! ISA millionaire Lord Lee is putting in a guest appearance at this evening's Richmond event, and will be doing a 20 minute Qamp;A with David Stredder. He talks a lot of sense, and is always well worth listening to, so an extra reason to go along to meet amp; hear from him.
---
Journey
(LON:JNY)
Share price: 230.75p (up 8.6% today)
No. shares: 12.0m
Market cap: £27.7m
Bid talks – I reported here on 23 August how Harwood Capital had put in a lowball bid for Journey at 240p. I say lowball, as the bid premium was only 18%, which doesn't really cut the mustard. Harwood did something similar when they bought Essenden at a miserably low price, I was livid at the time, being forced to sell my Essenden shares at well below what they were really worth.
There was an announcement yesterday saying that the 240p bid for Journey had fallen through;
Journey Group plc ("Journey") announces that at the Court Meeting held earlier today, the requisite resolution was not passed and therefore the Offer for Journey by Jaguar Holdings Limited has lapsed.
However, today another announcement has been issued, suggesting that a 240p bid may still be on the cards;
Jaguar Holdings and Journey Group are pleased to announce that they are in discussions with regard to a Possible Offer to be made by Jaguar Holdings for the entire issued and to be issued share capital of Journey Group. It is expected that the Possible Offer will be made by way of a contractual offer under the Code with a 50.1 per cent. acceptance condition….

The Possible Offer price under consideration is 240 pence in cash per Journey Share. There is no intention for Jaguar Holdings to make an Unlisted Share Alternative available as part of the Possible Offer.
My opinion - I remain of the view that this is too low an offer price. It looks as if the potential buyer is trying a different procedure to push through a bid. It's a pity to see good companies plucked off the market by opportunistic bidders.
---
Trifast
(LON:TRI)
Share price: 168p (up 7.7% today)
No. shares: 116.8m
Market cap: £196.2m
Trading update – covering H1, the 6m to 30 Sep 2016. This announcement is very light on specifics, and makes no reference to performance against market expectations. However, the tone sounds positive, e.g. this excerpt;
Three months on since the EU Referendum, we are pleased to report that the positive trend dynamics for TR have been reassuringly sustained resulting in our business units across the Group experiencing continued good organic growth on a constant currency basis.

Consequently, this trend is enabling us to boost our ongoing global investment objectives covering the specific areas of people, skills training, production and automated quality inspection equipment.
Forex movements appear to have been helpful;
Today, in excess of half of Group revenue is derived from outside the UK, therefore our reported financial results are clearly impacted by the effects of foreign exchange movements.

During the first half of the current financial year we have benefitted from a tailwind from the weakness of Sterling.
Proof again that a good geographic spread of activity is a positive thing.
My opinion – I would have liked more specific facts amp; figures in this update. However, the general tone sounds upbeat. So I think that probably means the current year forecasts are likely to be achieved, or even beaten.
Taking into account today's price rise, the forward PER looks to be about 15-16, and bear in mind that debt has to be taken into account in valuing it too. Therefore the price looks about right to me, so probably limited immediate upside.
The company does seem to be executing well though, and seems well managed, so I can see the attraction of this share.
---
A few quick comments, as time is running out;
Digital Globe Services (LON:DGS) – I last looked at this American marketing company (it seems to recruit customers for TV companies) here on 30 Mar 2015, when the shares had halved on a profit warning. I decided it wasn't for me, but wondered if there might be turnaround potential?
I've had a quick look at today's results for y/e 30 Jun 2016, but don't like the look of it. In particular a $3.3m bad debt write-off is a serious concern. The balance sheet looks a bit weak, once intangibles are written off. Plus they've pulled the final dividend.
Above all though, it's an overseas company listed on AIM. They usually go wrong, so why get involved?
---
SCS (LON:SCS) – 189.5p per share - results look good. I last reported on this furniture retailer here on 9 Aug 2016 , flagging up how cheap the share looked on a PER amp; dividend yield basis, and noting the impressive trend in LFL sales growth. Although it's important to note that profit margin overall is still low – so profits could quickly disappear in a recession.
Operating profit before exceptionals rose an impressive 72% to £11.0m.
Increased sales driven by higher marketing spend (I've noticed their frequent TV ads) – which is an astonishingly high £23.1m.
Operating profit margin is only 3.3% of revenues, which compares poorly with larger rival DFS, which achieved 10.2% margin in its accounts last year.
Adjusted EPS of 21.8p is up 58% on last year – a terrific result. The PER of 8.7 looks modest.
Dividends are 14.5p, up 3.6% – giving a yield of an extremely generous 7.7%
Balance sheet – looks fine. The favourable working capital situation from receiving customer deposits in cash up-front, means that overall there is a healthy net cash position of £22.4m
Outlook – sounds OK. Current trading is positive;
Sales order intake up 4.5% on a like-for-like basis for the 9 weeks to 1 October 2016
We are encouraged by our trading performance since the start of the current financial year which is in line with our expectations. However, we are mindful that the Group continues to face very strong comparatives during the remainder of the year.
That's the trouble with having a bumper year – this year's success then becomes next year's tough comparatives.
My opinion – these figures look really good. However, I remain nervous about the cyclicality of this type of business. Big ticket consumer items are doing OK at the moment due to ultra-low interest rates, and fairly robust consumer confidence.
However, the moment conditions deteriorate, then big ticket items tend to be deferred or cancelled. With a profit margin of only 3.3%, this makes ScS vulnerable to economic risk. So it's dangerous to chase the shares higher, on a low PER amp; big dividend yield, both of which might turn out to be unsustainable.
So it's cheap for a reason. However, management do seem to be executing well, and so far, so good. I can certainly see the attraction of this share, if you think consumer demand for bigger ticket items is likely to remain fairly solid. It's just the cyclicality which worries me too much to make me want to buy any of this share.
---
Ab Dynamics (LON:ABDP) – an in line with expectations update is published today.
The shares are currently 470p, and at that level it looks fully valued to me: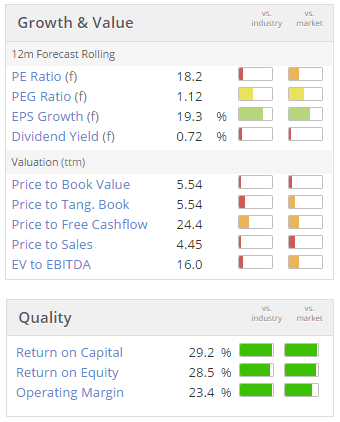 Note that the Stockopedia PER in the table above is usually based on broker forecasts for the coming 12 months. The PER for y/e 31 Aug 2016 is higher, at 21.7.
Also note the excellent quality scores above.
Another thing to consider is that a larger new factory is being built, which will give the company extra capacity to grow. That's encouraging, and could power continued growth in turnover and profits.
My opinion – this specialist automotive equipment company has a smashing track record of growth amp; profits, and it seems to me that the fairly full rating is probably justified. Providing nothing goes wrong of course.
---
Revolution Bars (LON:RBG) – I hold a long position in this share - results look quite good to me. I've taken an opening position in this share today. Bars are a very tough sector to operate in, as I know all too well, given that I'm a NED at a small chain of pubs in Cheshire.
Adjusted profit before tax rose from £8.3m to £9.2m, a creditable result I feel.
With bars, it's all about economies of scale, as the volume rebates from drink suppliers become highly significant once decent scale has been achieved. Revenue of £119.5m was achieved in the y/e 30 Jun 2016. This was driven by LFL sales up 2.3%, and 5 new site openings.
The sites are all leasehold, so are vulnerable to rental increases of course. Pub chains often go bust because they're overly indebted. What I like about this one, is that it's decently financed, with nil debt. So even in a recession, it could just sit tight, and probably still be cashflow positive.
Cashflow is good, and this should now be a self-funding roll-out. As such, I think the shares look potentially good value, although the market hates bar operators, so it's not likely to get onto a high PER any time soon, perhaps?
It's paying a dividend too, yielding circa 3%.
My opinion – this is the first time I've looked at this share, but my initial reaction is quite positive. So will do some more research on it. Worth a look, I think, if you can bring yourself to invest in bars? It's a very out of favour sector, and facing headwinds from Living Wage, the new pension system, business rates, etc. Plus of course loads of competition.
ST Ives (LON:SIV) – profits down, and balance sheet looks horrible.
Source:
http://www.stockopedia.com/content/small-cap-value-report-4-oct-2016-jny-sal-craw-tri-dgs-scs-abdp-rbg-152984/
We encourage you to Share our Reports, Analyses, Breaking News and Videos. Simply Click your Favorite Social Media Button and Share.