Good morning!
It's very quiet for news today. So to start you off, here is the link for yesterday's report – I added 4 more company sections to it last night, namely;
SCS (LON:SCS) – excellent results. However, it's low margin amp; highly cyclical.
Ab Dynamics (LON:ABDP) – in line trading update.
Revolution Bars (LON:RBG) – my first look at this bars operator. Looks potentially interesting.
ST Ives (LON:SIV) – horrible balance sheet puts me off.
---
Boohoo.Com
(LON:BOO)
I imagine many readers here are as flabbergasted as I am, at the extraordinary and seemingly relentless share price rise here.
It's a fantastic growth company, as I've been saying consistently since Jan 2015, but I really didn't imagine it would 5-bag so quickly. On conventional benchmarks, the valuation looks very aggressive now.
Personally I've top-sliced several times now, but am kicking myself for not having more courage of my convictions. It makes me almost weep to think how much profit I could have made, if I'd just held my original position, and not touched it. Ho hum. Run the winners, as the old adage goes.
---
IG TV
This afternoon I'm visiting IG's offices, to record another video interview about small caps. They've had me on a couple of times before – here's the link to the last one. I love rambling on about small caps to anyone who will listen, so we're making these interviews a quarterly thing.
---
Topps Tiles
(LON:TPT)
Share price: 103.5p (down 7.2% today)
No. shares: 192.0m
Market cap: £198.7m
(I no longer hold any position in this share)
Trading update – the market doesn't seem to like today's update, which covers the 52 weeks to 1 Oct 2016.
It's a refreshingly clear update, with detailed sales growth figures, per quarter. The problem seems to be that sales growth slowed in Q4 (Jul – Sept 2016), as you can see from the table below;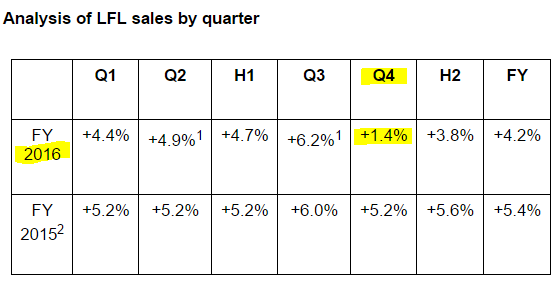 I've highlighted how the most recent quarter saw LFL sales growth slowing from +6.2% in Q3, to +1.4% in Q4 – which is quite a marked deceleration.
Reasons given are that c.1.5% of the fall was due to exiting low margin products. with the balance apparently due to reduced consumer confidence.
Adjusted profits for the year have still turned out alright though;
Adjusted pre-tax profits for the year ending 1 October 2016 are expected to be within the range of current market estimates.*

* The current range of analyst forecasts for adjusted pre-tax profits for the 52 week period ending 1 October 2016 is £22.0 million to £22.7 million, with a consensus of £22.3 million
It's so helpful when companies do what Topps has done above – i.e. specifically state what market expectations are. I really hope this becomes standard practice, as it helps private investors in particular, who may not always have access to accurate broker forecasts. Clarity like this is always great, as then there are no misunderstandings. So well done to Topps amp; its advisers here, for providing us with a crystal clear update.
It would have been handy if they could have also provided the EPS forecast figures too. Stockopedia shows a consensus EPS of 9.23p, giving a PER of 11.2 – which seems good value to me.
My opinion – this company has been performing well for several years now, and apparently growing market share. It also has raised the divis considerably from 1.0p in 2010, to 3.63p forecast for this year. So there's a lot to like, and the valuation appears modest.
However, all retailers are facing headwinds now – consumer demand is likely to be under pressure next year, as higher shop prices from weak sterling start to bite. Plus there are cost headwinds too, especially with wages. I imagine Topps probably imports some product too, so that will cost more.
Overall then, further growth in profit may now be hard to come by. This is true generally for lots of retailers – it's not a good sector to be rummaging around in right now, in my view. That said, I'd be tempted to buy back into TPT if it went much below a quid a share. It's a fundamentally good company, in my view.
---
Bond International Software (LON:BDI) – a very unusual announcement here. Management has withdrawn its recommendation for a takeover bid, saying that it can achieve a slightly better outcome for shareholders by selling off its operations amp; winding itself up.
I wonder if the bidder may come back with a higher offer? Good to see shareholder value taking priority, as it should.
---
DP Poland (LON:DPP) - another placing. 6.667m new shares to be issued at 48p. Management are taking up c.260k of the new shares, and Hargreave Hale are buying 1.86m.
The company talks of targeting 100 stores by 2020.
Q3 trading is described as "strong", and in line with market expectations – which means that it's still loss-making. It's not forecast to reach profitability until 2018.
My view is unchanged – it's an unconvincing roll out, that's taking way too long, and isn't yet a viable business – the results are a joke – just continuing losses. The market cap of over £60m looks ridiculous to me.
---
OK, all done for today.
Now it's time to shave, and dust down my best suit, iron a shirt, and cycle across London to IG's offices for today's interview. Should be fun! I'll put up a link tomorrow, for your amusement.
Regards, Paul.
(usual disclaimers apply)
Source:
http://www.stockopedia.com/content/small-cap-value-report-5-oct-2016-tpt-bdi-dpp-153107/
We encourage you to Share our Reports, Analyses, Breaking News and Videos. Simply Click your Favorite Social Media Button and Share.