Good evening!
Firstly, my apologies for this report being late. There are some interesting things to comment on though, so I'm catching up on Sunday evening, for Friday's announcements.
Sterling flash crash
There was a strange flash crash in sterling overnight Thu/Fri last week. Sterling has already been weak of course, but it spiked down to £1 = $1.18 very briefly, before mostly recovering, with another wobble some time later in the day: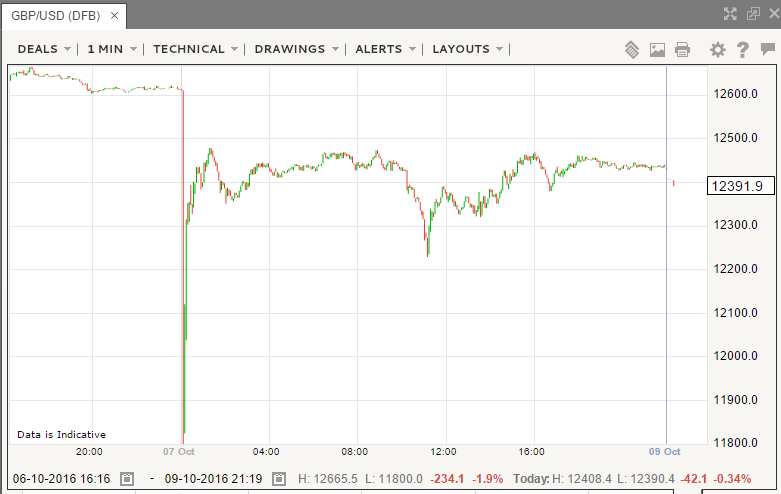 (chart courtesy of IG
So what's this got to do with small caps, you may ask? Quite a lot actually, and anyone who is not thinking about this issue, could be sleepwalking into serious losses.
We've now had a very large depreciation of sterling since the referendum, and that affects many businesses. So to recap;
Businesses hurt by weaker sterling
Importers – e.g. non-food retailers tend to import almost everything, and they will be forced to significantly raise prices in 2017, which will dampen demand. Many UK manufacturers will import some or all of their raw materials.
Overseas holidays will be noticeably more expensive for Brits in 2017.
Inflation is likely to rise, as businesses try to pass on higher import costs to their customers. So we're likely to see all UK businesses come under some higher input cost pressure.
Consumers will start to feel the pinch from higher shop prices in 2017, so may start pushing employers for higher wages.
Businesses which benefit from weaker sterling
Exporters – UK companies have become dramatically more competitive in recent months, so we could see something of an export boom.
UK producers competing in UK markets against imported goods have become much more competitive due to cheaper sterling (e.g. as noted recently by Victoria (LON:VCP) )
Incoming tourism – the UK is likely to be rammed with foreign visitors in 2017, and I've seen data suggesting that the numbers have already risen.
UK listed companies which generate a significant element of their earnings overseas. So in my portfolio for example, Somero Enterprises Inc (LON:SOM) and Avesco (LON:AVS) should see sterling earnings rise, as a result of positive currency translation from their main activities in the USA.
What action to take?
Well, that's up to each individual. Personally I'm tending to be very wary of anything in High Street retailing right now. Not only are the online retailers seriously hurting the High Street operators. They're also facing big cost pressures from Living Wage amp; other employment related issues. Then on top of those existing headwinds, shop selling prices will have to rise significantly in 2017 from weaker sterling. Put that lot together, and I reckon profits at some retailers could collapse next year.
This seems to me the calm before the storm, as the impact won't necessarily be hitting their figures yet, due to currency hedges, and existing supply contracts. You wait until 2017 though! I think it could be carnage in the retail sector, with profit warnings galore.
The market is already anticipating this, with some retailer shares already plummeting – I note that £SHOE has slumped to 144p. I think people need to be very wary with broker forecasts in this sector, which could turn out to be wildly over-optimistic. So beware of value traps in the retailing sector, with apparently very low PERs and great divi yields – I don't think they will get anywhere near to current forecasts, in some cases, if sterling remains this depressed.
I shall do another review of every position in my portfolio, and maybe reduce or sell completely where forex could have a seriously bad impact. I'll be recycling that money into companies with dollar earnings, and exporters. Mind you, prices have already adjusted to a considerable extent, so it might be a case of horses amp; stable doors? Lots to ponder anyway.
These currency moves may not be permanent either, nobody knows. Sterling could recover, who knows? My view, and it's only an opinion, is that weaker sterling is precisely what's needed right now, to persuade international companies to remain, or even be attracted to the UK, especially with all this Brexit uncertainty going on.
Generally a moderate depreciation in any country's currency is a good thing in the long run. It makes that country more competitive internationally, at the price of a rise in inflation. Many Governments strive to actively devalue their currency, in order to gain competitiveness.
Anyway, as long as we keep on top of this important issue in terms of how it affects our own portfolio constituents, then it should be a situation that we can manage. Different people will see things differently, so that will affect what we do with our portfolios. You don't have to agree with me, I'm just setting out how I currently see things, as this background will affect my view on individual shares.
Comments from Sports Direct re forex
I've just noticed that Sports Direct has put out a profit warning concerning forex movements, saying;
In the Trading Update provided on 7 September 2016, the Company stated that it expected FY17 Underlying EBITDA to be in the region of £300m. This guidance was based on a GBP/USD rate of approximately 1.30.

In light of recent downward currency movements, the Company entered into a hedging arrangement with respect to the GBP/USD rate. Extreme movements overnight resulted in a crystallisation of that rate at 1.19, resulting in a negative impact of approximately £15m on the Company's FY17 Underlying EBITDA expectation.

In addition, after taking into account the hedging referred to above, if the GBP/USD rate is 1.20 on average for the remainder of FY17, then the negative impact on the Company's FY17 Underlying EBITDA expectation would be in the order of a further £20m.
A couple of comments. Firstly, note that SPD's financial year (FY) is end April 2017. So they're not talking about a full year impact, this is only a partial year impact.
Secondly, note that the middle paragraph appears to be talking about some kind of currency trading loss. The way I read it, it sounds like they had a stop loss in place which got triggered by the flash crash? I'm surprised at that, as I wouldn't have expected this (or any other) company to be using a CFD-type arrangement, with a stop loss, which it sounds as if they have. The normal way to hedge currency is just to buy a forward contract, which wouldn't have a stop loss, as I understand it.
Note that SPD's margins have historically been quite high, but are going to get clobbered by the looks of it, if weak sterling persists. The impact on smaller, lower margin retailers is likely to be a lot worse I reckon. So big problems for this sector in 2017 in my view. Maybe I should look to put some small short positions on the weaker players?
---
Brammer
(LON:BRAM)
Share price: 89.5p (down 29.4% on Friday)
No. shares: 129.4m
Market cap: £115.8m
Q3 trading update amp; rights issue – this is quite a large distributor of mechanical parts. A series of profit warnings have really clobbered the shares in recent years. I last reported on it here on 29 Jun 2016 when a profit warning more than halved the share price to only 69p.
With bank covenants looking tight, I came to the conclusion that the company would need to raise fresh equity funding from its shareholders, with maybe £30m being the sort of ballpark that might be the minimum needed?
Things have deteriorated further in Q3, with the company now saying;
Declining sales and reduced levels of supplier support have led to an operating loss in Q3; accordingly, the Group does not expect to report a pre-tax profit for the full year 2016
Given that it made a £5m interim profit, then this means that H2 trading is likely to be a loss greater than £5m, as it's going to wipe out the H1 profit.
I'm very concerned by the comment about "reduced levels of supplier support". Many investors forget that the biggest creditor to most businesses is not the bank. It's actually very often the supplier base, extending typically 30-60 day credit for goods purchased. The moment the supplier base loses confidence, then a business can collapse very quickly, as suppliers will stop delivering fresh supplies.
Fundraising – it looks as if the problems here are a lot worse than I realised, and a much bigger fundraising is needed;
Standby underwriting agreement entered into with Investec for a rights issue (the "Rights Issue") of up to £100 million, to be launched no later than the announcement of the Group's full year results for the year ending 31 December 2016 in Q1 2017
If a rights issue is underwritten, then the company should receive all the money, even if investors don't fully support the fundraising. So this looks promising – i.e. it doesn't look as if Brammer will be going bust. Although that comes at a hefty fee – this fundraising could end up costing £10m in fees, is my best guess.
Mind you, I see that Investec does have wiggle room to pull out, if they don't like the new business plan;
The Rights Issue has been fully underwritten on a standby basis by Investec. The standby agreement contains certain representations and warranties, undertakings, conditions, and termination rights (including relating to completion of documentation and due diligence) and is subject to Investec's review of the Group's new business plan.
Given the level of indebtedness here, I think if this fundraising falls through for any reason, then Brammer is likely to go bust - which makes it much too high risk for me;
The Group's €120 million revolving credit facility and $175 million USPP Note Agreement both include a net debt to EBITDA covenant of not greater than 3.0x and an interest cover covenant of not less than 4.5x.

Although net debt as at 30 June 2016 was £107.7 million (resulting in a net debt to EBITDA ratio of 2.8x), the Group typically experiences a material working capital outflow between reporting periods, which, in the current year, has resulted in the Group's average net debt (which excludes debt factoring) being approximately £50 million – £60 million higher than at period ends. The intra-period working capital movement is funded by drawings under the Group's revolving credit facility and the use of non-recourse debtor factoring.
A good reminder there that it's dangerous to only look at period end net debt – which is usually window-dressed at most companies (i.e. massaged down to the minimum). The net debt in between reporting dates can be much higher, as it is here, making the situation more precarious.
My opinion – this looks a real mess, so it's not one for me – much too high risk.
It's another example of a company which borrowed too much, then ran aground once trading deteriorated. I think we'll see lots more situations like this.
A rights issue is better than a placing though, as at least existing shareholders' pre-emption rights are respected with a rights issue. So the company should be a lot more stable once the rights issue has successfully completed, if that does actually happen. For me, I think it looks too risky to contemplate dabbling in, for the time being.
I was tempted to have a dabble in late June, and actually it would have been a nice short term trade. The price bottomed out at 60p in June, and more than doubled within 3 months. However, as if often the case with short term price movements, they're driven by sentiment rather than facts.
Best avoided, in my view. Why take the risk?
---
XP Power (LON:XPP) – a positive Q3 update, with good order intake, and encouraging noises about new products in the pipeline;
Despite the challenging macroeconomic backdrop, we are reassured by the momentum in our order intake during Q3. The Board expect trading to be in line with its expectations for the full year.

We remain encouraged by new design wins and believe the Group is continuing to take market share as its portfolio of industry-leading power technology products is increasingly designed-in to new equipment by our target customers. These design wins will translate to orders as our customers' projects move to production phase over the coming years.
It's an overseas (Singapore) based company, but has a full UK listing, and a very good track record. Note also the decent dividend yield, and very strong quality measures on the usual Stockopedia graphics below;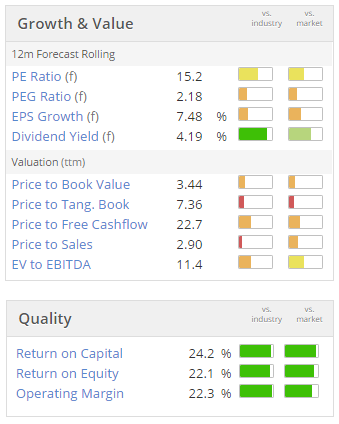 My opinion – I like it. The figures are good, and the outlook comments sound very encouraging for the future. A nice company by the looks of it, and not unreasonably priced.
---
EKF Diagnostics Holdings (LON:EKF) - I rarely report on medical diagnostics companies, as it's really not a sector I feel able to analyse or understand – there are too many unknowns, and ifs.
However, a reader pointed out to me that EKF has just issued an upbeat trading update – ahead of forecasts;
EKF Diagnostics Holdings plc (AIM: EKF), the AIM listed point-of-care business, announces that trading in Q3 of the current financial year was materially higher than budget and at a run-rate in excess of market forecasts. As a result the Company is now confident of achieving revenues and adjusted EBITDA for 2016 which will exceed the high end of current market forecasts.

In addition, the Company announces that cash generation during the quarter has been strong and its net debt position has improved considerably. While the Company plans to continue investing during Q4 and early 2017 in capital expenditure to increase consumables capacity in Germany and to replace equipment in the USA, it now expects to be cash positive within the next 12 months.
So a lot of good stuff in there. How to value the company? I've no idea.
My reader also pointed out to me that this is another Christopher Mills company – he's Non Exec Chairman, but in the driving seat, due to a 28% shareholding. He's got a remarkable track record of finding amp; exploiting good companies – often by buying them out himself. So that could be a catalyst for an increase in share price here too, perhaps?
---
Cloudcall (LON:CALL) (I hold a long position in this share) - a potentially interesting snippet from this cloud based telephony company (which integrates into CRM systems). Whenever I've spoken to CloudCall's management, over several years, they have always referred to Bullhorn, a key customer. The relationship has got a lot closer, and Bullhorn now appears to be the main focus for sales growth.
This announcement mentions that a Bullhorn representative is joining CloudCall's Board, and will lead their sales push into Bullhorn customers. The Directorspeak from CloudCall sounds good;
"Nate's decision to join us, reinforces our view that CloudCall has strategic value for Bullhorn's customers, significantly increasing our ability to capitalise on what is undoubtedly a sizeable opportunity. This appointment has been made with the full blessing of Bullhorn, and is yet further evidence of the continued strengthening relationship between our companies.

Indeed, this strengthening of relationship can be directly attributed to the increased lead flow we are witnessing – with Q3 2016 being our most successful quarter to date for new Bullhorn orders."
My opinion – notwithstanding previous disappointments, CloudCall (formerly Synety) does seem to be getting back on track. I wonder if the end game here might be a takeover bid for CloudCall by Bullhorn?
Bullhorn appears to be a private company, backed by private equity. Its Wikipedia page states that;
In June 2012,Vista Equity Partners acquired Bullhorn for a reported price of several hundred million dollars….
Also that;
In January, 2016, the company reported in a momentum press release that it would exceed nine figures in annual revenue for the first time in its history.
So over $100m revenues in 2016.
Therefore, Bullhorn doesn't exactly look like a goliath, although if the private equity backers like the look of CloudCall, then who knows? Maybe a bid could happen? Speculation on my part.
---
Right all done, somewhat belatedly, see you in the morning!
Regards, Paul.
(usual disclaimers apply)
Source:
http://www.stockopedia.com/content/small-cap-value-report-7-oct-2016-shoe-bram-xpp-ekf-call-153548/
We encourage you to Share our Reports, Analyses, Breaking News and Videos. Simply Click your Favorite Social Media Button and Share.