Good afternoon!
It's been such a hectic week, charging around going to meetings amp; investor lunches, etc, that I missed a few company updates. So to clear my conscience, thought I would write a bonus report this weekend, to catch up.
---
Solid State
(LON:SOLI)
Share price: 457p
No. shares: 8.5m
Market cap: £38.8m
Trading update – nothing to worry about here, it's an in line with expectations market update;
The Group expects to announce results for the half year;

ahead of the equivalent period in 2015, and
consistent with market expectations for the year as a whole, and
a strong debt free balance sheet.

The Group had an order backlog at 30 September 2016 of £14.8m, comprising £12.7m of underlying revenue and £2.1m of Creasefield revenue, acquired in June 2016, (30 September 2015: £14.2m – excluding discontinued SEMS division Ministry of Justice revenue of £3.5m).
The £12.7m underlying order backlog seems to be down against the equivalent £14.2m last year.
Note that the agreement with the MoJ over the cancelled contract, has all been settled now, which resulted in SOLI gaining an undisclosed cash amount.
The group has made some small acquisitions, which are going well;
The Board is pleased to announce that both acquisitions made in the 2015/2016 financial year are substantially integrated, performing well in their own markets and demonstrating synergy benefits with the other divisions in the Group.
Valuation – broker consensus EPS forecast seems to have settled down, after some large reductions in the last 12 months, due to the MoJ contract ceasing;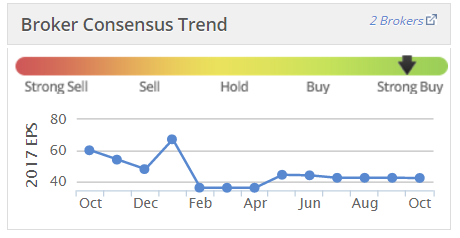 Based on the current share price of 457p, that equates to a PER of 10.8 – that seems reasonably good value, in a generally quite pricey market right now.
Balance sheet – I've checked back to the last published accounts, and note that SOLI has a reassuringly strong balance sheet, which moved into a net cash position after the MoJ settlement.
So no concerns there at all, it's a soundly financed business.
Dividends – there's a well-covered (about 3.5 times) yield of about 2.6%.
My opinion – overall I think it looks priced about right. This type of business isn't an exciting growth stock, it's a fairly dull contract manufacturer amp; distributor. So to my mind that means a PER of about 10 is probably right. Every now and then there's likely to be a profit warning, when a gap appears in the order books, that's just how things work for this type of company.
There's been a very good recovery since the Brexit lows (about a 50% gain in just a few months), but I can't really see any point in buying the share now that it's priced about right. Perhaps it would need some big news of new contract wins to propel the share much higher?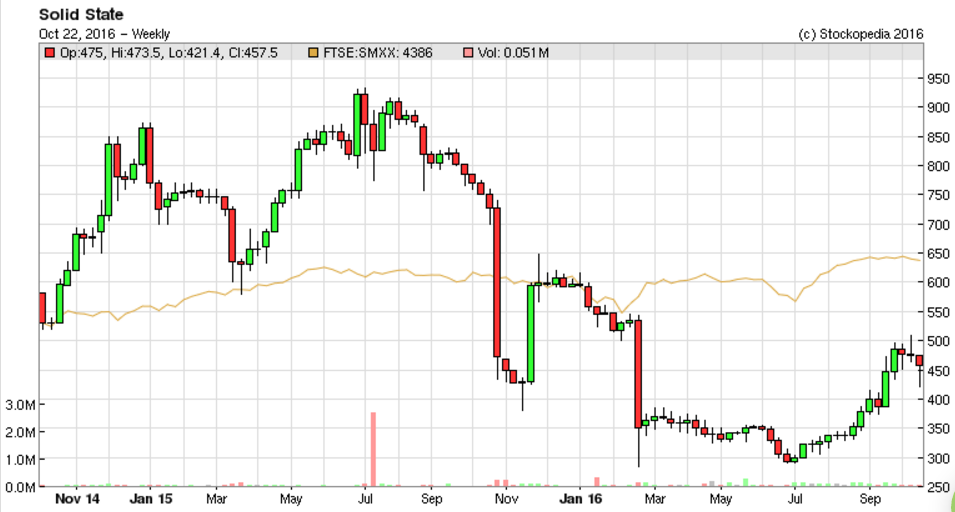 ---
Utilitywise
(LON:UTW)
Share price: 147p
No. shares: 78.1m
Market cap: £114.8m
CFO resigns – after only 2 years in the job. It's unsettling when a CFO leaves unexpectedly, as it makes me wonder if there's some underlying problem. Particularly given that the accounting policies at Utilitywise are unsatisfactory in my view.
If it hasn't already been done, the Board Room at Utilitywise could probably do with a revolving door fitting, to make it easier to manage the regular in and out flows of Directors.
Results, year ended 31 July 2016 – the Pamp;L always looks great at this company, as follows;
Revenue up 22% to £84.4m
Adjusted profit before tax up 7% to £17.8m
Diluted adjusted EPS up 3% to 18.5p – note this gives a low PER of 7.9 – the PER is low because a lot of investors (including me) are sceptical about the accounting policies used (more on that below).
There are lots of adjustments to profit – see the table below: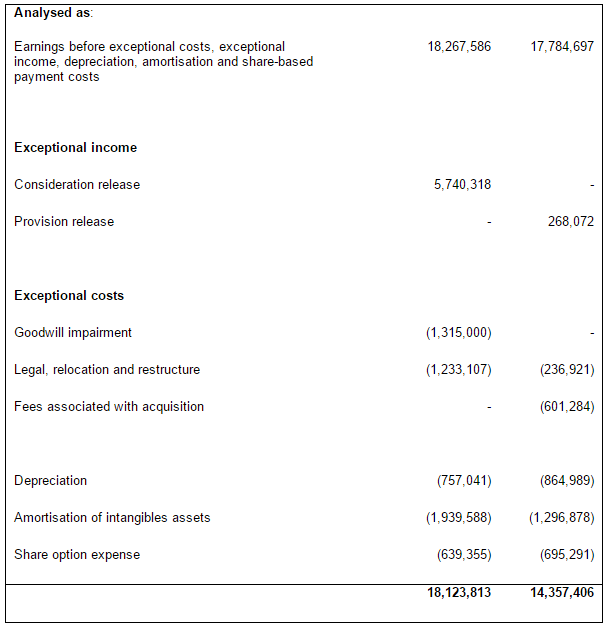 The more adjustments there are, the more confusing it is, and the more difficult it is to value the shares.
Dubious accounting policy - it all hinges on how the company books revenues. This is a long-running issue, but to my mind it is not resolved satisfactorily.
The company books revenues (which creates profit of course) aggressively, well before the cash is actually received. This is reflected in an enormous debtor balance sitting in the fixed assets section of the balance sheet – which is now more usually called "non-current assets", rather than fixed assets.
As you can see below, the top part of the balance sheet contains this large item called "accrued revenue";

To create this £29.6m asset on the balance sheet, the double entry would have to be;
DR Accrued revenue £29.6m (so this is an asset, booked to the balance sheet)
CR Revenue (Pamp;L) £29.6m (so this is effectively £29.6m revenue amp; therefore profit, that has passed through the Pamp;L)
Bulls would say that the £29.6m is a real asset, that will turn into cash at some point in the future beyond 12 months. It's a debtor basically, that is just called accrued revenue.
Bears would say that the company should not recognise the revenue (and hence profit) so aggressively, and is therefore inflating its profits by aggressive revenue recognition.
I can see the merits in both arguments, but for me personally, prudence should always come first. So I prefer the bear argument, that revenues should not be anticipated so far ahead of the cash becoming due.
EDIT – a smaller competitor, Inspired Energy (LON:INSE) doesn't seem to book revenues in the way Utilitywise does – its balance sheet shows no such debtor within non-current assets.
So which policy is the correct one? Booking revenues early, as Utilitywise does, or being more prudent, as INSE appears to be? Perhaps the two companies' auditors should compare notes, and decide on a consistently applied policy for revenue recognition?
Net debt/cash – this has been an issue in the past, in that bears have pointed out that the generous dividends seemed to be going hand in hand with increasing net debt. That argument no longer applies, as it's good to see the company has now almost eradicated its net debt, which is only £0.2m at 31 Jul 2016.
That sounds great, but the group still has bank debt of £13.175m. This is just masked by cash of £13.0m on 31 July 2016. I can't understand why this would be. It's very inefficient to maintain a big cash balance (which won't attract any meaningful interest receivable) at the same time as holding a big bank loan, on which you are being charged interest.
There are only 3 explanations I can think of, as to why a company would maintain a large cash balance at the same time as running large bank debt of a similar amount;
The cash position on the balance sheet date is atypical – i.e. by accident or design, there happened to be an unusual spike up in cash for the balance sheet date, which then depletes back to a lower figure which is more typical for the rest of the time.
There could be onerous penalties on the bank debt, which make it cheaper to stick to the original repayment dates.
As happened with Globo, or Chinese AIM stocks, the cash has been stolen, or was never real in the first place.
I think we can disregard no.3 here with Utilitywise. Their accounting policies may be aggressive, but I don't think anyone is suggesting that the figures are actually fraudulent.
Note 20 of the Jul 2016 Annual Report says the following about the bank debt – note that it's at a very cheap interest rate, which is encouraging;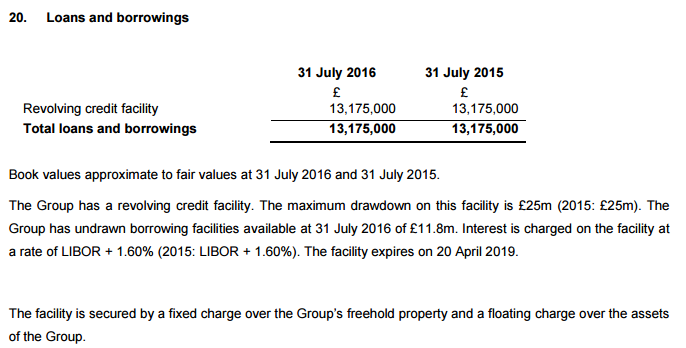 It's surprising that the amount drawn down on the facility is exactly the same, on 31 Jul 2016 and a year earlier. Revolving credit facilities usually fluctuate, and I would have thought that some of the facility should have been paid down, to save on interest charges, instead of leaving £13.0m sitting in a current account, doing nothing.
So this is somewhat perplexing.
Dividends – total for the year is 6.5p, up 30% from last year's 5.0p.
The yield is decent, at 4.4%.
Given that the company has moved to close to net cash/debt breakeven, then I think the divis are looking much more appealing – i.e. they do look sustainable after all.
Outlook – the Directorspeak sounds upbeat;
We are confident in our outlook for the year ahead and having started the year in line with expectations, look forward to continued strong revenue growth and profit generation…
It then goes on to talk about operational improvements, new products for the internet of things, etc.
My opinion – it's quite tempting to give the company the benefit of the doubt, and buy a few shares in this – given that the PER is low and there's a history of very good growth, and decent divis too.
Improved payment terms from customers has helped the cash position, although I'm still unhappy with the aggressive revenue recognition, and enormous associated debtors on the balance sheet.
Also, I don't really like the business model. It's the type of business that I think of as an unnecessary intermediary. Such businesses can be instantly wiped out by changes in Govt policy, or the law. A good recent example of that is debt management intermediaries, which are shutting up shop due to changes in the rules.
Overall then, there are just too many doubts amp; worries for me. We have thousands of shares to choose from, so I think it's best to steer clear of anything where you have doubts.
---
ADVFN
(LON:AFN)
Share price: 28p
No. shares: 25.6m
Market cap: £7.2m
Results, year ended 30 Jun 2016 – these results were slipped out at 5:56pm on Friday evening – a very strange time to put out results. You could be forgiven for thinking that the issuer didn't want anyone to read the numbers!
Actually, in the context of its historic figures (permanently loss-making), these numbers aren't too bad. Strategy has changed from global domination, to retrenchment amp; concentrating on the core business. That clearly makes sense, and it seems to be working – since the losses are reducing.
Advfn made a loss before tax of £471k in H1, and a loss before tax of £524k for the full year to 30 June 2016. Therefore this suggests a loss of just £53k in H2 – that's very much better than in the past.
Various headwinds are noted, including that it's difficult to generate ad revenues from the increasing number of website users who are using mobile devices.
Balance sheet – looks weak, but it still has £843k cash in the bank, which has risen slightly from the 784k cash figure 6 months earlier. With cash burn now more-or-less eliminated, via cost-cutting, it looks good to survive for the time being.
My opinion – I can't really see any point in this company being listed on the stock market, it's just a waste of money. They've never managed to successfully exploit the user base for cross-selling. Also I imagine the 3.5m registered users figure is fantasy – heavily padded by trolls with multiple free user accounts.
I can't see any reason to buy or hold this share. There are no divis, and it's facing headwinds on ad revenues. To my mind it's a lifestyle business for the Directors, and hence I expect to see it eventually de-list. Although you never know, somebody delusional might come along and bid for it.
It's difficult to see why advfn has an Ramp;D department, since the main website doesn't seem to have changed in many years – unreliable data amp; chaotic anything goes bulletin boards are the main features. The app is quite useful though, for checking portfolio prices when out amp; about.
---
Tristel
(LON:TSTL)
Share price: 155p
No. shares: 42.4m
Market cap: £65.7m
Results year ended 30 Jun 2016 – these figures came out 5 days ago, but I didn't cover them on the day. I hadn't spotted that this share has recovered so strongly post Brexit referendum. I've traded this share profitably in the past – buying the dips, then selling once it rebounds, but I missed this latest move, and don't currently hold.
The company sells infection control products into multiple countries. It's striking how fragmented their sales are – lots of different products amp; markets, which together only generated £17.1m of revenues for the year, up 12%.
The company also states;
We believe that we can grow sales in the range of 10% to 15% per annum as an annual average over the three years ending 30 June 2019.
It's small, but profitable business though – margins are good, and guidance is also given on this;
Maintaining the profitability of the Company - we believe that we can operate above a minimum pre-tax margin of 17.5%
Paying dividends to shareholders is also a priority, which is good to see;
Distributing cash that is not required for the operational and investment needs of the business to shareholders in the form of dividends.
There's an interesting section in the commentary about total shareholder returns. I won't repeat it here, but it's worth a look. It's good to see a company that is focused on shareholder returns, and it emphasises that share price + dividends is the most important thing.
USA approvals – the share price seems to be anticipating success in this large new market, so it's important that the newsflow remains positive. Various details are given, concluding;
We are confident that our plan is proceeding very satisfactorily, and that we are on track to generate revenues in North America during the financial year commencing July 2018.
Year commending July 2018 sounds better than year ending June 2019, I suppose!
Profitability – this is the tricky bit. Like most companies, investors are steered towards adjusted profit numbers. However, the actual profit on the main Pamp;L statement is essentially flat – £2,568k operating profit for 2015/16, versus £2,541k in the previous year – well, that's up 1.1% actually – so nothing to write home about.
That compares unfavourably with the profit increases mentioned in the financial highlights, of 26% (EBITDA), 27% (profit before share based payments), and 20% (EPS before share based payments).
Here's a breakdown of the middle section of the Pamp;L, highlighting the share based payments;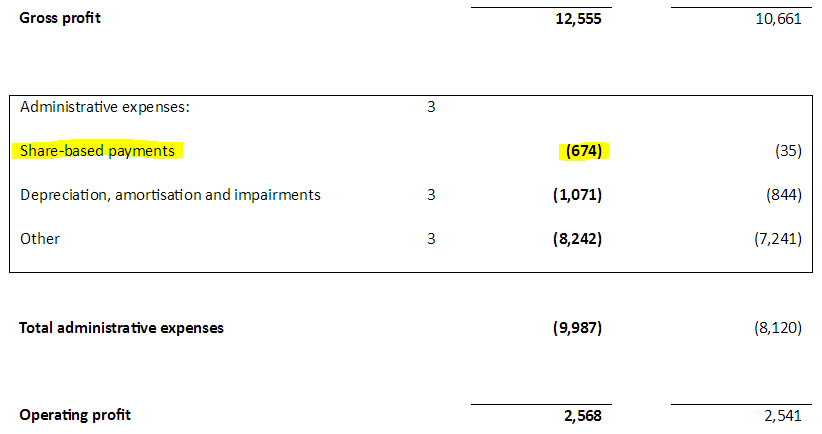 The way I look at this, management seem to have basically nabbed all the increase in profit for themselves, and paid it out in share-based payments – which are basically bonuses. I don't really care that these bonuses are paid out in cash, or shares. It's still management remuneration, paid for by shareholders.
Basic EPS is 5.0p, so at a share price of 155p the PER is 31 times – that seems rather pricey to me. However, if the USA market is likely to kick in, in a couple of years' time, and assuming it's successful for Tristel, then there could be a step up in growth. That's already priced-in, by the looks of it.
Also, many investors appear to be uncritical in lapping up adjusted profit figures, however outlandish (e.g. YouGov). In this case the adjusted EPS is 6.62p, which would make the PER 23.4 times, which is a bit more palatable, but still high.
So it's really up to you, which method of valuing the company you prefer – before or after share based payments to management.
Dividends – rose 11% to 6.33p (including a 3p special divi). So the standard yield is about 2.1%, but with that almost doubling with the special divi on top. Not bad.
Balance sheet – excellent, with net cash. Nothing to worry about here, it's a very well financed small company.
My opinion – I like this company, but not at the current price – it's fully, or maybe over-priced to my mind. Market confidence usually wobbles a couple of times a year, so personally I like buying things like this on the market dips, when the market throws a special mid-season sale!
Mind you, if you try to be clever by timing the market, then you can miss out, if e.g. a takeover bid is announced. Also, with good divis being paid out, there is an argument for just buying amp; holding for the divis, and then a (hopefully) long-term capital gain on top. So I can see the attraction, although for me, risk:reward isn't good enough at 155p per share.
Source:
http://www.stockopedia.com/content/small-cap-value-report-weekend-of-22-23-oct-2016-soli-utw-afn-tstl-155521/
We encourage you to Share our Reports, Analyses, Breaking News and Videos. Simply Click your Favorite Social Media Button and Share.