I don't know what people are so excited about?
During our Live Trading Webinar yesterday, we called a long on the Russell Futures (/TF) and nailed the bottom at 1,200 with a target of 1,203, paying $300 per contract. We quickly made that money but then there was another chance at 8pm and another at 4am and another at 5am and now the Russell is up at 1,206 with $1,500 worth of gains just from making the same trade over and over and over again.
I you are going to be a day trader – learning to identify channels is the most important thing you can do. We had similar success with our S&P longs (/ES) off the 2,125 line and we just passed our strong bounce line at 2,140 this morning – which is a good place to cash out with a $750 per contract gain on those (see yesterday's post for bounce lines).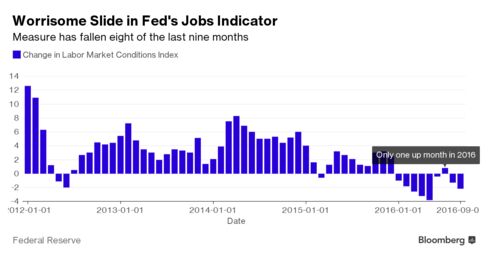 As we're flashing more green this morning, we're not looking to go short unless we get signals to do so. You can see what the Labor Market Conditions Index looks like (yuch!) and we have Durable goods at 8:30, Consumer Comfort at 9:45, Pending Home Sales at 10 and the Kansas City Fed Report at 11 – so plenty of data to chew on along with about 200 earnings reports. I see a lot of reds in those reports but the markets are in the mood to rally – so get out of their way for now.
How fragile is this recovery? Well, here's one of those WikiLeak Emails from the new head of the DNC to John Podesta about the mood of the American people:
Here's some quick charts from Harvard via ZeroHedge that illustrate the state of our economy:
You get the picture, but it's a picture that doesn't match the markets, which are still skating along at their all-time highs. Why is it that Apple (AAPL) can have great earnings and great revenues and gets punished for not growing fast enough while the market on the whole has declining earnings and flat revenues but is trading at their all-time high? To summarize the Chewbacca Defense – "that does not make sense."
When the market doesn't makes sense, we like to keep our CASH!!! on the sidelines (have I mentioned how much I like CASH!!! lately?). Gluskin Sheff's David Rosenberg says we are "late in the game" on this rally, saying:
The mega Merger Mania we are seeing invariably takes place at or near cycle peaks, as companies realize that they can no longer grow their earnings organically. We have just witnessed five multi-billion dollar deals this past week alone — $207 billion globally (AT&T/Time Warner; TD Ameritrade/Scottrade) in what has been the most active announcement list since 1999 … what do you know, near the tail end of that tech bull market too. If that traditional pattern holds, it would mean bracing for a recession to start any time from October 2017 to May 2018.

We also were at the receiving end of a really disappointing consumer confidence report out of The Conference Board — sliding to a three-month low of 98.6 in October from 103.5 in September, the sharpest slide of the year.
Well, we have a year – so why worry? And that's not even counting today's deal for NXP (NXPI), being bought by Qualcomm (QCOM) for $39Bn! Aside from well-known issues China, Japan, Europe the Middle East and South America, we're also concerned that Mutual Fund Investors pulled $16.9Bn out of the market a week ago – the most since August, 2011. Maybe they put it all into Amazon (AMZN) and Netflix (NFLX), but I doubt it. It's just another one of those indicators that bother us and we're much more comfortably keeping our portfolios flexible, with lots of CASH!!! on the sidelines.
8:30 Update: That Durable Goods report was a miss (-0.1% vs +0.1% expected) but we knew that because Whirlpool (WHR) and Caterpillar (CAT) missed, so only genuine economorons thought GDP would hit it's target. Overall, we're in a nasty downtrend and making yet another nasty economic chart to consider: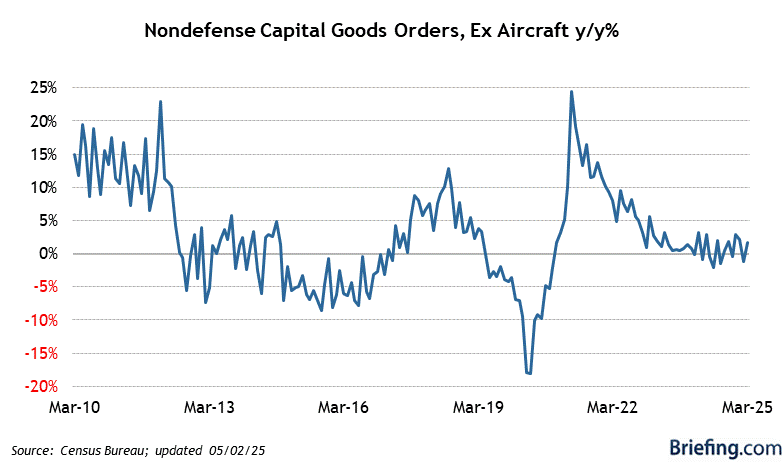 Meanwhile, we are finding plenty of bargains to put money into in our Live Member Chat Room, this week alone we've had long trade ideas for Apple (AAPL), Bank of America (BAC), Biotechs (LABU), Chipotle (CMG), Coffee (JO), Disney (DIS), Jazz Pharmaceuticals (JAZZ), Natural Gas (UNG), Sonic (SONC), Time Warner (TWX) and Twitter (TWTR), who just reported this morning.
So that's 11 bullish trade ideas in just 3 days. We already have our hedges in place and, if we don't need them, we get to go shopping while things are on sale. CMG is back on sale this morning, back at $370, where we liked them all year. There are some fantastic options set-ups to take advantage of this dip – we'll talk about them later in the Live Chat Room.
Provided courtesy of Phil's Stock World.
Would you like to read up-to-date articles on the day they are posted? Click here to become a part of our growing community and learn how to stop gambling with your investments. We will teach you to BE THE HOUSE – Not the Gambler!
Source:
http://www.philstockworld.com/2016/10/27/thrilling-thursday-back-to-our-bounce-lines-again/?utm_source=beforeitsnews&utm_medium=feed&utm_campaign=psw-feeds&utm_content=article-link
We encourage you to Share our Reports, Analyses, Breaking News and Videos. Simply Click your Favorite Social Media Button and Share.