This post Want to Lose Money? Just Buy "Safe" Stocks Like These… appeared first on Daily Reckoning.
Choppy October trading is one of the easiest ways to spook investors.
Stocks are just barely in the red for the week after some back-and-forth action. And everywhere we turn, the news is downright ominous.
Head on over to your favorite financial news site and take a gander at the headlines. You can read all about Deutsche Bank struggling to raise capital and last night's British Pound flash crash. If you're searching for bullish news, you won't find anything substantial.
Beyond the headlines, October is also a statistically difficult months for stocks. Sparkfin's Brain Lund reminds us that nine of the 20 biggest daily percentage losses in the Dow happened in October. Same with half of the 20 largest intraday point swings.
"In addition, more bear markets have begun in October than in any other month," Lund says.
With October's appetite for market destruction and nothing but bad news making the rounds, investors should eagerly snatch up every last safety trade on the market, right?
Not exactly…
The news has remained the same—but the market's mood has shifted dramatically over the past couple of months.
Here's the deal:
Investors gobbled up every utility, consumer staple, and gold stock on the market during the first six months of the year. Everyone went safety crazy. Utilities alone rose more than 21% during the first half of 2016. That's the sector's best performance in over 25 years.
Consumer staples names jumped nearly 10% over the same timeframe. That's nutty—especially when you consider that the major averages barely squeezed out a gain over that 6-month period.
Back in the summer, we told you that this flight to safety wouldn't continue much longer if the major averages broke out and posted new highs. Why? Because in more favorable market conditions, investors will only be willing to pay growth-stock prices for actual growth stocks
That's exactly what's happening right now. While the financial media frets about a potential October crash, investors are ditching their favorite safety trades.
"Some say this trade has been driven by investors calling the bluff of the Fed raising interest rates," explains David Fabian of FMD Capital Management. "Others may point to bearish sentiment or momentum as a primary driver of asset flows. Whatever the case may be, these individual sectors became extremely crowded near the middle of the third quarter and we are now starting to see some of that strength unwind."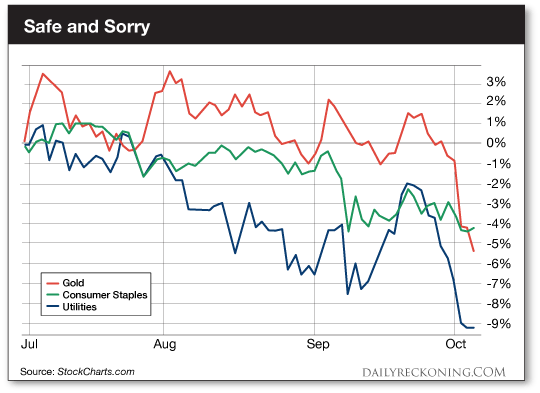 Gold is off by almost 6% since July 1st. Miners have fared even worse The VanEck Gold Miners ETF has cratered nearly 18% over the same timeframe. Staples are down more than 4%.
Now, utilities are finally feeling the heat. After a brief dead cat bounce in September, this group has crashed below its 200-day moving average for the first time this year. The Utilities Select Sector SPDR Fund has finished lower for the past 10 trading days. That's a major change in character for a sector that was leading the market just a few short months ago.
If you only followed the headlines, you would assume the "safest" plays in the world would be ripping higher right now. But actions speak louder than words. The market is shifting to "risk-on" mode while most investors are cowering the corner…
Sincerely,
Greg Guenthner
for The Daily Reckoning
P.S. Make money in ANY market — sign up for my Rude Awakening e-letter, for FREE, right here. Never miss another buy signal. Click here now to sign up for FREE.
The post Want to Lose Money? Just Buy "Safe" Stocks Like These… appeared first on Daily Reckoning.
This story originally appeared in the Daily Reckoning . The Daily Reckoning, offers a uniquely refreshing, perspective on the global economy, investing, gold, stocks and today's markets. Its been called "the most entertaining read of the day.
Source:
http://dailyreckoning.com/want-to-lose-money-just-buy-safe-stocks-like-these/
We encourage you to Share our Reports, Analyses, Breaking News and Videos. Simply Click your Favorite Social Media Button and Share.