This post Big Pharma Bombshell! Feds Slam Drug Stocks appeared first on Daily Reckoning.
You're swimming in a sea of red…
Stocks have dropped for eight straight days. That's the longest loosing streak we've seen since 2008.
But one of these drops is not like the other…
"During the 2008 streak, the index dropped a cumulative 23% as the financial system teetered on collapse," MarketWatch reports. "This time around, the S&P 500 is down just 3% over the past eight sessions."
Comforting, right? But while the major averages have held up relatively well during our most recent rout, there's been some serious damage inflicted under the market's surface.
If you're feeling brave this morning, just pull up a chart of your favorite pharma stock. That will tell you everything you need to know about the market right now.
The entire health care sector is under fire this week. This time, it's the Feds that are getting involved.
Bloomberg reported late Thursday that prosecutors could file the first charges in a criminal investigation of generic drugmakers by the end of the year.
The investigation reportedly includes a dozen companies and spans two dozen drugs. A heart treatment drug and antibiotic are the only drugs that have been singled out so far. But others are likely. Bloomberg reports that all companies except for Mayne Pharma and Covis Pharma have been compliant.
This investigation is one of the first times that more than just name-brand drugs have been investigated. But generic drugs account for 88% of prescriptions today. That's a huge chunk of the drug market.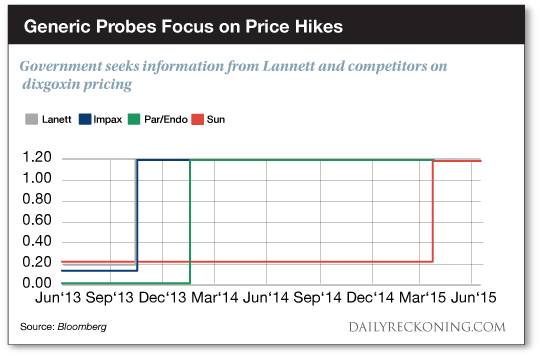 Most stocks in this sector took a licking but kept on ticking two weeks ago after Bernie Sanders and Rep. Elijah Cummings released a scathing letter to embattled drug maker ARIAD Pharmacueticals (NASDAQ:ARIA). Our congressional overlords demanded to know more about "staggering" price increases for the drug Iclusig, a treatment for bone marrow cancer.
But these health care names can only take so much heat. This latest blow from the Feds is ripping select drug stocks to shreds and deflating the entire generics industry. The VanEck Vectors Generic Drugs ETF plummeted to new 52-week lows Thursday afternoon.
Individual companies embroiled in this mess fared much worse…
Endo Pharmaceuticals (NASDAQ:ENDP) and Lannett Co. (NYSE:LNI) took the biggest hits of the group. ENDP dropped 20% yesterday afternoon, while LNI fell a staggering 26% on the day. These stocks had been leaking lower for months. The waterfall moves we saw yesterday were just the latest carnage from an industry facing intense pressure this election season.
These are just a couple of the most extreme examples we've seen. But it's also important to note that generic drugmakers aren't the only companies whose share prices are suffering right now. The bad vibes have spread through the entire pharmaceutical and health care sector.
The Health Care Select Sector SPDR ETF fell nearly 1% yesterday, pushing toward its March lows. Other companies connected to the drug industry fell 5% – 10% into yesterday's close.
It will take time for the market to digest this new information. These sharp selloffs could just be the beginning of lengthy bear market for drugmakers.
We can't fight forces like federal prosecutors and expect to come out on top. Instead, we'll simply look elsewhere for our next big trade…
Sincerely,
Greg Guenthner
for The Daily Reckoning
P.S. Make money in ANY market — sign up for my Rude Awakening e-letter, for FREE, right here. Never miss another buy signal. Click here now to sign up for FREE.
The post Big Pharma Bombshell! Feds Slam Drug Stocks appeared first on Daily Reckoning.
This story originally appeared in the Daily Reckoning . The Daily Reckoning, offers a uniquely refreshing, perspective on the global economy, investing, gold, stocks and today's markets. Its been called "the most entertaining read of the day.
Source:
https://dailyreckoning.com/big-pharma-bombshell-feds-slam-drug-stocks/
We encourage you to Share our Reports, Analyses, Breaking News and Videos. Simply Click your Favorite Social Media Button and Share.