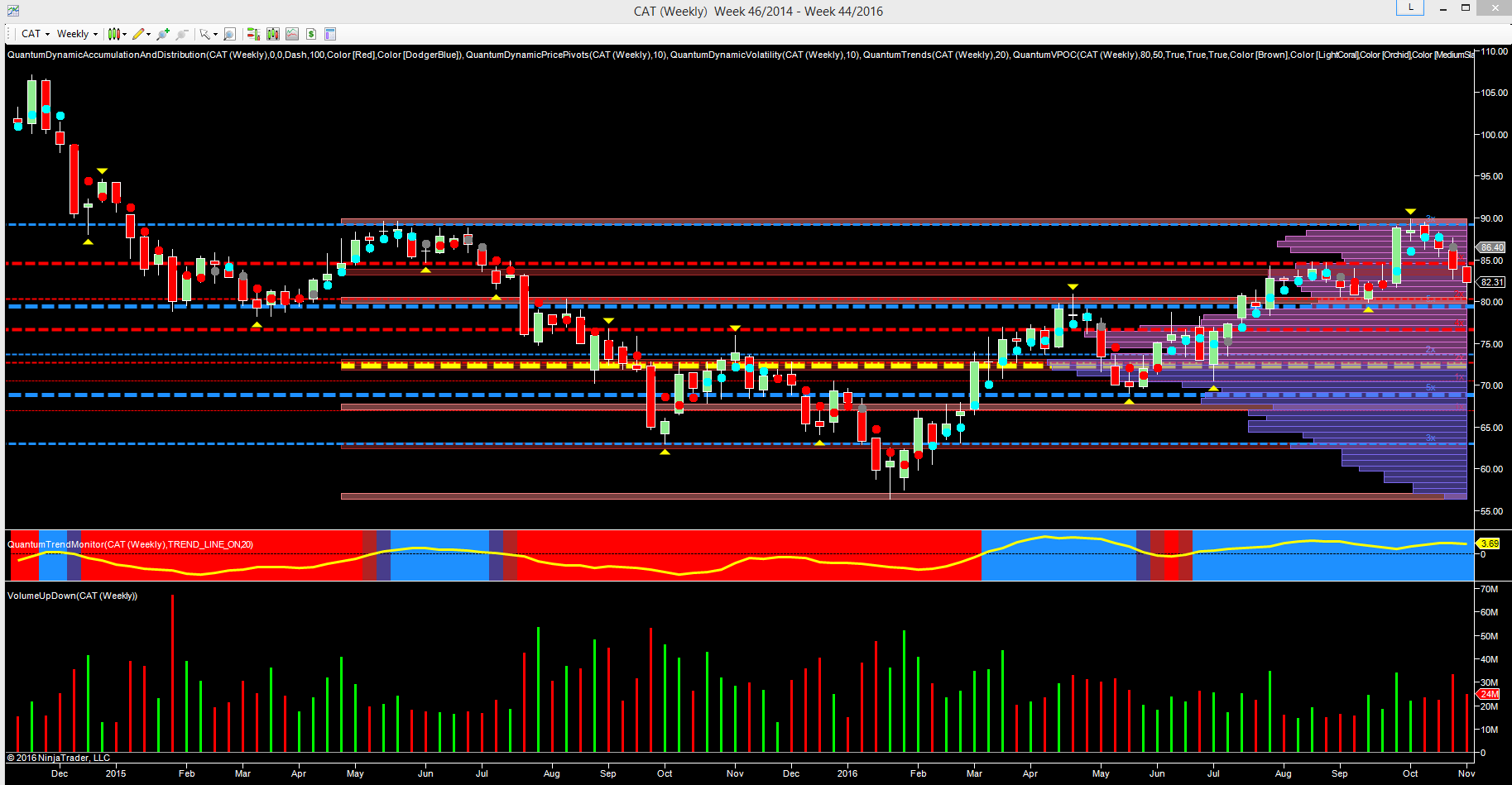 Whether Hillary Clinton or Donald Trump is the next incumbant of the White House, there are some stocks for whom the outcome may be of little interest given that both candidates have made heavy commitments to public spending, should they win the election.
One such stock which is likley to benefit, whoever wins, and indeed is often considered as a bellweather of the economy is Caterpillar (CAT). That said, the last few years have not been easy ones, and in 2015 the company announced huge cuts in its workforce, as sales and revenues declined, with a $1.5 billion cost cutting program coupled with reducing the workforce by 10,000 worldwide.
This was as a result of four years of falling sales, the first time in the company's ninety year history, and reflected on the daily price chart with the share price duly falling from a high of $107.12 in late 2014, to a low of $56.36 in January 2016. Since then, the share price has recovered steadily, moving higher with a classical rounded top to each higher high, before culminating in the current pause which has seen the price test strong resistance in the $89 area in October.
The recent nervousness for US equities, which has seen nine straight days of losses, has also spilled over into blue chips stocks with Caterpillar reflecting the current short term bearish picture. However, with both candidates committing to a dramatic increase in major projects, this should be good news for companies such as Caterpillar, and if US equities bounce higher as expected, then a double whammy catalyst will help to propel prices through the $89 resistance area.
Once this area is breached, a solid platform of support will then be in place to help push the stock price higher, and back to test the $105 high of late 2014 in the longer term. Indeed in last week's price action we are already starting to see the first signs, with a decline in the selling volumes, and with a wick to the underside of last week's candle, and signalling a return of buying on solid volumes, as the markets prepare for this week's main event.
Source:
http://www.annacoulling.com/stock-trader-tips/caterpillar-likely-to-win-whoever-gets-in/
We encourage you to Share our Reports, Analyses, Breaking News and Videos. Simply Click your Favorite Social Media Button and Share.