It's been a bad year for professional forecasters, especially those who failed to call the results of both the EU referendum and US election. As for those who predicted that a vote for Brexit and a victory for Trump would cause a stock market collapse… so far they've been wrong, too. It's a reminder just how cautious you have to be when it comes to relying on any kind of forecast. For investors in particular, the predictions of analysts need careful handling.
It's undeniable that earnings forecasts are woven into the fabric of the stock market. But there are some who wonder why anyone bothers to listen to them. The late American economist Edgar Fiedler wrote in The Three Rs of Economic Forecasting: "The herd instinct among forecasters makes sheep look like independent thinkers." Meanwhile, David Dreman, the famously contrarian value investor, wrote that: "analysts' forecasts are usually overly optimistic."
Despite the bad press that some analysts get (and to be fair, some are highly regarded), there are ways of putting their insights to good use. In October I looked at how earnings forecast 'upgrades' can be a clue to finding firms on the move. Another way to slice and dice what analysts have to say, is to look for companies that are actually beating expectations. Indeed, we've seen some big moves in some of these stocks in recent months. So what are the signs of an earning 'surprise' – and what should you look for?
How surprises trigger price momentum

Traditionally, an earnings surprise has been the kind of event where everyone wins. Company management are high-fived, analysts keep their jobs and investors enjoy a rising share price. It's a picture supported by academic evidence. Over the past 20 years, research has found that earnings surprises trigger positive price momentum. The idea is that as investors get to grips with the full meaning of an earnings 'beat', they gradually drive up the price.
One of the classics in this field is a paper by Josef Lakonishok among others. It draws a direct link between earnings surprises and upward price drift. They found it works particularly well in smaller, more cheaply priced 'value' stocks. Lakonishok went on to set up his own mutual fund using these precisely these findings. Some years later, Narasimhan Jegadeesh and Joshua Livnat took it further. Their research found that a more useful indicator in surprises was firms that were beating both their earnings and sales forecasts.
When surprises aren't so surprising

For sceptics, though, the link between earnings surprises and price momentum has led management teams to make very sure they beat expectations. In the third quarter of 2016, for instance, 72% of Samp;P 500 firms beat their earnings forecasts – and the long term average is 64%. One interpretation is that companies have learned to 'manage' their guidance to analysts to ensure they beat expectations on results day. It's a neat tactic, but it's arguably easier for larger companies to pull it off than it is for smaller, less predictable stocks.
Momentum strategies take the lead
With all this mind, it's been interesting to see strong performances this year from some of the momentum strategies tracked by Stockopedia. Those that use earnings surprises and earnings upgrades have done well – but there have been good reasons. For instance, the Earnings Surprise screen, which looks for earnings and sales surprises, is up 28% year-to-date. The current portfolio holds Avesco and Creston, which have both recently received takeover bids. Another major winner in that portfolio is Gear4Music, which has been on a major tear since the summer.
A feature of the Earnings Surprise screen is that its sole focus on momentum means that it can be prone to sharp reversals. In other words, there's a risk that it picks up stocks on stretched valuations that can be hit very hard if they ever disappoint. As a result, the screen performance has been volatile, and produced a more modest 3-year return of 24.5%.
By contrast, the Josef Lakonishok screen also has an earnings surprise component, but it looks for value as well. While the screen this year is up by just 7.5%, the 3-year return is much better, at 32.5% (see chart below). That suggests that blending earnings surprises and value is a more stable strategy than relying on earnings surprises alone. Incidentally, the Lakonishok portfolio also currently holds Avesco and Creston, but it has done well from holdings like Somero Enterprises, too. Just days ago, Lavendon, another recent takeover target, qualified for the Lakonishok rules.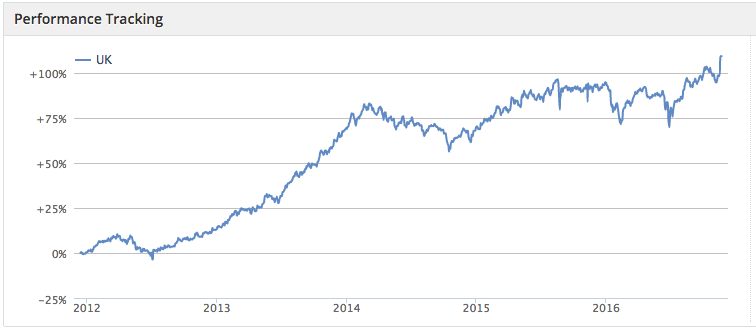 It would be wrong to claim a link between earnings surprises and Mamp;A activity. Anyone who has read the work of our own Paul Scott will know that a lot more research and understanding is needed to see the factors that might contribute to a takeover bid. But broadly speaking, the current market conditions do seem to be playing to the strengths of strategies that look for positive earnings momentum in smaller stocks.
But while the market is rewarding good news, and we're seeing some blistering performances, momentum on its own can be unpredictable. What we're seeing in the strategy performances is that combining value and momentum – a style very much associated with Turnarounds – could be a safer way of navigating earnings surprises.
To get an idea about the interplay between value and momentum, I've taken the Earnings Surprise screen and added the Value, Momentum and VM Ranks. It's a useful starting point in discovering the value appeal (or otherwise) of stocks that are producing positive surprises. You can find it here.
Source:
http://www.stockopedia.com/content/how-earnings-surprises-can-point-to-future-market-winners-159320/
We encourage you to Share our Reports, Analyses, Breaking News and Videos. Simply Click your Favorite Social Media Button and Share.