Analyst Chris Ciovacco examines the market reaction to Donald Trump's victory, and whether the rally is really sustainable or not.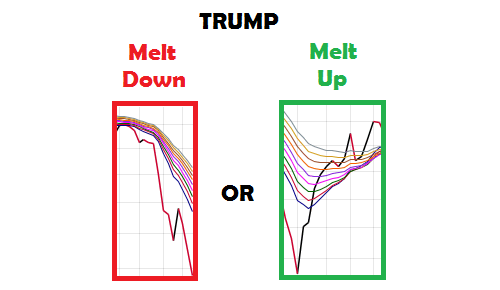 Exploring A Wide Range Of Post-Election Outcomes
As Brexit reminded us, the initial reaction from markets is often not the longer-term reaction. We have all seen predictions with markets crashing and a global recession under the "Trump is elected" scenario. While the bearish case has merit, it is always prudent to explore a wide range of possible economic and market outcomes. From A Wealth Of Common Sense:
The recession/crash scenario is certainly one to consider. But here's one scenario not many people will be talking about — it's possible that within the next couple of years we could see a melt-up in the markets. No one really knows what Trump's policies will be (possibly not even him yet) but he has stated numerous times that he plans on doing massive infrastructure spending. He's always promised tax cuts and isn't afraid of large budget deficits. If anything like this were to happen, we could see much higher corporate profits and higher inflation. If this were to occur I think it's possible that we could see a massive shift in investor allocation preferences which could potentially take the stock market into bubble territory.
This Is What Risk-Off Looks Like
Investor preferences allow us to better understand the stock market's risk reward profile. When economic fear was high in 2008, the performance of growth-oriented stocks (SPY) was weak relative to defensive-oriented bonds (AGG).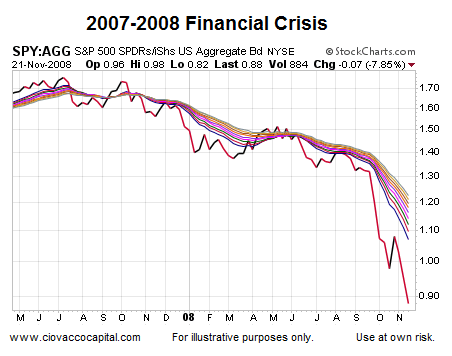 This is What Risk-On Looks Like
When fear started to subside in March 2009, equities started to outperform bonds, telling us the risk-reward profile of the general stock market was improving.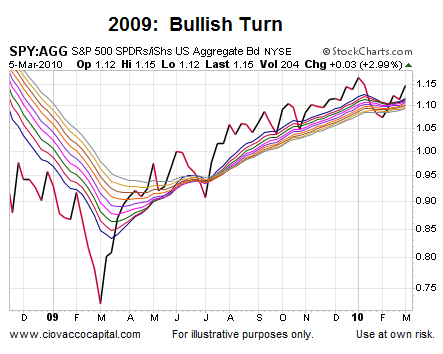 This Is What Today Looks Like
How does the same stock/bond ratio look after election week is in the history books? If we compare and contrast the three periods (2007 peak, 2009 bottom, and 2016 post-election), the present day looks more like the favorable risk-on period in 2009 than the unfavorable risk-off period in 2007-08.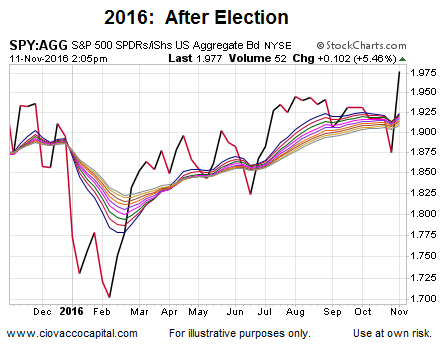 Investment Implications – The Weight of The Evidence
Is it possible the 2016 stock/bond ratio is skewed by the expectation the Fed will raise rates in December? To address that question and examine the weight of the evidence, this week's video presents numerous risk-on/risk-off ratios, including long vs. short, retail vs. bonds, total stock market vs. defensive consumer staples, base metals vs. bonds, small caps vs. bonds, junk bonds vs. Treasuries, and materials vs. bonds. The video also looks at the market's reaction to Trump's platform and anticipated policies.
After you click play, use the button in the lower-right corner of the video player to view in full-screen mode. Hit Esc to exit full-screen mode.


After reviewing the video above, you can draw your own conclusions about the odds of the Trump rally being sustainable relative to a bearish reversal. Time will tell.
The SPDR Dow Jones Industrial Average ETF (NYSE:DIA) closed at $188.47 per share on Friday, up $0.34 (+0.18%). Year-to-date, the only ETF that tracks the DJIA has gained 8.32%.
This article is brought to you courtesy of Ciovacco Capital.
You are viewing an abbreviated republication of ETF Daily News content. You can find full ETF Daily News articles on (www.etfdailynews.com)


Source: http://etfdailynews.com/2016/11/12/is-the-trump-rally-actually-sustainable/
We encourage you to Share our Reports, Analyses, Breaking News and Videos. Simply Click your Favorite Social Media Button and Share.