Opinions vary about this week's addition to the SIF portfolio, but one thing that's certain is that convenience store operator McColl's Retail is officially a defensive stock. As I explained last week, the portfolio is desperately short of defensive businesses. Adding McColl's will help improve this balance, so I was pretty chuffed to spot this new addition to my screen results this week.
McColl's started life as a vending machine operator in 1973. The shift to convenience started in 1994, when McColl's started converting some of its Forbuoys newsagents into food stores.
The group's current operating brands include McColl's, Martin's and R S McColl. The acquisition of 298 convenience stores from the Co-op in July 2016 for £117m has put McColl's on track to have 1,000 convenience stores by the end of this year, along with more than 400 newsagents.
To put that in context, Tesco, the largest supermarket convenience store operator, has more than 2,000 convenience stores, while Sainsbury's has 783. However, McColl's lack of large format stores means that it remains a relatively small business. Annual sales are less than £1bn, and the FTSE Small Cap-listed group's market cap is just £201.3m.
Stockopedia's algorithms rate this low-margin business very highly, with a StockRank of 98. In fact, it's the top-ranked stock in the Food amp; Drug retailing sector: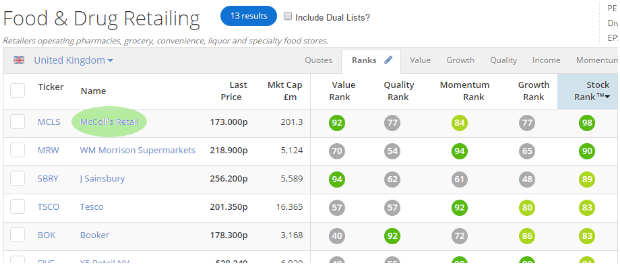 Let's take a closer look.
A value retailer

A low-margin business like this shouldn't have a high valuation. McColl's doesn't. The group's shares trade on a trailing P/E of 11, and a trailing price/free cash flow ratio of 9. There's also a very healthy earnings yield of 10.1% and a dividend yield of 5.8%: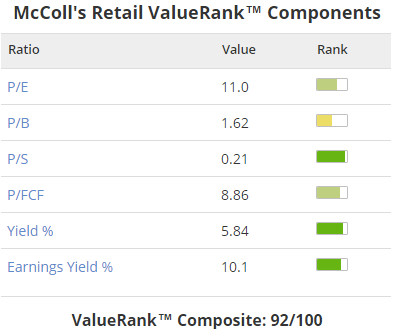 In my view, earnings yield (EBIT or operating profit / enterprise value) is a very useful ratio for judging how attractively valued a business is. By including net debt and excluding interest and tax, you get a direct view of how much profit a company's operations are generating, relative to its total valuation.
The SIF screen requires an earnings yield of at least 8%, but McColl's double-digit earnings yield suggests to me that it could be very attractively valued at current levels.
It's also worth noting that McColl's free cash flow yield of 11.3% (1 / 8.86) highlights the firm's strong cash generation. Not only is the dividend well covered by free cash flow, but more than 100% of McColl's earnings yield is being converted into genuine surplus cash. That's very attractive.
There only seems to be one real weakness to McColl's valuation, which is a lack of tangible assets. The StockReport shows a P/TB of 'n/a', which means that net tangible assets are negative. Looking at the balance sheet suggests two reasons for this. Firstly, property assets seem relatively low, at £64m. This is presumably because many stores are leased.
The second reason is that McColl's has negative working capital. In other words, current assets are much smaller than current liabilities: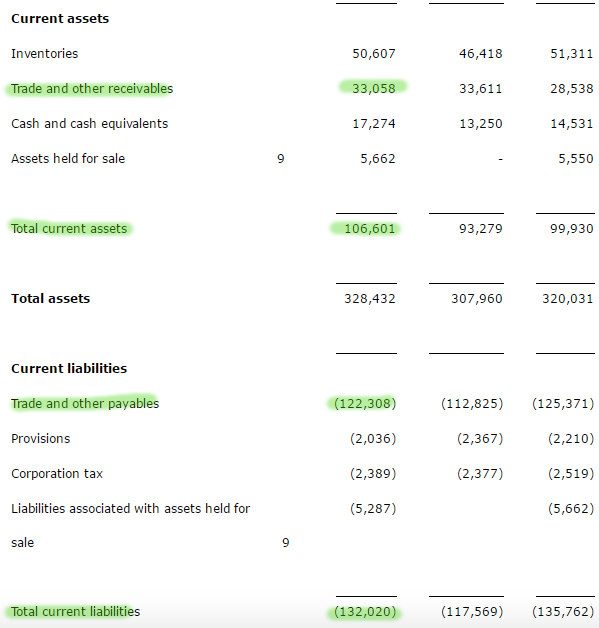 Negative working capital would be a warning flag with many businesses, but it is the norm for big food retailers. What happens is that stock is sold to customers before the retailer has to pay its suppliers. Effectively, the business is run on free credit from its suppliers!
Questions over quality?

We've seen that McColl's is cheap, but are there any underlying quality problems which could be a concern for the future?
The stock's QualityRank of 77 suggests few serious concerns, but there are a couple of points I'd like to consider.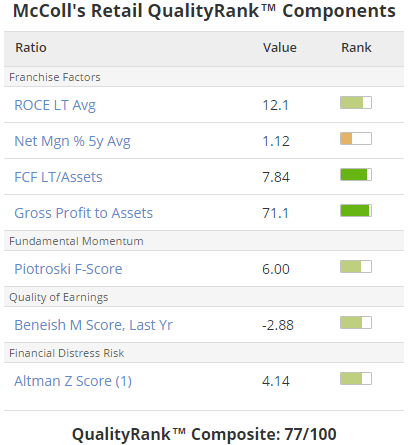 The Piotroski F-Score is heavily weighted in the QualityRank algorithm, because it's a useful indicator of a company's fundamental health. McColl's F-Score of 6/9 suggests there's room for improvement. The group has 'fails' in three areas:
Profitability: return on assets has fallen from 6.5% to 5.6% over the last year.
Rising long-term debt: The leverage ratio of long-term debt to average assets has risen from 14.8 to 17.9 over the last year.
Productivity has fallen: The F-Score measures this using asset turnover, or the value of sales generated relative to assets. McColl's asset turnover ratio has fallen from 3.17 last year to 2.87 during the current year.
An F-Score of 6 is the minimum required to qualify for the SIF screen. I think it's worth watching for any further deterioration, as the next set of accounts will reflect the impact of the Co-op convenience store acquisition. McColl's used £104.3m of debt to fund this deal, alongside £12.7m from a placing. Management expects the net debt/EBITDA ratio to rise to 2.2x next year, before falling back to 1.3x by 2020.
Net debt was £42.3m before the acquisition. So it should now be about £146m, less anything the group has managed to repay so far. This equates to nine times forecast net profit for the current year. This debt level would disqualify McColl's from the SIF screen, which has an upper limit of five times net profit.
Concerns over debt naturally lead to questions about the safety of the group's dividend. McColl's has indicated that the payout ratio will fall from 60% to 50% following the acquisition. The upshot is that the dividend is expected to be flat this year, at 10.2p.
The company has already flagged up the potential to speed up debt reduction with a sale-and-leaseback programme. This would certainly be effective in the short term. But as Tesco shareholders have found out, it can have a downside in terms of future liabilities.
Overall, my view is that it would have been safer for McColl's to have used less debt and more equity to fund the Co-op acquisition. This might have entailed a dividend cut, but would have kept debt down and protected future cash flows.
Is momentum wavering?

The final element of the jigsaw is momentum. McColl's scores well, with a MomentumRank of 84. The group's share price is within 10% of its 52-week high and other price momentum indicators are also positive.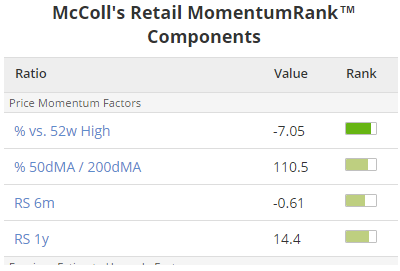 The picture is less certain in terms of earnings upgrades. Broker consensus forecasts for the current year have fallen by nearly 6% over the last three months: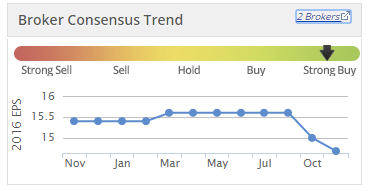 This is presumably due to the 2.0% fall in like-for-like sales reported for the first nine months of this year. McColl's low margins and high fixed costs mean that profits are very sensitive to movements in sales.
My view

I have mixed views about the outlook for McColl's. But the concerns I've highlighted are mostly subjective and predictive, whereas the positive aspects of this stock are factual and quantifiable.
In a systematic portfolio such as this one, these quantifiable factors have to take priority. McColl's qualifies for the SIF Portfolio and helps to fulfil the portfolio's need for defensive stocks. I'll be adding to the portfolio some time on Wednesday, in the aftermath of the US election results!
As always, I look forward to hearing what you think in the comments below.
Disclosure: Roland owns shares of Tesco.
Source:
http://www.stockopedia.com/content/sif-portfolio-a-simple-decision-to-add-mccolls-retail-157405/
We encourage you to Share our Reports, Analyses, Breaking News and Videos. Simply Click your Favorite Social Media Button and Share.