The SIF Portfolio enjoyed a massive boost last week, when audio visual services company Avesco received a takeover offer at a 125% premium to the closing share price. Coming just two months after I added Avesco to the portfolio, it's a remarkable bit of luck.
There was more good news on Tuesday this week, when packaging group Macfarlane issued an upbeat trading statement. The shares rose by 7%, after management advised investors they are confident of full-year expectations. With under two months left of the current year, this guidance leaves the stock on a forecast P/E of just 9.6. I believe Macfarlane remains attractive, despite its lacklustre performance so far.
A transporting opportunity?

Moving onto this week, I was surprised to see logistics group Wincanton appear in my screen results. At the time of writing, it's the top-ranked eligible stock in my screen. So I'm obliged to consider it as a potential portfolio stock.
For those of you who aren't familiar with this firm, Wincanton is one of the UK's larger logistics groups. Mostly of its customers are high-volume consumer businesses, such as supermarkets. Wincanton ran into financial problems a few years ago, but management have delivered a commendable turnaround.
The group's latest interim results were impressive, and Paul Scott's recent chat with Wincanton CEO Adrian Colman was also reassuring. (You can find Paul's comments on Wincanton's interims and the transcript his Qamp;A with Mr Colman here.)
Isn't it too late to buy?

Wincanton shares have risen by 225% over the last five years. You might think that's enough to price in future gains, but it's worth remembering that the company was priced for failure back then. Today's share price of c.225p is still nearly 40% lower than in November 2006.
The shares currently boast a StockRank of 96, and qualify for five of Stockopedia's Guru Screens. Among these is the Value Momentum Screen, which has delivered an annualised return of 19.4% since inception.
With a trailing P/E of 8.4 and a dividend yield of 3.9%, Wincanton doesn't seem expensive. Let's take a closer look.
Bargain value… but!

Wincanton's has a ValueRank of 96, and scores highly in most areas: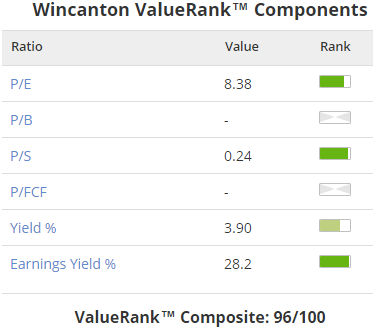 The group's earnings yield of 28% is deeply impressive. So much so that I thought it was worth double checking!
A look at Wincanton's latest income statement shows that operating profit was boosted by an exceptional gain of £35m last year. This reflects the sale of Wincanton's record management business to Restore: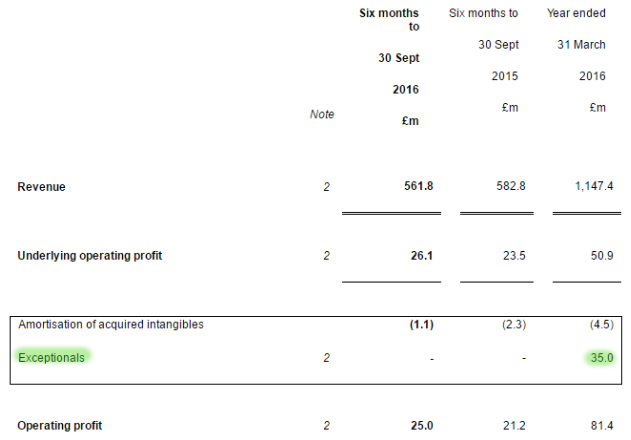 This gain has been stripped out of Wincanton's underlying figures, but Stockopedia uses statutory figures to calculate earnings yield. To get a more accurate idea of Wincanton's underlying earnings yield, I've recalculated the earnings yield.
On a trailing twelve-month basis, Wincanton has an underlying operating profit of £53.5m. Dividing this by the group's enterprise value of £302m gives an earnings yield of 17.8%. That's much lower than 28%, but is still very impressive. I'm happy with that.
The other figure that concerns me is that free cash flow was negative last year, hence the missing P/FCF ratio in the ValueRank components. Turning back to Wincanton's 2015/16 accounts, the main cause of this seems to be an unusual £49m reduction in outstanding payables last year. According to the commentary, this was the result of "a managed reduction in year end working capital movements". The changes appear to have been made in order to reduce working capital and net debt volatility, which I suppose is a good thing.
I'm willing to give Wincanton the benefit of the doubt here. Previous years' results show decent free cash flow:

Free cash flow also seems to have turned positive again this year. November's interims show free cash flow of £13.8m, covering the £6.7m dividend payout twice after the pension deficit payment. If this level of free cash flow is maintained during the second half of the year, then full-year free cash flow could be 22p per share. That would give a very cheap P/FCF of 10.
Overall, I've no serious concerns about Wincanton's value. The key question is whether the stock's quality is up to scratch.
Is quality better than it seems?

Wincanton's QualityRank of 48 isn't very impressive. So what are the main weaknesses?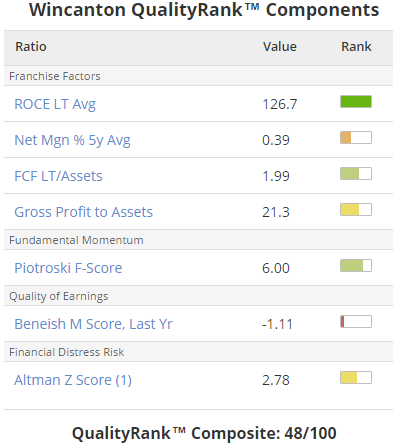 The group's 5-year average net margin is poor, at 0.4%. But margins are improving. Operating profit rose from 4.0% to 4.6% during the first half. Forecasts for this year imply a net margin of 2.7%. Wincanton's long-term average net margin should rise steadily, as loss-making years fall out of the figures:

The stock's Piotroski F-Score is also pretty average, at 6 out of a possible 9. The F-Score is heavily weighted in the QualityRank, but in this case I think it paints an unduly pessimistic picture.
My reading of the F-Score results is that last year's negative free cash flow has caused Wincanton's F-Score to drop two points. I'm comfortable that this will reverse during the current year. I suspect that Wincanton's F-score could rise to 8 when the next set of accounts is published.
In my view, the main quality risk is the group's pension deficit. Low bond yields have caused this to rise from £105.6m in March, to £169.2m at the end of September. Wincanton made extra pension payments of £14.4m in 2015, and £20.9m in 2016. These are substantial amounts that have a big impact on free cash flow.
But this could soon change. In his Qamp;A with Paul Scott, Wincanton's CEO said that the deficit had fallen by £50m "in the last few weeks". If bond yields continue to rise, pension deficits could shrink fast.
I'm tempted to say the upside and downside risks of the pension deficit are equally balanced. As things stand, the payments are affordable without cutting the dividend. If these payments were reduced, the upside for shareholders would be significant.
Overall, my view is that Wincanton's next set of accounts could trigger a sharp rise in the group's QualityRank if trading conditions remain stable. So I don't see the current score of 48 as an obstacle to an investment.
Keep trucking?

Wincanton's MomentumRank of 95 suggests that this stock is in favour with both buyers and analysts at the moment. The shares are trading less than 1% off their 52-week high. Earnings forecasts have risen by 9% over the last three months.

Wincanton trades on a 2016/17 forecast P/E of 8.6, falling to 8.2 for 2017/18. Further dividend growth is expected, resulting in a forecast yield that could reach 4.3% in 2017/18.
Slightly to my surprise, I've decided to add Wincanton to the SIF portfolio this week…
As always, please DYOR, and share your thoughts in the comments below.
Source:
http://www.stockopedia.com/content/sif-portfolio-avesco-amp-macfarlane-plus-should-i-add-wincanton-159365/
We encourage you to Share our Reports, Analyses, Breaking News and Videos. Simply Click your Favorite Social Media Button and Share.