A couple of weeks ago, I mentioned that I would be keen to add small cap fund manager Miton Group to the SIF Portfolio. On that occasion, Miton was outranked by XLMedia in my screen results. But things have changed. At the time of writing, Miton is now the highest-ranked stock in my screen which isn't already in the portfolio.
This gives me a welcome opportunity to look more closely at this promising stock. While fund manager Gervais Williams is a key attraction, does it make sense to invest in a small fund manager at this point in time? Is the group in a position to deliver rising returns?
Has Trump hit the portfolio?

Before I look at Miton, I want to take a brief look at last week's biggest story. I have to admit that I wasn't really surprised that Donald Trump won the election. I was on vacation in the US in October, and the support I saw for Trump in small towns and rural areas of the north east was overwhelming.
Watching the US television coverage of the campaign felt very much like a rerun of Brexit. The issues and characterisations on both sides of the debate were much the same, just scaled up!
Getting back to the markets, the initial impact on the portfolio has been marginally positive. Trump's pledge to boost infrastructure and defence spending lifted the portfolio's holdings in Somero Enterprises, BAE Systems and John Laing. After a flying start, gold ended the week lower. Pan African Resources fell slightly as a result. The remainder of the portfolio was pretty much flat.
I remain happy with most of the portfolio, but it's not always easy to measure whether a portfolio has the characteristics you're targeting. Luckily, Stockopedia's Folio system provides some excellent tools to help with this. One example is this snapshot, comparing key portfolio ratios with the market averages: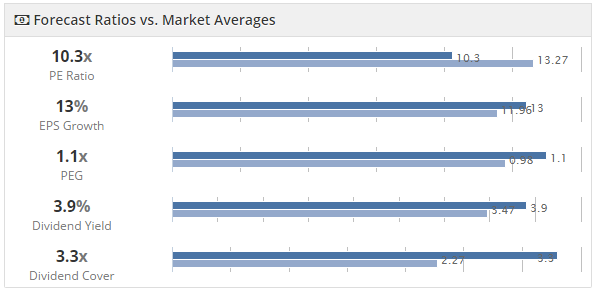 The dark blue lines represent the SIF Portfolio, the light blue is the market average. I think it's fair to say that the portfolio is meeting its brief of "Affordable Growth. A blend of value, growth, quality and momentum." The only area where I'm falling short slightly is the PEG ratio, which at 1.1 is slightly higher than the market average.
Let's move on and take a look at Miton Group.
Is the future small?

Fans of Gervais Williams, Miton's managing director, will recognise the title of his latest book, The Future Is Small. For an introduction to Mr Williams' investing style, I'd recommend both the book and his interview with Ben Hobson earlier this year. In a nutshell, Mr Williams is a specialist small-cap investor.
Gervais Williams isn't the only fund manager at Miton, but he is jointly responsible for managing almost 50% of the group's assets. In my view there's a degree of key person risk here, although it's not a critical issue.
Miton had £2.7bn of assets under management (AUM) and £18.4m of net cash at the end of August. Adjusted pre-tax profit rose by 35% to £3.1m during the first half, while net revenue also rose by 35% to £9.6m, suggesting that underlying profitability remained unchanged.
The firm's reported results have been mixed since the financial crisis. Judging from the 2014 results slides, this is probably because the group has shifted its focus heavily towards equity during this period, and undergone some restructuring. There have been significant shifts in AUM, but growth is expected to become more progressive.
Miton appears to have quite decent income potential, too. The dividend has risen by an average of 11% per year, since being reinstated in 2011.
Overall, my impression is that this is a well-run specialist firm that could make a good long-term investment. But what does Stockopedia think?
Improving quality

Miton's StockRank of 95 is encouraging. The highest of this stock's QVM ranks is its QualityRank, which was 84 at the time of writing.
A look at the QualityRank breakdown suggests that historic profitability (highlighted in green) has been poor, but that otherwise Miton is a quality concern: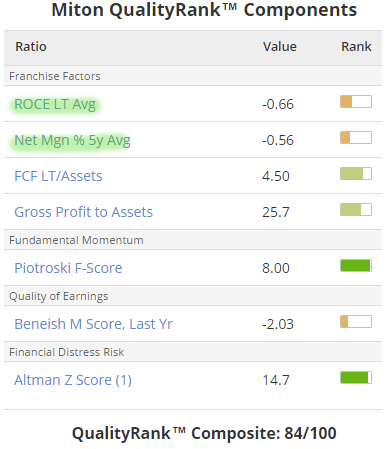 (Remember that the Beneish M Score doesn't apply to financials).

Miton's F-Score is 8/9, highlighting the group's strong cash generation, lack of debt and stable profitability. I've no concerns here. What we do need to understand is whether returns are likely to improve. A negative long-term return on capital employed (ROCE) is not really desirable. Fortunately, it looks like returns have started to rise since the changes I mentioned were made in 2014:

On this basis, I'm happy that the quality of Miton's financial performance appears to be improving. Cash generation also remains strong, with net cash having risen from £8.4m in 2010 to £18.4m at the end of August. That's quite significant, given the group's market cap is just £51m. So does Miton offer good value?
Deceptively cheap

A ValueRank of 74 suggests that Miton is attractively priced, but not massively cheap. The group's trailing P/E of 14.7 backs up this view. However, I believe some of the stock's other ratios paint a more compelling picture of value: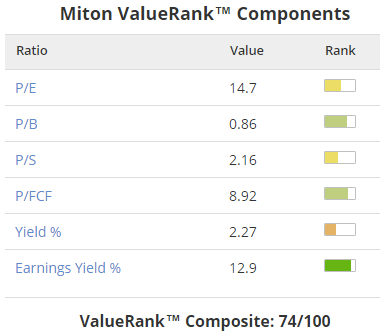 Regular readers will know how much I like Earnings Yield and P/FCF as measures of value. I think earnings yield (EBIT/EV) is a fantastic measure, because it offers a view on valuation and profitability that includes net debt or cash. Here, we see that Miton has an earnings yield of 12.9%. That's well above my screen's 8% threshold. Coupled with a P/FCF of just 9, these figures suggest to me that Miton has the potential to generate above-average returns for shareholders.
Improving outlook

After a year during which earnings forecasts have remained unchanged, Miton's house broker has just increased its earnings forecasts for 2016 by 10%, to 2.1p per share. Given that this forecast comes from the firm's house broker and is so close to the end of the year, I expect it to be reliable.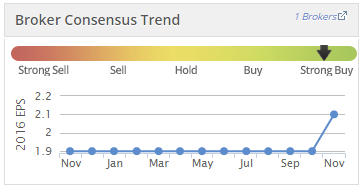 The upgrade puts Miton shares on a 2016 forecast P/E of 14, with a prospective yield of 2.7%. Further gains are expected in 2017, pushing down the P/E of 12.3 and lifting the yield to 3.05%. This guidance isn't cast in stone, but certainly seems positive. Remember that the house broker for a small cap generally receives 'guidance' directly from the company being covered.
Should I add Miton to the portfolio?

One word of warning is that the spread on Miton stock can be quite wide at times. However, liquidity seems reasonable. About £55,000 of shares trade on an average day, according to Google Finance. That's probably enough for most private investors.
The overall outlook is positive, in my view. Both Miton's recent performance and its Stockopedia stats seem encouraging. I believe further gains are possible and have added Miton to my personal watch list. I will add Miton to the SIF Portfolio this week.
Disclosure: Roland owns shares of BAE Systems.
Source:
http://www.stockopedia.com/content/sif-portfolio-can-small-miton-group-deliver-big-returns-158110/
We encourage you to Share our Reports, Analyses, Breaking News and Videos. Simply Click your Favorite Social Media Button and Share.