Good morning!
In case you haven't seen it, let me flag up a late update to yesterday's report. As you've probably gathered by now, I'm more a night owl than a morning person. The new sections in yesterday's report cover results from Plexus Holdings (LON:POS) and PPHE Hotel (LON:PPH). The latter in particular looks quite interesting, after refinancing its debt onto long term, low (and fixed) interest rates. Also I commented on the discovery of internal fraud at a subsidiary of T Clarke (LON:CTO).
Here's the link for yesterday's completed report.
---
Conviviality
(LON:CVR)
Share price: 214p (up 4.4% today)
No. shares: 172.1m
Market cap: £368.3m
Trading update – this covers the 26 weeks to 30 Oct 2016, so it's H1 of FY 04/2017.
The background here is that the group embarked on a bold expansion strategy just over a year ago. It acquired a drinks wholesaler, called Matthew Clark. Incidentally, I've started noticing vans with that brand name on them, delivering to local cafe/bars. There are obvious bulk buying efficiencies with Matthew Clark bolted on to the original off licence business of Conviviality.
Two further acquisitions were made afterwards, of Peppermint in Dec 2015, and Bibendum PLB Group in May 2016. Put together, this has more than tripled the turnover of the group, which was £783m in H1, up 211% against prior year, due to the acquisitions.
Various financial details are given, which I'm not really interested in. All that matters is overall performance, and this sounds on track;
The Company is making strong progress with the integration of Matthew Clark and Bibendum PLB Group ahead of plan and the plan to deliver synergies remains on track.

Conviviality continues to perform in line with market expectations for the 52 week period ending 30 April 2017.
It's interesting to note from Stockopedia's graph that earnings estimates have been revised up several times in the last year. So meeting expectations is actually better than it might at first sound – because the bar has already been raised twice, as you can see below;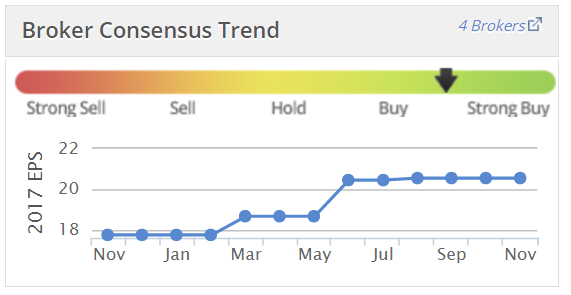 Valuation – I'm quite surprised that the shares have trended sideways (see share chart below) in the last year, despite the improving broker forecasts.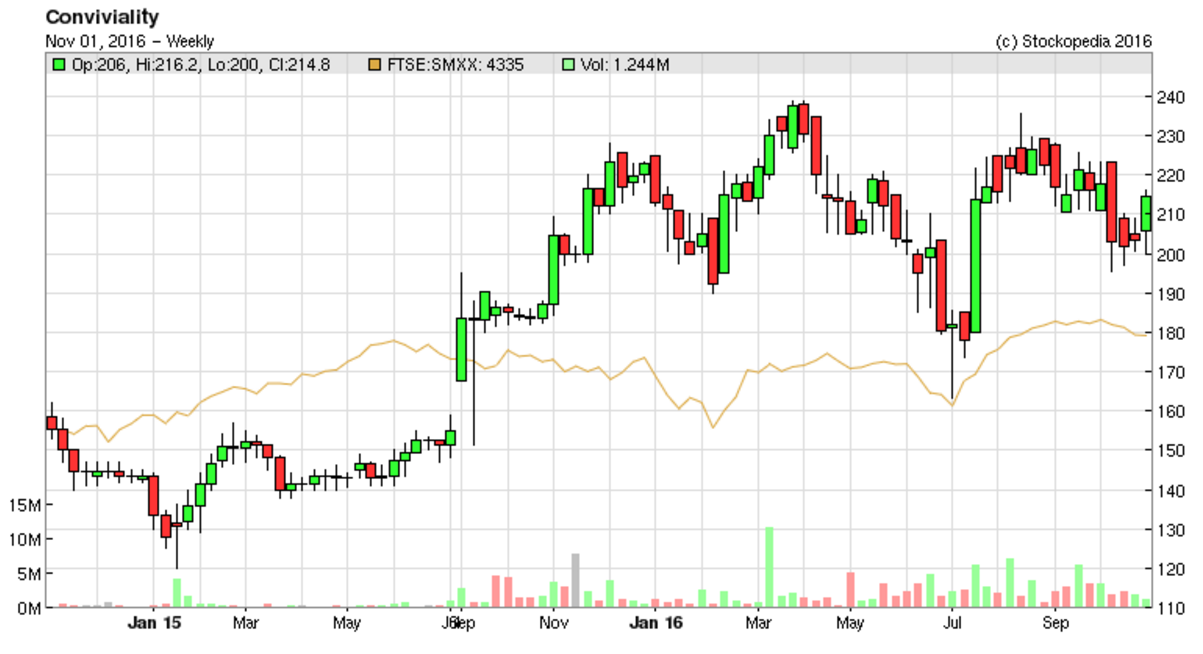 As you can see, the PER looks quite reasonable (although note that there's a fair bit of debt on the balance sheet), and the dividend yield is very high.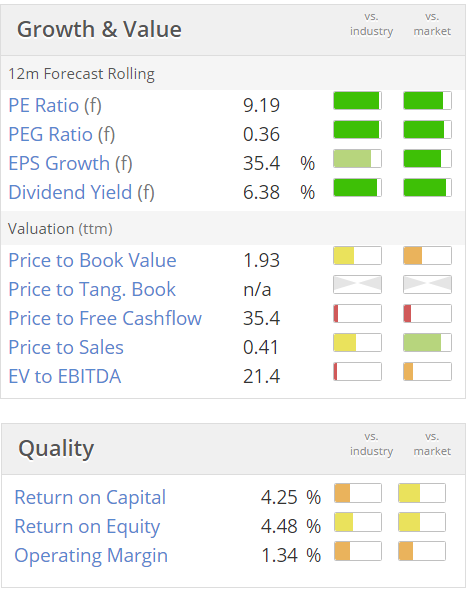 High dividend yields can be a warning sign though – a signal that the market may be concerned the divis might not be sustained at the existing level.
I sound like a stuck record on this point, but personally I very much dislike highly indebted companies paying big divis. They should not be doing this – they should be paying down debt as their main priority in my view. This is becoming increasingly important, as the risk of a UK recession next year does appear to have increased somewhat.
Balance sheet – it's a bit weaker than I would like, and the net debt a bit too high for comfort. Although I should emphasise that there's no sign of any financial distress, I just personally like to have a bigger margin of safety.
My opinion – overall, things seem to be going fairly well, with a major acquisition spree apparently handled well.
The risk of a recession, and higher interest rates are a worry, as this type of company would suffer in that environment. That said, the valuation here does look fairly modest, and I imagine there might be more synergies yet to feed through.
I'm quite tempted, so it"s going on my watch list – which is really a think about it a bit more list.
---
Tungsten (LON:TUNG) – was meant to have sold its bank by the end of Oct 2016. It today says this is in the final stages of regulatory approvals.
I remain of the view that this share is a dead loss. It has not yet demonstrated that it's a viable business.
---
Sprue Aegis (LON:SPRP) – an update today sounds more like marketing material, than a proper update. It mentions nothing about overall performance, or how the company is faring versus market expectations. Therefore I think it's neutral for the share price.
So I assume the company is just trying to reassure shareholders that they're doing good things, after all the problems in the last year or so.
Skimming the numbers on Stockopedia, it looks as if brokers are forecasting a maintained divi, which would give a lovely 5.7% yield. Also remember this company has a decent cash pile. So if you think it can recover from the massive profit warning in May, then it might be worth a look. Personally I'm a bit sceptical about this company now – as various things have gone quite badly wrong, and performance has been unpredictable.
So for me, the jury is still out on Sprue.
Source:
http://www.stockopedia.com/content/small-cap-value-report-1-nov-2016-cvr-tung-sprp-156577/
We encourage you to Share our Reports, Analyses, Breaking News and Videos. Simply Click your Favorite Social Media Button and Share.