Good morning!
Things seem to be moving at such a rapid pace at the moment. The overnight sell-off in markets yesterday, on news of the shock victory of Mr Trump, has rapidly reversed. So people who were waiting to get back into their favourite shares only had a short time to do so. This is why I prefer to use a bit of hedging against a market plunge, in situations like this, instead of selling up amp; hoping to buy back in more cheaply.
The problem with small caps, is that you can't just move in amp; out of them seamlessly, particularly if you want to deal in size that is multiples of the NMS (normal market size). The NMS can often be ridiculously small for many small caps too, so illiquidity becomes a problem even for trades of just a few £k. Then there can be hideous bid/offer spreads to absorb as well.
So overall, I'm really glad that I held all my long positions throughout the turbulence caused by the US elections. My hedging worked, and was actually profitable, because I closed most of the hedges when the Samp;P500 spiked down to 2,050 overnight. The selling seemed to have run out of steam, and it dawned on me that the market might actually rather like the idea of a pro-business President, even a clown like Trump.
Anyway, on to today's news – also I'll try to catch up with a backlog from yesterday too. I was too tired to write any more yesterday afternoon.
---
Devro
(LON:DVO)
Share price: 182.8p (down 19% today)
No. shares: 166.9m
Market cap: £305.1m
Trading update – this is a new company to me, it's a maker of sausage skins. The share has come into my universe due to a falling share price. The price is down 19% today, so it must be a profit warning.
Devro has a 31 Dec year end, so today's update relates to H2 to date, i.e. 31 Jul to now, early Nov.
The first paragraph sounds OK – some negatives, but offset by favourable input prices amp; forex;
Sales volume trends were broadly similar to those experienced in the first half, enhanced by improvements in Russia and South East Asia, but impacted by further reductions in Latin America due to the previously highlighted issues, which are being addressed, related to the transformation of our global manufacturing footprint.

Combined, these factors have had an adverse impact on margins, offset by further benefits from lower input costs and foreign exchange.

As a result, the Board's full year expectations for underlying operating profit* remain unchanged.
That all sounds reasonably OK, but here comes the bombshell;
2017 and beyond

Based on current trends, sales volumes in 2017 are now expected to be approximately 10% lower than previously anticipated, which will result in an under-utilisation of available capacity.

Actions are being taken to rebalance the use of capacity across our global manufacturing base. The under-utilisation is expected to have a further adverse impact on margins.
What I can't fathom, is that the RNS contains no explanation as to why sales volumes have suddenly dropped by 10%. That's a serious omission.
Although it does explain what action the company is taking to remedy things;
The Board has decided to accelerate and implement more extensively the next stage of the Group's strategic development, focusing on;

- growing sales through improved commercial capabilities,
- introducing the next generation of differentiated products, and
- further improving manufacturing efficiencies to reduce unit costs.
This will come too late to save the day for 2017 though;
This improvement project will deliver a fundamentally more competitive position. The benefits will offset the effects of the lower volumes, partially in 2017 and fully in 2018.
So here's the profit warning for 2017;
Consequently, the Board now expects underlying operating profit* for 2017 to be lower than previous expectations.
No indication is given of how much lower profits will be - another important omission, because it leaves shareholders in the dark until they can get hold of broker updates. This is very bad form in my view. Companies have the information, and therefore should make it public, in the an RNS.
This RNS should have stated the % decrease in profit versus current market expectations. That's the key information that people need to know, so why withhold it?
My opinion – to my mind, a sudden 10% drop in expected revenues, with no explanation as to what has caused that drop, is a serious concern.
I've quickly reviewed the 2015 accounts, and am impressed with the high operating profit margin generated by Devro. However, as sales are suddenly dropping, maybe it's making too high margins, giving room for competitors to undercut it amp; steal market share, possibly?
The other aspect of this business I dislike, is that it seems very capital intensive. The 2015 balance sheet shows within fixed assets;
£56.3m freehold property
£108.5m plant, machinery amp; motor vehicles
£103.4m assets under construction
That seems a lot of capital to generate £33.3m in operating profit.
There's also £147m net debt, plus a £56.4m pension deficit at end 2015, which will probably have grown since then, due to interest rates being so low.
After today's share price fall, the forecast dividend yield will be approaching 5%, providing it's maintained of course, which we cannot necessarily rely on.
Overall then, it doesn't appeal to me at all.
---
Proactis Holdings (LON:PHD) (at the time of writing, I hold a long position in this share) - news today of a relatively large acquisition costing £15.5m, for a company called Millstream Associates Ltd. I've had a look at this already, as I was made an insider on this deal. The acquisition mainly runs a website called Tenders Direct which allows companies to tender for public sector work. Membership costs £995 p.a.
Most of the funding is coming from a £12.5m placing. I'm very impressed that this has been achieved at 135p per share – representing a premium of 9.3% to yesterday's close of 123.5p. There's nothing fishy about this. What happened is that the placing meetings started when the share price was about 137p, but then there was a sudden spike down in the share price in the last week or so, in common with many small caps shares.
It's clear then that there was strong demand from Instis to get in on this placing, as the price was remained at 135p, 9.3% above the market price. Normally I would expect to see the price reduced, to reflect the current share price.
Overall then, I'm very pleased that the placing was executed so well (well done FinnCap!), and has not disadvantaged existing shareholders at all. If only all placings could be done at a premium to the market price.
---
Best Of The Best (LON:BOTB) (at the time of writing, I hold a long position in this share) – more good news from this weekly supercar competition company. They're paying another special divi, of 10p this time, which will be paid on 2 Dec.
As you can see, the flow of divis in the last 2 years has been excellent (see extract below), and including this latest 10p special divi means that sharesholders will have received 47.6p in divis in just over 2 years. Plus the shares have 4-bagged in 2 years as well – so a fantastic overall total shareholder return.

The dividend summary information above is on the Stockopedia StockReport under the "Accounts" tab. The data goes right back for many years, I've only copied an excerpt of it above. This "Accounts" tab also contains details of all Director buying/selling in the shares too, which is useful for reference.
I've just emailed the CEO of BOTB, to thank him for the special divi - especially 3 weeks before Xmas – that'll pay for a few more bottles of fizz!
---
Right, I have to go offline for a bit now, to prepare for a call with management of Wincanton (LON:WIN) – I've been highly critical of this company's terrible balance sheet in the past, so it will be interesting to hear the perspectives of management. I shall report back here around lunch time.
Also, unless something else crops up, I intend spending most of this afternoon updating this article, so please do check back later.
---
Wincanton
(LON:WIN)
Share price: 203p (up 9.0% today)
No. shares: 123.7m
Market cap: £251.1m
Interim results, 6m to 30 Sep 2016 – I'm warming to this business, which seems to be performing well at a Pamp;L level, as you can see from the highlights reported today. I've highlighted some key figures below – e.g. the introduction of an interim divi, and good reduction in net debt to a reasonably modest level;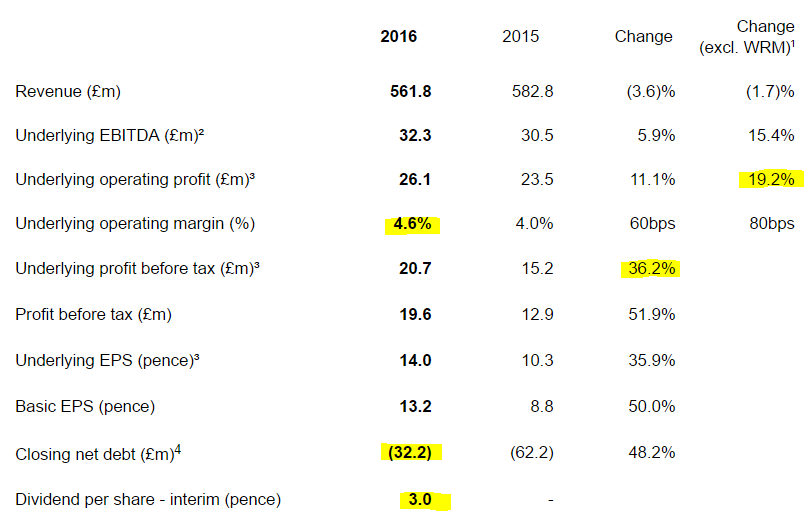 I think a key driver of debt reduction was the disposal of its record storage business to Restore (LON:RST) . The numbers above are for continuing operations only.
Outlook comments sound encouraging, and note that the business is no longer financially distressed, so that should help performance improve, I imagine. It seems to be getting into a virtuous circle, whereby lower debt means more pre-tax profits amp; cashflows, helping to reduce debt further, as well as introducing divis.
The re-organisation of the Group into Retail amp; Consumer and Industrial amp; Transport sectors has been completed and positions the Group well to better service its customers. The exit from certain contracts, notably the onerous Pullman home shopping contracts, has contributed to improved operating profits in the first half.

Together with lower financing costs and taxation, this is expected to lead to full year earnings being marginally above expectations. In the remainder of the year these contract exits will also slightly reduce gross revenues.

The structural drivers for our services remain strong and the Group is well positioned to manage any uncertainty that arises as the United Kingdom works through its exit from the EU. Additionally, the Group now has the financial certainty and capability to support limited scale investments to both protect and grow the business for the longer term. The Board expects Wincanton to make continued progress by delivering excellent service and added value for its customers.
Balance sheet – this is where my concerns have always been. I'm happy with the Pamp;L now – the business seems to be doing quite well. But have the balance sheet concerns gone away? On paper, definitely not, here are some key figures;
NAV is negative at -£233.5m
NTAV is even worse, negative at -£322.4m – clearly an absolutely massive number.
The main reason that the balance sheet is so bad are two factors;
Negative working capital of -£123.3m (being current assets of £202.5m, less current liabilities of 325.8m). This is a very poor current ratio of 0.62.
Pension deficit of £169.2m
So there's no denying that this is a really poor balance sheet. However, bizarrely perhaps, the group is not actually in financial distress.
The pension deficit requires cash overpayments of about £15m p.a., rising by RPI each year. That is manageable from cashflows generated each year, but it is of course a large ongoing commitment, and burns up a lot of the cashflow generated by the business. It's vital to factor this into how you value the shares.
I see lots of comments about how low the PER is at this company - well it jolly well should be, since something like a third to a half of the profits/cashflow are needed to service the enormous pension fund. Depending on what bond yields do though, that could change. So this share is perhaps a bit like Trinity Mirror (LON:TNI) or Norcros (LON:NXR) – where there's potential upside from the pension deficit shrinking if bond yields go up.
Chat with Wincanton CEO
to follow, after lunch
work-in-progress
Source:
http://www.stockopedia.com/content/small-cap-value-report-10-nov-2016-dvo-phd-botb-win-157609/
We encourage you to Share our Reports, Analyses, Breaking News and Videos. Simply Click your Favorite Social Media Button and Share.